Table of Contents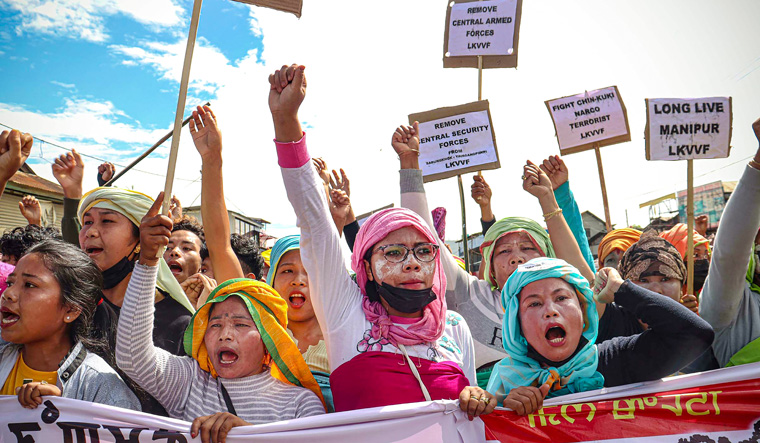 Manipur has been witnessing violent clashes between the different ethnic groups that reside in this Indian state for many years. Recently the tension between two ethnic groups, namely the Meitei and the Kuki community, had escalated, which ultimately resulted in a highly heinous and shameful act involving two women belonging to the Kuki community being paraded naked and assaulted by a group of men who belonged to the Meitei community.
The video capturing this gut-wrenching incident surfaced online only after 2-3 months of this incident. The entire nation expressed their anger and frustration towards this incident, indicating how women are being subjected as the instruments of violence in such conflicts.
Following this ever-expanding terror in the state, 10 MLAs belonging to the Kuki community signed and submitted a memorandum to PM Narendra Modi on August 16. Seven of them are BJP MLAs. It is to put forth a request for creating posts of high-ranking officials in five of the districts where the MLAs have been residing since the ethnic clashes broke out. They have also requested the sanctioning of Rs. 500 crores from the Prime Minister's Relief Fund to help people from the Kuki community who have been affected due to the dangerous violent clashes.
What is included in the Memorandum
The memorandum states that there have been harmful attacks on the Kuki-Zomis, including business people, government employees, labourers, and daily wage earners living in Imphal. They are targeted and attacked by the Meitei militias.
It clearly reports the various incidents where Kuki-Zomi people have been tortured, molested, killed, etc. The houses of Letpao Haokip and Nemcha Kipgen, two of the cabinet ministers based in Imphal, were burned down by the mob.
Students of Manipur University, medical colleges and nursing institutions were forced out of their hostels and rented houses. They allegedly fell victim to the inhuman torture by the Meitei mob. Neither the ordinary public nor government officials are being spared.
Districts covered in the Memorandum
The request to create posts for high-ranking officials equivalent to the position of Chief Secretary and DGP was put forth for five districts: Chandel, Churachandpur, Kangpokpi, Pherzaw and Tengnoupal.
The MLAs cannot function from their designated offices and perform their duties in Imphal as it has now become a "valley of death" for all the officials with the constant attacks on innocent lives. They are unwilling to operate amidst life-threatening incidents being reported against the Kuki community officials.
This will help regulate the state's political and social integrity, which is already in turmoil.