Measles is an infectious disease that causes fever and a red rash, usually prevalent in childhood. When an infected patient sneezes, coughs or talks, and when people come in contact they seem to get infected. The droplets can hang in the air for about an hour.
According to BMC, the number of patients affected by measles rose to 80. Since September 2022, 164 cases and 7 deaths have been suspected on Wednesday. The diagnostic period of the disease is eight days, four days before the appearance of the rashes and later four days after rashes appear
How COVID affected the measles immunization process
Emergence of COVID-19 pandemic along with nationwide lockdown have adversely affected the healthcare services especially immunization.
BMC said that around 19,876 children have missed their Measles Rubella (MR) vaccine, and Measles, mumps and Rubella (MMR) vaccine which was intended to be taken after birth first at 9 months and second at 16 months, as per the guidance given by National Health Mission.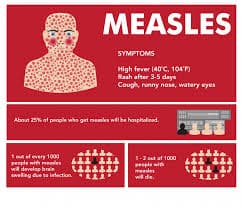 Dr Amin Kaba, Pediatrician & Neonatologist, Masina Hospital added that all the measures that were previously taken during COVID-19 times, should be again taken care of by parents. One important way to prevent the spread of this disease is to get vaccinated, check for their antibody levels. Another important step is maintaining good nutrition as well as preventing the infected child from coming in contact with other children.
Why slums in Mumbai?
Govandi, one of the peripheral areas in Bombay, close to Deonar dumping ground is one of major residential areas where cases of measles have risen. An ASHA worker, Fatima Ahmed Khan, said that the majority of the populace in these areas are migrant workers who report multiple births. Children often don't get vaccinated even after awareness and persuasion whereas for mothers the responsibility shifts from vaccination to feeding so many children further deteriorating her health too.
How immunization can help in recovery?
BMC plans 400 new sessions over 10 days of vaccination sessions. They are planning to regulate the service with the help of 470 ASHA workers and 200 volunteers in 24 districts in Mumbai for routine immunization.