Women's professional soccer in the United States is now a subject of an investigation when an independent body has found systematic abuse within the team. The report is based on more than 200 interviews that state that the US Soccer Federation (USSFC) failed to provide a safe environment for its players. The report was reportedly led by former acting attorney general Sally Q Yates.
The report reads, "Our investigation has revealed a league (NWSL) in which abuse and misconduct — verbal and emotional abuse and sexual misconduct — had become systemic, spanning multiple teams, coaches, and victims." The report further says that the abuse in the NWSL is deeply rooted in the culture that supports verbal abuse and blurring the boundaries between players and coaches.
A report by Athletic detailing allegations of misconduct and sexual coercion against Paul Riley came where the coach who has already done his part in three franchised NWSLs which spanned 8 seasons. He got fired from the North Carolina Courage after the Athletic brought players stating his abuse for years. He is also said to have forced a player to have a sexual relationship with him.
Riley has denied every single allegation against him. All 200 interviews say the same story of power being the utter reason for abuse against them. The league has said that it will review the findings. They have released a statement saying, "We recognize the anxiety and mental strain that these pending investigations have caused and the trauma that many—including players and staff—are having to relive."
Investigation on misconduct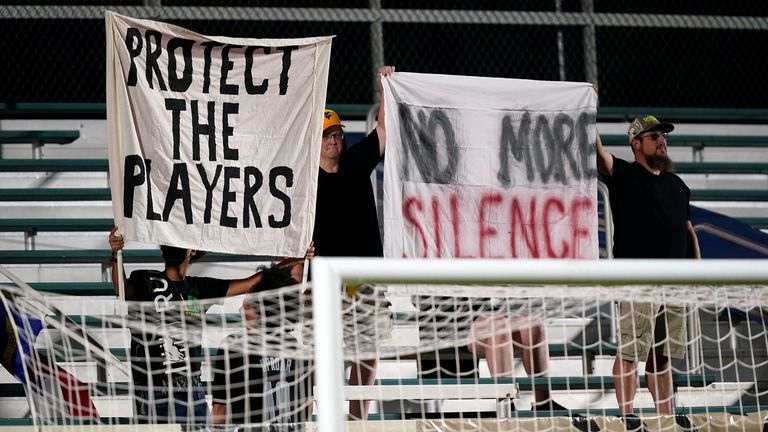 Riley, Christy Holly of Racing Louisville, and Rory Dames of the Chicago Red Stars were the subject of the investigation.
In a meeting between Holly and a player named Erin Simon in April 2021, Holly allegedly informed her that he would touch her after each missed pass and urged her to watch a game film with him. Holly "pushed his hands down her pants and up her shirt," Simon reportedly told authorities.
The former Leicester City player Simon claimed that too many athletes endure suffering in silence out of fear that their voices won't be heard.
---
READ MORE: French Soccer Federation Under Investigation