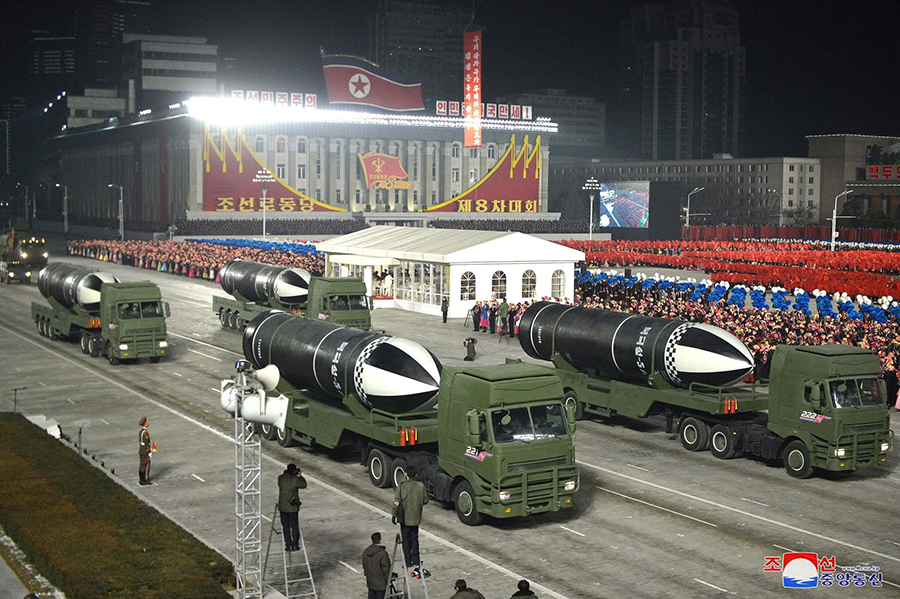 North Korean Missile Launch:
The Joint Chiefs of Staff of South Korea said in a brief statement that they had detected the launch from North Korea. The precise location of the weapon's landing or any additional details, such as the weapon's flight route, were not provided.
This year, North Korea carried out a record number of such tests. More recently, while South Korea and the United States held manoeuvres, some of which included Japan, North Korea also launched hundreds of artillery shells into the sea.
According to South Korea's military, the ballistic missile was fired from the city of Wonsan on the east coast of the North at 10:48 a.m. (0248 GMT), travelling 240 km (150 miles) at
It was the most recent in North Korea's string of tests in recent months and its first ballistic missile launch in eight days. Previously, North Korea claimed that some of the tests were mock nuclear assaults on South Korean and American targets. According to many experts, North Korea would eventually want to improve its nuclear capacity in order to extract greater concessions from its adversaries.
Choe Son Hui, the foreign minister of North Korea, issued a warning earlier on Thursday, saying that the recent agreement on the North reached at the U.S.-South Korea-Japan summit will make situations on the Korean Peninsula "more unpredictable."
The presidents of the United States, Japan, and South Korea issued a joint statement in which they harshly denounced North Korea's most recent missile tests and pledged to cooperate to increase deterrence. Biden underlined that the United States will protect South Korea and Japan using all of its resources, including its nuclear arsenal.
Will North Korea's moves lead to Mutually Assured destruction?
The U.S. "will be well aware that it is gambling, for which it will undoubtedly regret," Choe added, without elaborating on the possible actions North Korea could take.
Later on Thursday, the South Korean Defense Ministry responded, stating that the goal of the trilateral summit was to plan a collective reaction to halt and deter North Korea's developing nuclear and missile threats. According to spokeswoman Moon Hong Sik, security cooperation between Seoul, Washington, and Tokyo is strengthening the United States' extended deterrence to its allies.
The Joint Chiefs of Staff of South Korea reported that the North Korean missile launched on Thursday travelled 240 kilometres (150 miles) at a maximum altitude of 47 kilometres (29 miles). The launch was referred to as "a severe provocation" that threatens peace and security on the Korean Peninsula.
According to the defence ministry of Japan, North Korea's frequent missile launches pose a threat to the safety and security of Japan, the surrounding area, and the global community. The launch on Thursday "highlights the destabilising consequences of (North Korea's) illicit weapons of mass destruction and ballistic missile programmes," according to the U.S. Pacific Command.
After the launch, South Korea's Joint Chiefs of Staff reported that earlier on Thursday, missile defence exercises had been held by the South Korean and American armies to assess their joint preparedness for North Korean provocations. However, South Korean military authorities would to give more information on the drills, including whether they were pre-planned or organised in response to intelligence indicating a potential North Korean missile launch.
North Korea has firmly maintained that its recent weapons testing activities are legal military retaliations to what it regards as U.S. and South Korean military exercises, which it views as a pretext to launch strikes on the North.
As its next significant move toward enhancing its military capabilities against the United States and its allies, North Korea has raised concerns that it may conduct its first nuclear test in five years.
The question of whether or not a North Korea with nuclear weapons and a history of unpredictable and dangerous behaviour is acceptable must be addressed by the United States and the international community. A nuclear North Korea with mutually assured destruction would indicate that international and American regimes have failed to prevent the spread of nuclear weapons; instead, they have encouraged the development of WMD, including ballistic missile technology, in the Middle East and among extremist groups, and they have given North Korea political clout in the Asia-Pacific region. These failures would all pose a direct threat to American interests, including reunification under a North Korean government.