Amid rising inflation Opposition protests caused for a ruckus calling for adjournment of both the houses.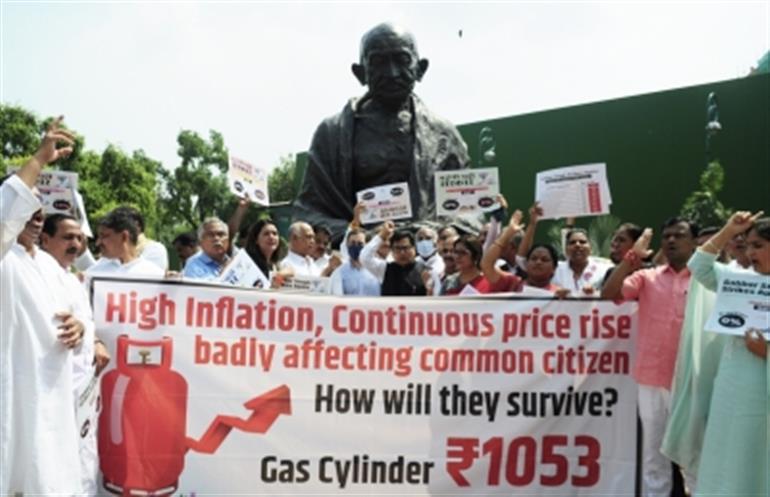 Source: Bing image

New Delhi: Opposition protests over the imposition of GST on new commodities and rising inflation. Causing a ruckus, the Opposition trammeled the proceedings of both the houses of the Parliament making it difficult to continue. Thus, the Parliament was adjourned.
Lok Sabha:
Opposition protests In the Lower House. After reassembling at 2 PM, the members of the opposition mainly of the INC, DMK, TMC and others, began protesting carrying placards at the well of the house. 
The house was adjourned at 11 AM on a similar note by Speaker Om Birla.
Later that day, the matter went out of hand and after laying the papers by the members, Kirit Premjibhai Solanki, who was on the chair, adjourned the House for the day.
The opposition members raised slogans against the Modi government over the issue of price rise. One of the placards read "Gabbar Singh Strikes Again".
Rebuking the actions of the Opposition, Mr. Birla said, "You carry the rule book but don't follow rules. The rules prohibit carrying placards here but you are carrying them. You raise farmers' issues outside the House but not inside."
He further added, "You raise the issue of price rise outside the House but not inside. In the last session, you did not participate in the debate on price rise. This is not good."
Rajya Sabha:
In the Rajya Sabha, when the house met after 2 PM, in the second half, Mr. S. Jaishankar moved the Weapon of Mass Destruction and their Delivery Systems (Prohibition of Unlawful Activities) Amendment Bill, 2022 for consideration. Soon enough the opposition comprising the Congress, AAP, DMK, TMC, and Left flocked at the well rallying against the GST hike and rise in prices. Members from SP, Shivsena, NCP and RJD also joined in.
Even after repeated appeals from the Deputy Chairman, Harivansh, the opposition did not stop. Amid unabating furor the Deputy Chairman had no other option but to adjourn the house.
In the day too, when the Chairman M. Venkaiah Naidu chaired the Upper House, the Opposition caused relentless palaver over the same issue. They even moved adjournment notices but were not accepted by the Chairman. Amidst unnecessary bustle the house was adjourned until 2 PM.