Responding to EAM Jaishankar's criticism, Pakistan's Foreign Minister Bilawal Bhutto's comment on PM Narendra Modi as 'Butchers of Gujarat' called for a protest all over India.
Jaishankar, Minister of External Affairs of India, at the United Nations Security Council, on December 16, hurled sharp responses at Pakistan's views on Kashmir affairs as he mentioned that a country that hosted Osama bin Laden and also attacked a neighbouring country's Parliament did not have any credentials to sermonize on matters of such regards.
Despite his sharp criticism of Pakistan, the minister did not mention the name explicitly. But this criticism was not welcome by Pakistan's Foreign Minister Bilawal Bhutto as he clearly showed his frustration with a personal attack on Indian Prime Minister Narendra Modi, as a response.
He responded while addressing a press conference and said that Osama Bin Laden was dead but the butcher of the Gujarat Riot 2002 incident lives on. He further criticised Narendra Modi, stating that the prime minister was banned from the USA till he became the prime ministerial representative of India.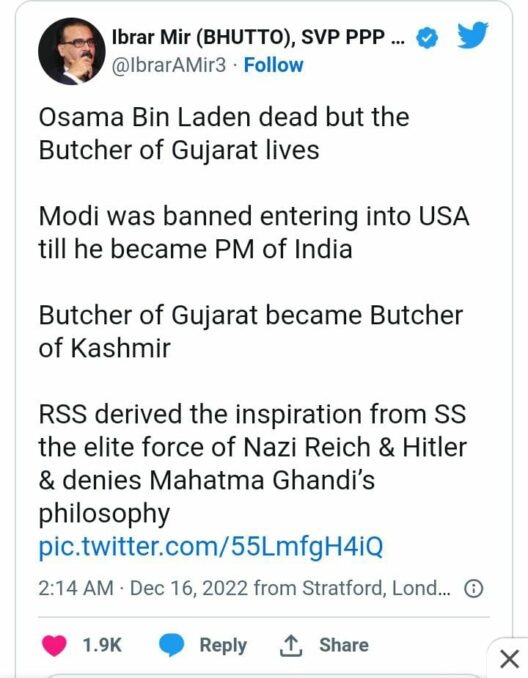 This response from Pakistan's Foreign Minister agitated the whole of India as the people from BJP expressed their strong opposition throughout the country. Effigies of Pakistan's Foreign Minister were burnt in several places. BJP leaders and RSS followers expressed their ongoing resistance to Bhutto's speech on all social media platforms.
When Pakistan Minister Bilawal Bhutto was questioned about the ongoing protests in India against him he replied that the coinage of the term 'butchers of Gujarat' was not done by him. He further added that it was in fact coined by Indian Citizens.
Though the then Chief Minister of Gujarat, Modi was cleared of complicity in the violence by the Supreme Court of India, Bhutto brought up the alleged association between Modi and the Riot in Gujarat in his comment. He even claimed that his comments were based on history and opined that one could not rewrite history according to the likes and dislikes oneself.
Congress failed to defend Modi:
When a similar thing happened in 2013 when Manmohan Singh was criticised as 'dehati accurate by Nawaz Shariff, Narendra Modi reacted in a harsh manner, and answered in a video, slamming the Pakistan minister for his comment against the then Prime Minister of India.
He even mentioned that he could fight with Manmohan Singh for his policies but he would not tolerate the insult to him. This video is being circulated by the BJP members at present, mentioning the Congress for failing to take a stand and remaining silent on the criticism against the country's prime minister.
Shazia Marri defending Bilawal Bhutto:
Though Bilawal Bhutto was being condemned for his offensive personal attack on Modi, he was backed up by another minister from Pakistan, Shazia Marri from Pakistan People's Party and this time the situation became even worse when she mentioned nuclear weapons.
She openly said that India should not forget that Pakistan had an atomic bomb and added that they would back down when the need arose.
This statement of hers created a bustle in social media, to which she reacted and defended herself by saying that she was just mentioning the nuclear status of Pakistan and nothing more.