Bihar Chief Minister Nitish Kumar, on Monday met Congress leader Rahul Gandhi, and the two agreed that opposition parties need to come together to defeat BJP.
Nitish sent a clear signal that he is not in mood of keeping Congress out of an anti-BJP opposition front.
While Nitish knows that a non-BJP Opposition front is not viable without Congress, bringing the rival parties together is easier said than done, as parties like Trinamool Congress (TMC), Aam Aadmi Party (AAP) and Telangana Rashtra Samithi (TRS) are not willing to accept the Congress primacy.
The Left Parties, on the other hand, is not up for a pre-election formation, as it has often argued that the United Front in the 1990s and UPA in 2004 were post-poll coalitions.
On Tuesday, Bihar CM Nitish is going to meet Delhi Chief Minister and AAP chief Arvind Kejriwal and Left leaders Sitaram Yechury and D Raja to pursue his idea of Opposition unity. AAP has always maintained a distance from opposition groupings.
Many opposition leaders think that Opposition unity has little effect on the ground.
"AAP and Congress are rivals in Delhi and Punjab. In fact, AAP often talks about replacing Congress as the main opposition party in the country and is aggressively campaigning in Gujarat for the upcoming Assembly elections," a senior Opposition leader said. "The Congress and the Left, separately or together, will contest in West Bengal. But the same Left and the Congress are arch-rivals in Kerala, so opposition unity is mostly a theoretical concept."
This leader, however, agreed that the post-poll scenario is a "different ball game and the parties, depending on their numbers, can come together".
No Third Front can oust BJP
The DMK, NCP and Shiv Sena have already stated that an Opposition front or a 3rd front without Congress is not viable.
Before flying to Delhi, Nitish had a meeting with RJD supremo Lalu Prasad, who shares good equations with Congress president Sonia Gandhi.
His JD(U) partymen said Nitish's meeting with Rahul Gandhi is a clear signal from their side that they believe the Congress is central to any Opposition unity and formations.
JD(U) national spokesperson KC Tyagi said smaller parties like theirs had burnt their hands earlier by breaking away from the Congress and UPA. "Congress is still the principal rival of BJP. No Opposition front is possible without Congress. Our experiment with the Third Front had failed right from V P Singh's time to H D Deve Gowda and I K Gujral. Against the mighty BJP, we need a formation that must have Congress in it and other smaller parties rallying around it," he explained.
Tyagi revealed that Nitish will try to meet as many Opposition leaders as he can in the coming months. "It will be a round of courtesy meetings…. Nitish-ji has been a unitary force with high credentials as Bihar CM, we are very hopeful of the Opposition uniting with a common agenda," he added.
Speaking to reporters in Patna before leaving for Delhi, Nitish again called for the need for opposition parties to come together. Denying reports that he could become the Opposition's PM candidate, he said, "I don't have any wish…my only wish is that it would be excellent if more opposition parties unite."
In Patna, senior BJP leader and former Deputy CM Sushil Kumar Modi assured that the doors of BJP are "permanently shut" for Nitish, PTI reported.
KCR's bid at uniting opposition
Earlier aiming to bring together an alliance of like-minded parties against the Bharatiya Janata Party (BJP), Telangana Chief Minister K Chandrashekar Rao had met Bihar Chief Minister Nitish Kumar and his deputy Tejaswi Yadav in Patna.
"It is a meeting of two daydreamers who have no standing in front of Prime Minister Narendra Modi," Sushil Kumar had told reporters. He had termed the meeting as the "latest comedy show of opposition unity."
At a public meeting few days before coming to Patna, KCR mocked the NDA government, saying people should take a vow to make a "BJP-Mukt Bharat" in 2024. He called Prime Minister Modi "Golmaal PM", adding whatever Modi and the Centre say are "blatant lies".
KCR recently in one of his rallies in Telangana had promised to provide free electricity to all the farmers of the country if a non-BJP govt comes to power in 2024.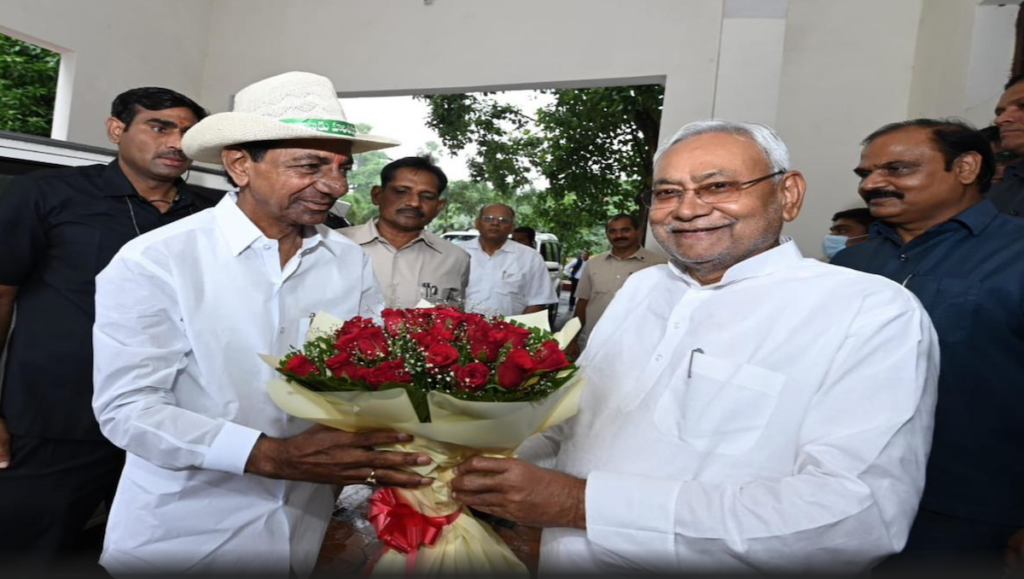 ---
Read More:https://tdznkwjt9mxt6p1p8657.cleaver.live/sonali-phogat-aide-used-to-run-extort-racket-in/
---