'Varanasi Tent City' has been set up on the banks of Ganga Ghat in Varanasi, Uttar Pradesh. Prime Minister Narendra Modi inaugurated this tent city on Friday through video conference and also flagged off the India-made luxury boat MV Ganga Vilas on the world's longest river cruise which is a part of several other inland waterway projects worth more than Rs 1,000 crore.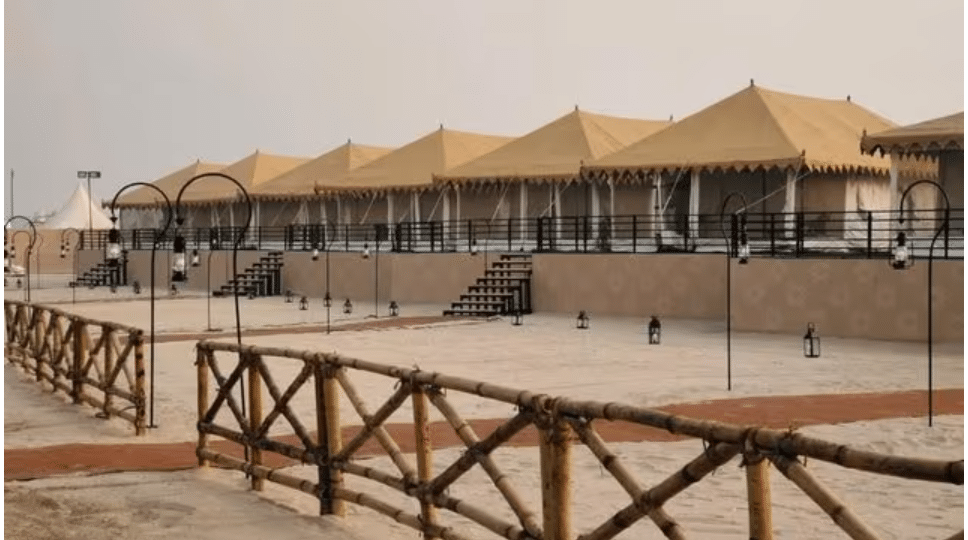 To tap the possibilities of tourism in the region, a tent city has been envisaged by the Modi government on the banks of the river Ganges. This project is developed in front of the ghats of the town, which will facilitate living in Varanasi, especially after the inauguration of Kashi Vishwanath Dham. It has been developed by the Varanasi Development Authority in the Public Private Partnership mode. Tourists will reach the tent city by boat from various nearby ghats. The tent city will be operational from October to June every year and will be removed for three months due to an increase in the water level of the river during the rainy season.
In the inaugural ceremony PM Modi said, " This Ganga Vilas cruise will pass through 25 different rivers and it is also a great opportunity for those who want to experience the rich cuisine of India. We will get to see a wonderful confluence of India's heritage and modernity in this journey. This new phase of cruise tourism will give new employment opportunities for our young citizens in this field and will create a new development light."
State Chief Minister Yogi Adityanath and Central Ports, Shipping Waterways and AYUSH Minister Sarbananda Sonowal, Bihar Deputy Chief Minister Tejashwi Yadav, and Assam Chief Minister Himanta Vishwa Sharma also addressed the program organized in Varanasi.
'MV Ganga Vilas'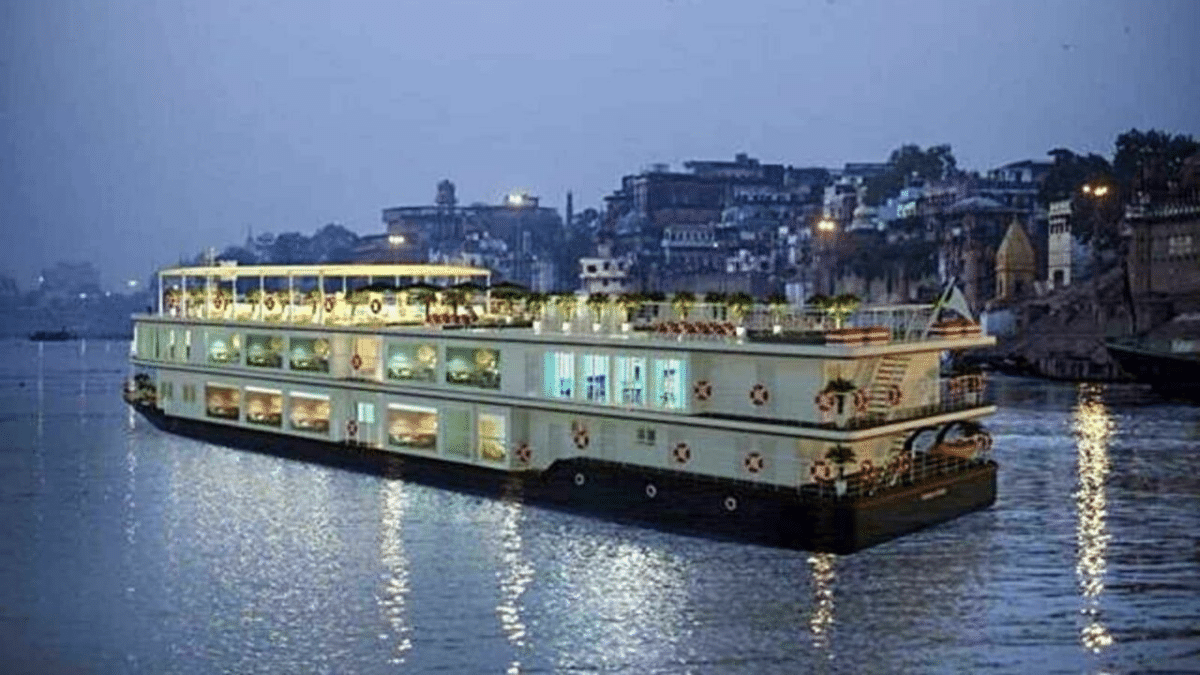 PM Modi has virtually flagged off 'MV Ganga Vilas' the world's longest river cruise for its maiden journey of 3200 kilometers. This will be India's first indigenous cruise. This journey is part of the ambitious plan of the Government of India for Indian inland waterways transport. It has been equipped with facilities like a five-star hotel.
The journey of 3200 km to Dibrugarh will be completed in 48 days by this cruise. This river cruise will complete the journey by passing through 27 rivers of UP, Bihar, West Bengal, Bangladesh and Assam. The two-storied cruise has 18 suites. There is also an open space balcony, gym, study room, and library. There will also be song-music and cultural programs for entertainment. Medical facilities will also be available along with Spa, and Salon. A total of 100 people will board the cruise along with 80 tourists. 
The uniqueness that the Tent City offers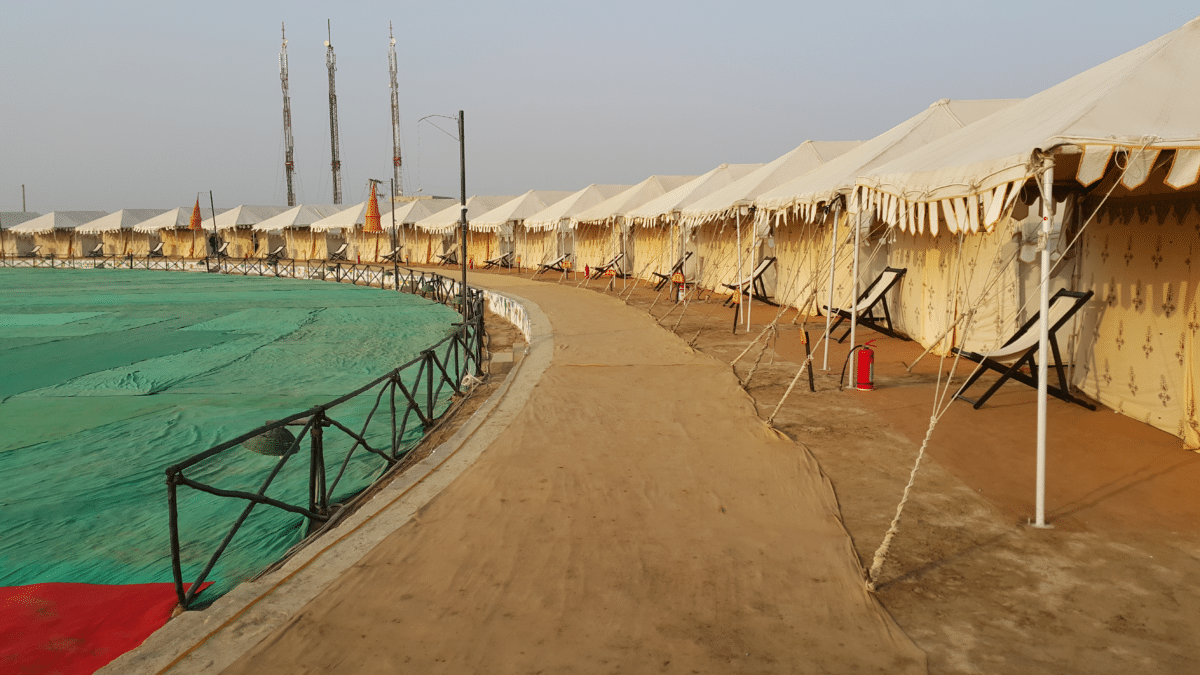 This tent city is being made in three categories. It will have 150 rooms, which will not be less than a five-star hotel.
Tourists arriving at the tent city will be greeted warmly by playing Banarasi drums. Aarti will be performed for the tourists with invocation, then they will be welcomed by applying Tilak and showering flowers.
In Tent City, tourists will be able to avail luxury facilities. Different villas are being built. The eco-friendly tent city has facilities for the tourists' health. Here a yoga and meditation facility is being built. At least 300 tourists would be able to practice yoga and meditation at the same time.
The day will start with Ganga Aarti in the tent city. Live ragas will be recited here. Tourists will be able to listen to the melodious tunes of almost all the musical instruments of Banaras Gharana.
Here tourists will enjoy Banarasi's taste from morning breakfast to dinner. Malai, thandai, chaat, Banarasi paan, and Banarasi sweets will be served to the tourists. There will be a complete prohibition on eating meat and consuming alcohol.
600 tents have been developed in three clusters in Tent City opposite Assi Ghat. In an area of ​​10 hectares, a clubhouse has been prepared for tourists along with urban facilities on the banks of the river Ganga.
Tourists can reserve their stay in the tent city both online and offline. This reservation can be made by going to tentcityvaranasi.com. It can be booked from January 15. The rent for a stay in the tent city has been kept from Rs.8,000 to Rs.30,000 per day which can increase on special events.