Table of Contents
Source: Reuters
Vladimir Putin lambastes the West, labelling them as the kingpins of both physical and economic warfare.
Vladimir Putin reprimands the West, calling it "the masterminds of both physical and economic warfare."
Russian President Vladimir Putin vented his rage on the West, claiming that the West not only incited physical conflict but also economic conflict.
Russian President Vladimir Putin 'scapegoated' the West whilst; announcing the suspension of Russia's participation in the New START nuclear arms treaty with the United States. However, he clarified that Russia is not completely withdrawing from the treaty at this time. Putin cited the deterioration of relations with the West and the impossibility of allowing American inspections of Russian strategic nuclear sites as reasons for the suspension. The New START treaty is an arms control agreement between the US and Russia, which limits the number of deployed nuclear warheads and delivery systems that each country can possess.
Physical war
According to Local sources, Putin announced that Russia will "suspend its participation" in the New START nuclear arms control treaty, citing the US and NATO's refusal to allow nuclear weapons inspections, according to the sources.
Putin also claimed that the nuclear weapons of the US, France, and the UK are aimed at Russia, and accused the West of trying to economically suppress post-Soviet countries.
A round of applause erupted during Putin's speech, particularly when he quoted a Tsarist official and when he emphasized the need to bring "traitors" to justice.
Sources also directed that; Russian President Vladimir Putin gave his annual state of the union speech in Moscow on Tuesday. Putin spoke about getting rid of Nazism and freeing the Donbas region of Ukraine, and how important those events are for Russia's future.
Subsequently, The Russian President said that he wanted to have an "open dialogue" with the West but blamed them and Ukraine's leaders for making the country's people "hostages."
economic war
Putin also mentioned that the United States and NATO have been setting up military bases and laboratories close to Russia's borders, which he saw as a threat. 'Russia had tried to settle the conflict in the Donbas region peacefully, but the West did not uphold their promise of peace, was a "fraud" and a "cruel lie' he said.
Furthermore, Putin claimed that Russia was open to having a fair and equal security system with the West, but the West responded with dishonest answers and specific actions to expand NATO and deploy new anti-missile systems in Europe. He added that the whole planet was dotted with U.S. military bases.
'The United States and NATO have been quickly establishing their bases and biological laboratories near Russia's borders' he added.
Russia was to engage in willing to resort to a diplomatic dialogue with the West and establish an equitable security system. However, Russia's offers were met with insincere responses and concrete actions such as the expansion of NATO and the deployment of new anti-missile systems across Europe. He went on to assert that the entire planet is now heavily dotted with US military bases, thus implying that this is a serious concern for Russia. He opined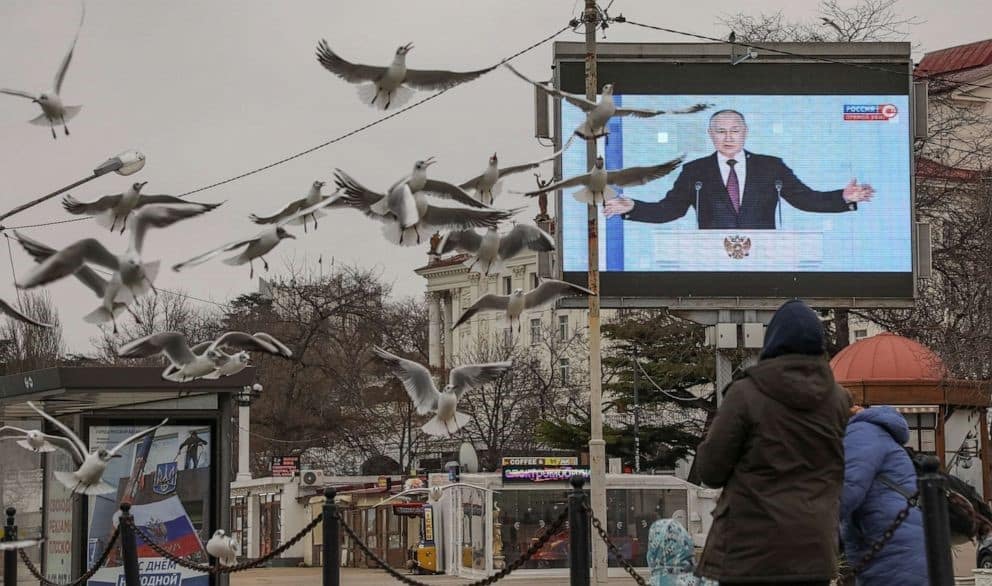 Source: Reuters (Image for representation)
Russian President Vladimir Putin addressing the Federal Assembly, in Sevastopol, Crimea, Feb 21, 2023.
On the other hand, a top US official, White House National Security Advisor Jake Sullivan, called Putin's accusations "absurdity" and denied that Russia is under any military threat. As Putin spoke, the UN Human Rights Office released figures for civilian casualties in Ukraine, with verified deaths standing at 8,006 and a warning that the real figure would be much higher, according to the sources.
Meanwhile, Joe Biden and Vladimir Putin are both set to give speeches with differing takes on Russia's Ukraine invasion, with Biden pledging "unwavering" American support for Ukraine and promising fresh arms deliveries worth $460 million during his surprise visit to Kyiv, opined sources.