Nuclear deterrent
Russia possesses the largest stockpile of Nuclear weapons in the world. The sheer amount of Nuclear deterrent Russia possesses has kept all international interference at bay since the beginning.
With incessant advocacy by U.S , International communities have already turned their back on Russia. Russian Foreign Minister on Monday said in a statement to the press that Kremlin is not taking lightly, United States efforts of helping Ukraine by supplying arms, ammunition and other essentials.
He also issued warnings of Nuclear warfare if Washington does not mend their ways.
He also added that continued interference in the war in Ukraine, is a desperate attempt of the west to sabotage Russia's war efforts will not be allowed to continue from Moscow's side. The use of Nuclear weapons is not off the table he says.
However it is unlikely that without any active involvement by NATO or other western countries, Russia will deploy nuclear weapons in Ukraine.
The sheer loss of life and property that will be unleashed in the events of the deployment of Nuclear weapons, in the face of already worsening climatic conditions can have dire effects on not just Ukraine or Europe but on the entire planet.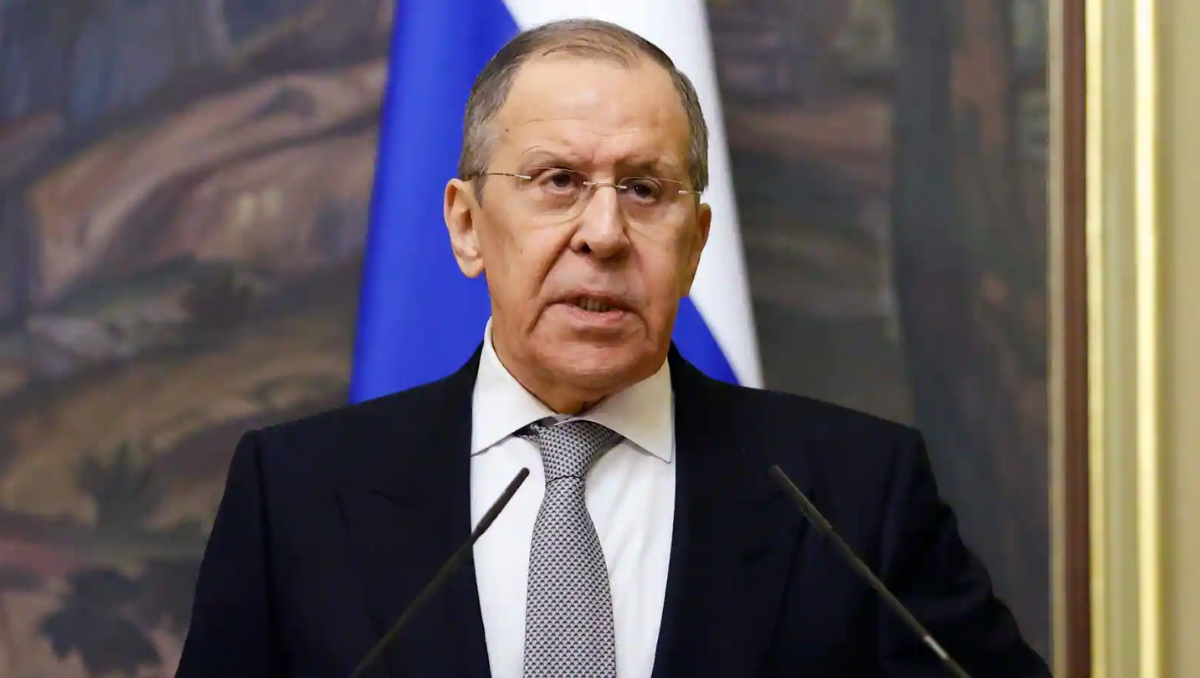 Since the beginning
In the very beginning of the invasion Russian president Vladimir Putin had announced that in case of direct involvement of NATO or any other Western nation, Russia will not hold back from using Nuclear weapons.
The warnings by Russia's Prez Vladimir Putin were the first active nuclear warning by Russian government since the 1960's. The nuclear readiness being displayed by Russia was something unseen for a long time in the history of the world.
These warnings of Nuclear warfare are not the first time Russia has proclaimed something like this. According to reports from Foreign Intelligence organization's Moscow will bbe soon nearing that threshold, as the goal behind Russia's war in Ukraine remains largely unachieved.
Apart from the ridicule from nations across the world, Russia is also risking it's security and economy with the continuance of the war every day.
The report given by Russian Defense Minister Sergey Lavrov is one of the most important evidence as of this moment of Russia's disastrous intent for the war in Ukraine.
The warnings of Nuclear warfare followed by the renewed ground assault by Russian Forces in Donbas, come long in a list of warnings issued by Moscow since the beginning of the invasion.
Against Russian policy
Russian Policy for Nuclear weapons rephrased in 2020 was that nuclear weapons were means of protecting ones sovereignty and territorial integrity in terms of an invasion.
However Kremlins regular shift in caption tends to show that despite Russia's proclaimed policy, Nuclear weapons play a much bigger role in achieving Russian interests around the globe.
A nuclear deterrent not only keeps international interference in Ukraine at bay, but it also allows Russia to mask it's conventional warfare policies in a nuclear sheath. No country or organization on this planet can enter the war in Ukraine without triggering a nuclear response.
A single nuclear launch will set a chain event that will destroy our entire planet, Russia knows this and intents to leverage on this fact.
With the nuclear warfare scenario active, Russia ensures that it act of aggression in Ukraine can not be challenged by Organization's like NATO or other individual world powers such as U.S and Germany.
But economic sanctions and trade ban's are something that cannot be affected by Nuclear deterrents. The imposed sanctions by U.S and other world leaders are already taking a heavy toll on Russian economy and the military, economic and humanitarian aid being provided to Ukraine by allied nations is proving key to hold back the Russian Invaders in Ukraine.
Conclusion
It is unlikely that Russia will resort to deploying nuclear weapons in Ukraine, both intentionally and Unintentionally any time soon as it risks the security of not just Europe but of the whole world at large.
But incoming reports from International Intelligence organization's and statements of top Russian officials is issuing warnings of Nuclear warfare if situation keeps escalating.
As global leaders work to decode the possibilities of the likelihood of a nuclear escalation, Russia will keep its stand on nuclear deterrents upright to label it's Invasion of Ukraine as a territorial and local dispute unworthy of international attention.
Published by: Aditya Negi
Edited by: Khushi Thakur