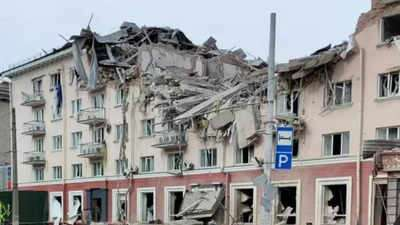 It was reported on Friday by the Russian news agency Interfax that Russia intends to fully dominate the Donbass region and the southern region of Ukraine as part of the military operation's second phase. The deputy commander of Russia's Central Military District stated this intention.
The savagery of a war that showed no signs of abating on Friday, as Russia pounded targets in eastern Ukraine in a new offensive to seize the country's industrial heartland, was highlighted by mounds of dirt visible in satellite imagery that Ukrainian officials believe to be new mass graves, according to Ukrainian officials.
Russia announced Friday that it intends to launch a full-bore attack to carve out a significant portion of Ukraine, risking increasing international outcry after the United Nations confirmed the killing of dozens of civilians in one town. New high-quality Western weapons arrived for Ukraine. The country's leaders said that its armed forces were still defending a large steel plant on the outskirts of Mariupol, which had been completely destroyed by the conflict in Donbass.
In a telephone conversation with European Union president Charles Michel on Friday, Russian President Vladimir Putin accused Kiev of refusing to allow Ukrainian troops to surrender in the beleaguered coastal city of Mariupol.
In response to a news report, the Russian chief negotiator stated that "many extensive conversations" had taken place on Friday with the leader of Ukraine's delegation at peace talks between the two countries. Vladimir Medinsky did not provide any specifics about the conversations. Earlier this week, the Kremlin announced that Russia had presented a new written proposal. However, Ukrainian President Volodymyr Zelenskyy claimed that he had not seen nor heard anything about the proposal.
---
Published by – Mohit Maurya
Edited by – Harshini Satish