Also read:
Saturn's smaller moon, Mimas, is heavily cratered and lacks the traits of a moon with oceans.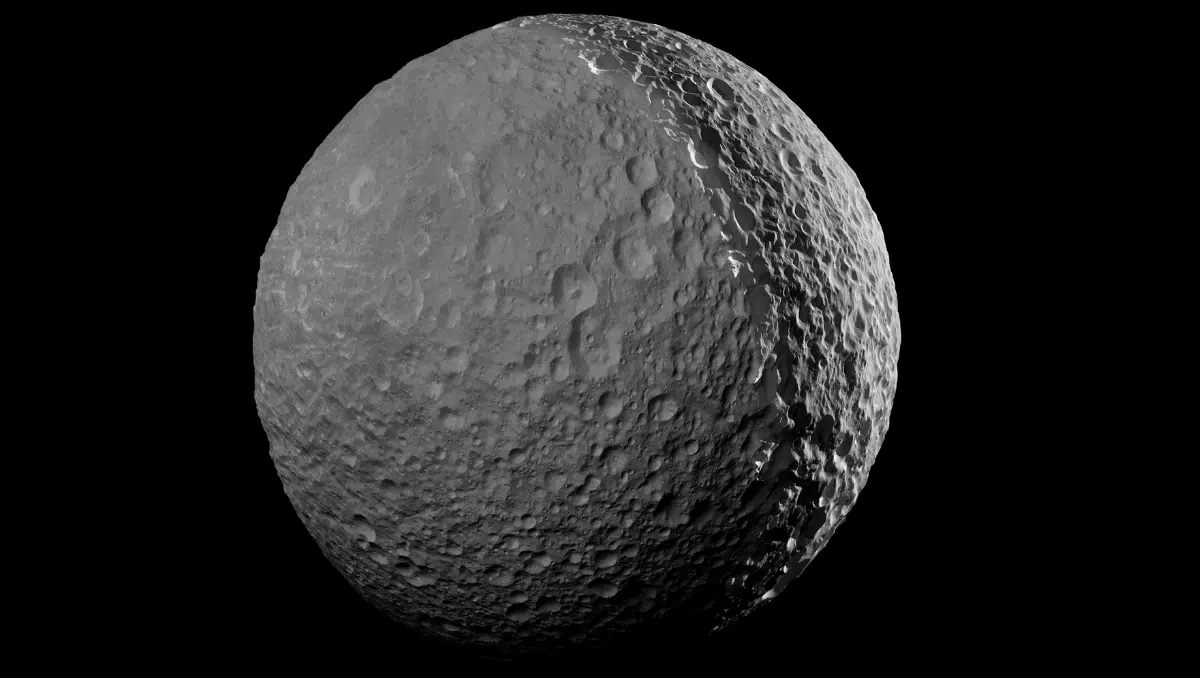 Until recently, a scientist at the Southwest Research Institute first reported having found evidence that Mimas may generate enough heat to maintain an internal liquid ocean. Following this observation, astronomers began investigating the interiors of the moon, which may have evolved with time.
Numerical simulations of Mimas suggest a thinning ice shell and a geologically young ocean based on the structure of its Herschel impact basin, which is a prominent feature of its severely cratered surface.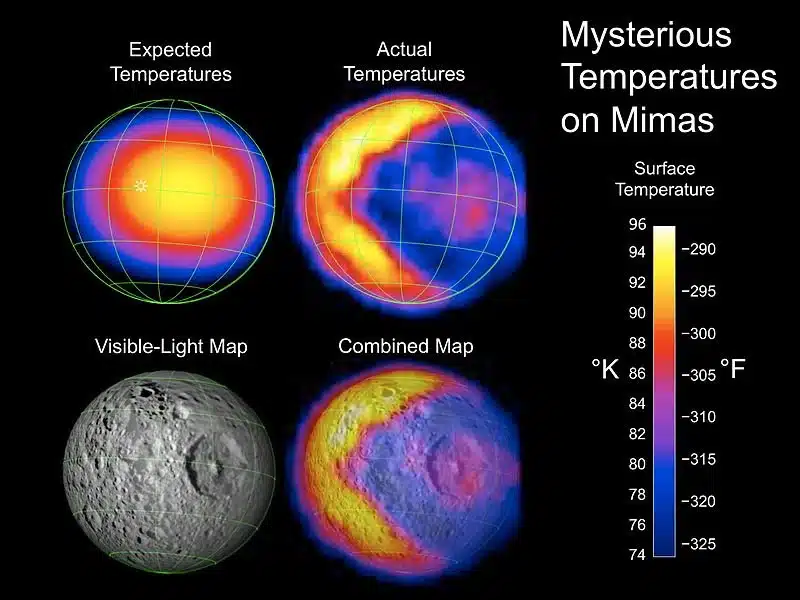 Dr. Alyssa Rhoden of the Southwest Research Institute noted that NASA's Cassini spacecraft discovered an odd oscillation in Mimas' rotation during its waning days, which often indicates a geologically active body with an ocean inside. She is a geophysics specialist and deals in icy satellites.
However, scientists initially considered Mimas a frozen block of ice due to its heavily cratered surface. Most ocean worlds, like the geyser-spewing Enceladus, Saturn's other moon, tend to be fractured and show other signs of geologic activity. There are no telltale tectonic features on Mimas, however.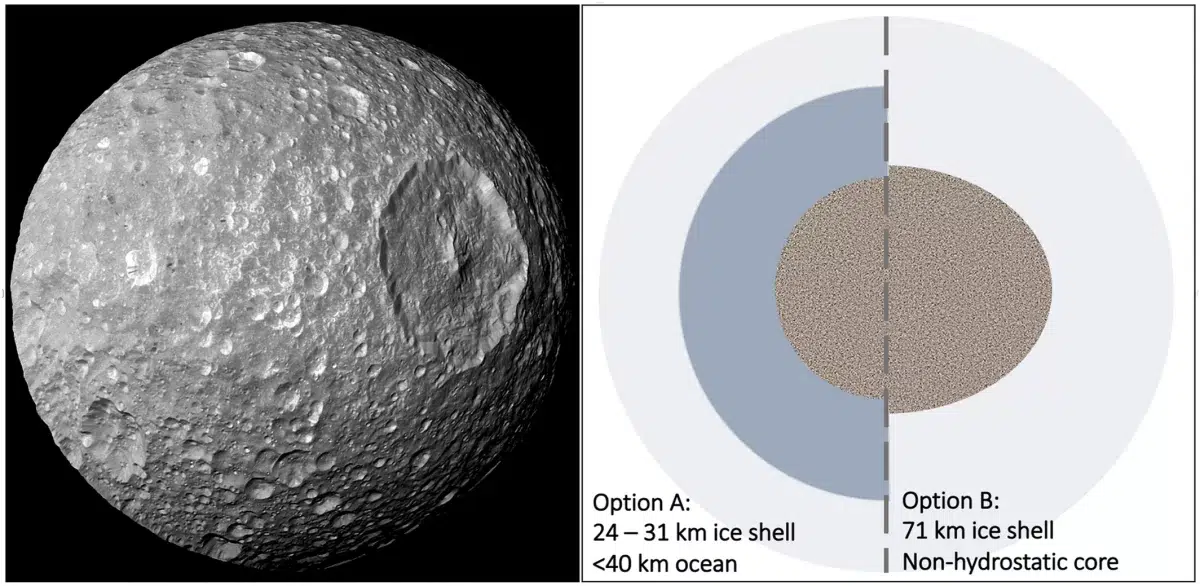 Dr. Rhoden further added that due to the heavily cratered icy surface of the moon, the possibility of an ocean is bleak. However, if an ocean is discovered, it will define a new tier of small "stealth" ocean worlds with exteriors that do not bluff the presence of the ocean.
To understand how Mimas' interior ocean might exist, Rhoden collaborated with Purdue doctoral student Adeene Denton. Denton used the simulation program iSALE-2D to model the creation of the Hershel impact basin.
The existing models suggest that, during the impact that created Herschel, Mimas had an ice shell that was at least 34 miles (55 kilometers) thick. If Mimas is still home to an ocean, observations of the planet and simulations of its internal heating limit the thickness of its present-day ice shell to less than 19 miles (30 km).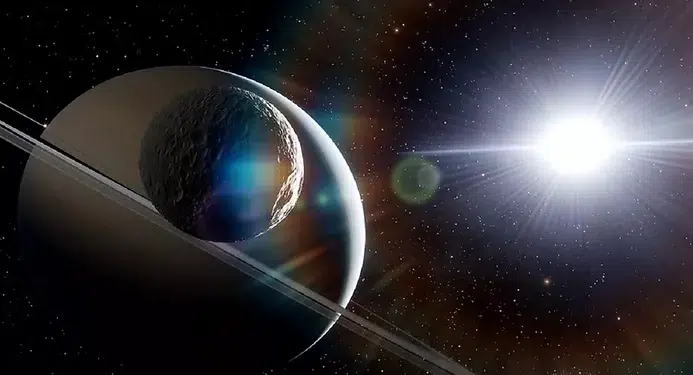 Adeene Denton notes that according to their findings, Herschel could not have formed in an ice shell with the current thickness without obliterating it.
She further adds that having an ocean today indicates that the ice shell on Mimas has been thinning since Herschel's formation, explaining its lack of fractures.
Denton, who is now a postdoctoral researcher at the University of Arizona, said, "In the event that Mimas is an emerging ocean world, that would constrain all of Saturn's mid-sized moons in terms of their formation, evolution, and habitability."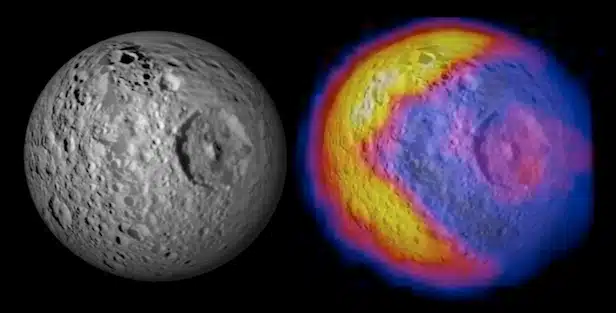 Dr. Rhoden elucidated that while the findings of their research support the presence of an ocean on Mimas today, it is still challenging to reconcile Mimas' orbital and geologic characteristics with our current understanding of its thermal-orbital evolution.
She further explained that an assessment of Mimas' status as an ocean moon could benchmark its formation and evolution models. As a result, we would have a better understanding of Saturn's rings and its mid-sized moons, as well as how common potentially habitable ocean moons are, especially on Uranus.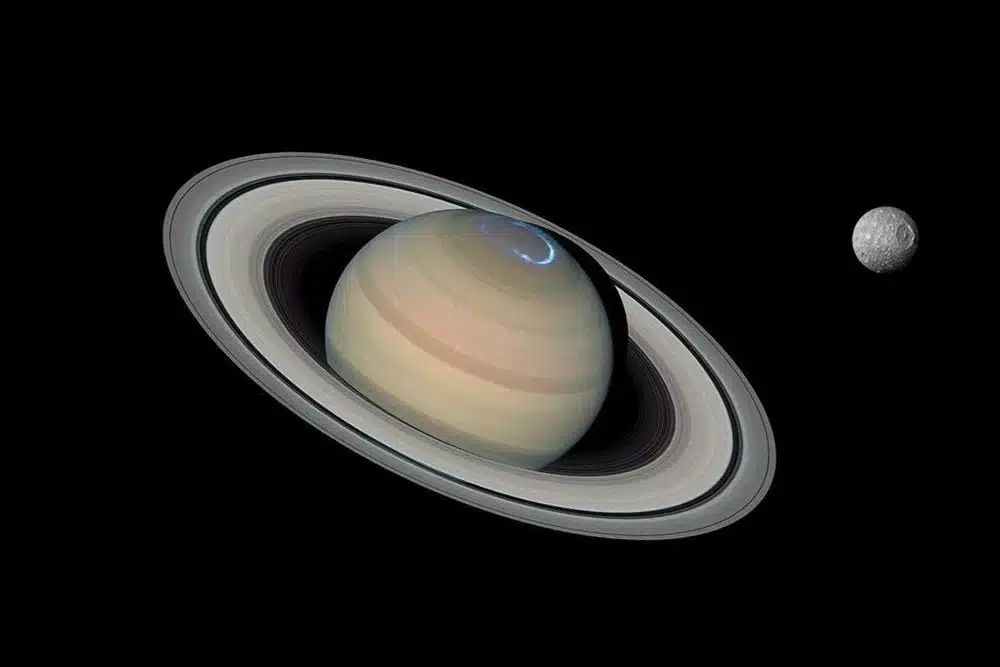 Dr. Rhoden concluded that Mimas is an irresistible destination for further investigation and exploration!
The history of Mimas: the innermost moon of Saturn
William Herschel, an English astronomer, discovered the smallest and innermost moon of the ringed planet in 1789.
It was named after the Greek mythological character Mimas, a giant, killed in the battle between the gods of Olympus and the Titans. This name was given by the son of William Herschel, John Herschel.
Since this satellite is closest to Saturn, it is also known as "Satun I."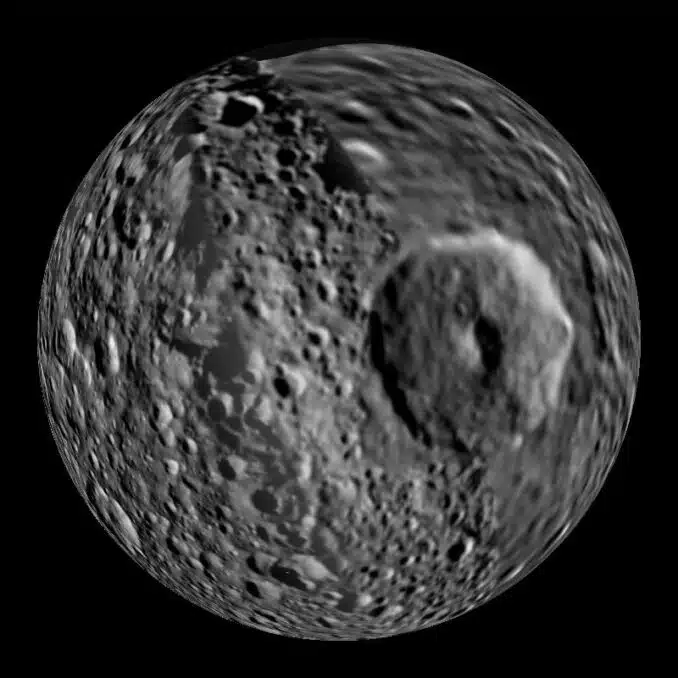 Because of tidal interactions with Saturn, the moon rotates synchronously with its orbital motion, always keeping the same hemisphere toward Saturn and always leading with the same hemisphere in orbit.
Herschel, a crater with 130 km of diameter, is the hallmark of this moon. It is located close to the center of the leading hemisphere and is one of the largest known impact structures, relative to the size of the body, in the solar system. 
Saturn has 83 discovered moons so far.