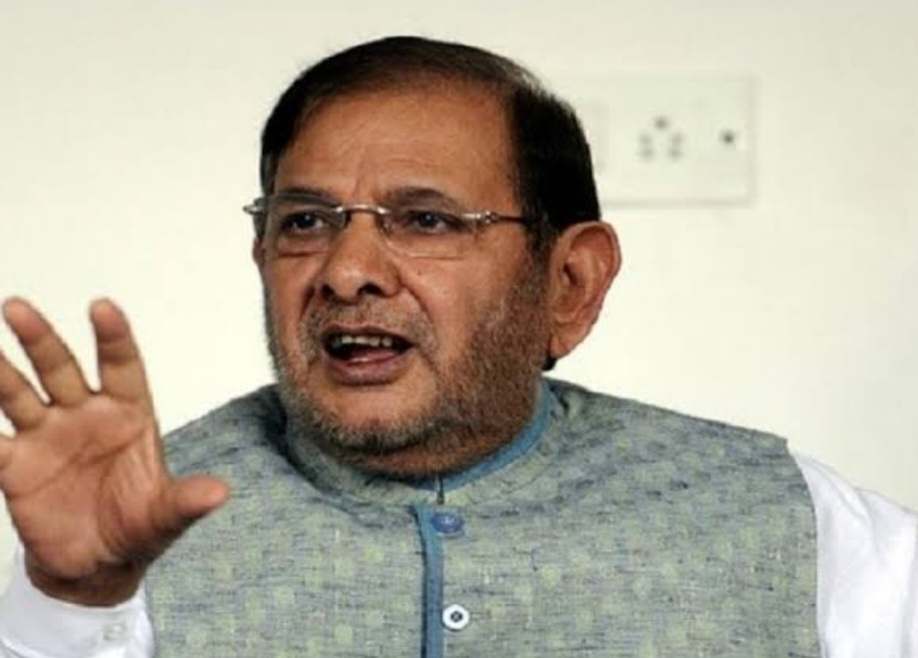 The socialist leader and former Union Minister, Sharad Yadav passed away at the age of 75 since being unwell for the past few months, when he complained of restlessness, was rushed to a Gurugram hospital where he breathed his last in the evening. The news spread like wildfire on Twitter where his daughter Suhasini Yadav tweeted- Papa nahin rahe which has garnered 17,000 likes since then.
Senior political leaders, including our Prime Minister Narendra Modi led rounds with his condolences who rightly noted that his long career was marked by the sense of social justice and overall a strong leadership, all inspired by the legendary late Ram Manohar Lohia, with other leaders like Malikarjun Kharge, the Congress supremo, MK Stalin etc joining in and tweeting about him in similar vein, as shown below: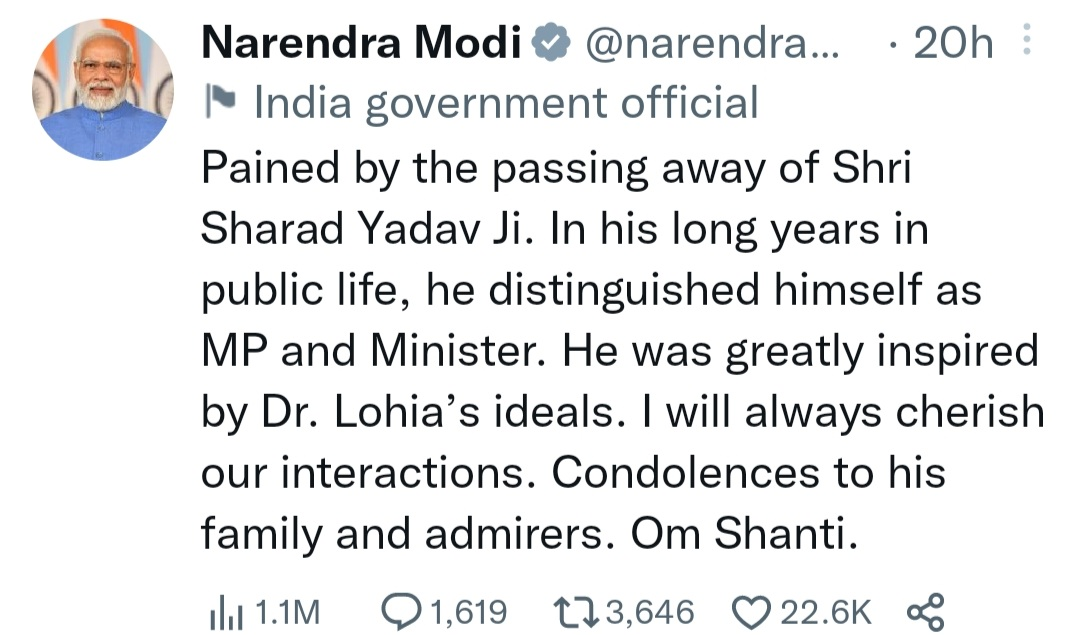 Sharad Yadav's birth Life
Sharad Yadav was born on the 12th of July, 1947 in Hoshangabad district of Madhya Pradesh and from his late 20s, in a election through a bypoll in 1974 in Jabalpur district, where as the leader of the combined Opposition, he defeated the Congress candidate, a laurel that was to follow many more in a long career. He fought and won elections in the following three places- Jabalpur, Bihar, Badaun.
Sharad Yadav's Political Career
Of course like any other effective, popular leader, Sharad Yadav changed parties form the Lok Dal during the notorious Emergency period to forming the widespread Janata Dal with the erstwhile royal VP Singh in 1988 and the 2003 time where he had a resilient partnership with the late George Fernandes and Bihar chief minister Nitish Kumar, showing that he remained firm on his ideals all these years.
While it was a talking point, his issue with the reservation of Lok Sabha seats for women, he tried to defend it by saying that he did advocate the quota of backward classes within the larger reservation for women, something that was visible when he vocalised his support for Mandal Commission. He had an unusually long career in the Lok Sabha, being elected 6 times and twice in the Rajya Sabha.
Sharad Yadav first entry to the ministerial life was when VP Singh became PM of a short lived National Front government(1989-1990), as Minister of Textiles and Food Processing. After the Janata Dal split, he formed the JDU, becoming a part of the BJP led NDA( National Democratic Alliance) , also being the convenor of the alliance. When Vajpayee became PM, he served quite diversely as Minister for civil aviation, labor, consumer affairs and food and public distribution between a 14 year period, ranging from 1990-2004. He lost his seat in the 2014 elections, and in 2016 he was replaced as the JDU president, forming the Loktantrik Janata Dal, which was later on merged with the Lalu led Rashtriya Janata Dal.
All of this didn't dim his shine, and he led quite a peaceful retired life, a sharp contrast to the more scandals of his contemporaries and even on the occasion of his death, he firmly remains in the doyen club of Indian politics.