Sundar Pichai, the CEO of Google, met with Prime Minister Narendra Modi on Monday, 19th December and pledged his support for creating a free and open internet that benefits everyone.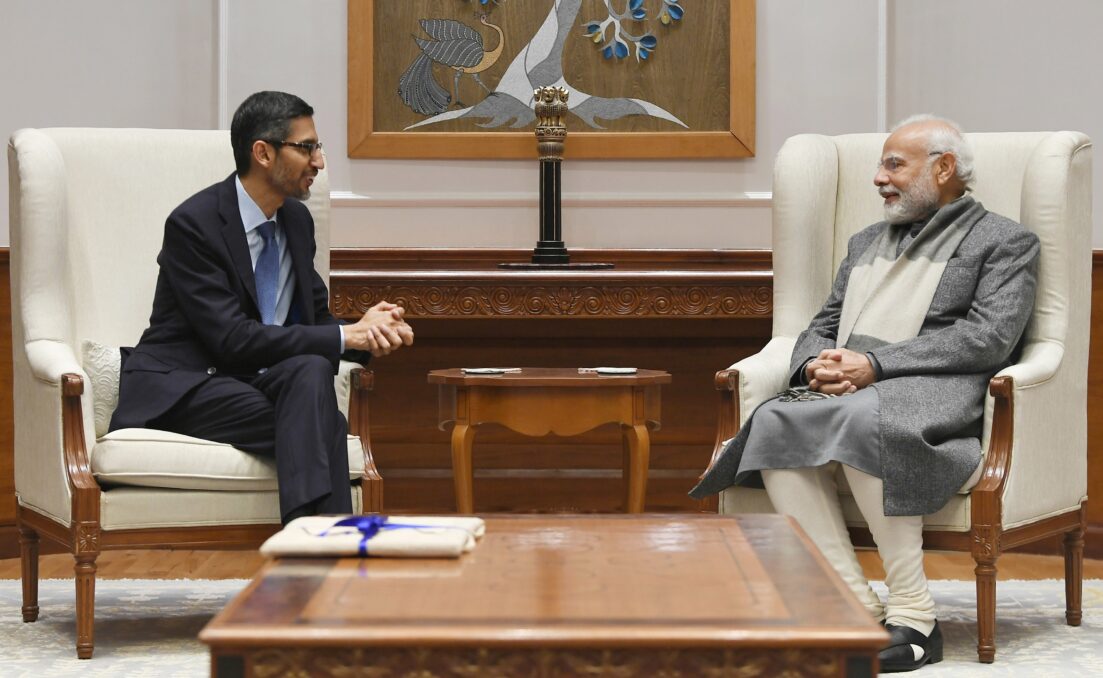 About the meeting
According to Pichai, India will have a sizable export-based economy and needs to strike a balance between safeguarding citizens and allowing businesses to grow within its legal framework, PTI stated.
Sunder Pichai is in the country meanwhile attending the event 'Google for India'. The company focuses on businesses from India, and of the 24,824 million set aside for startups, about one-fourth would go to companies with female executives.
He contends that because technology has an effect on people's lives on a worldwide scale, fair and appropriate policies must be established.
"India must strike a balance and establish safeguards for its population given its size and potential role as a technological leader". You're developing a foundation for innovation so that businesses may do so on top of legal certainty", Pichai stated. It will be organized in September 2023 and India plans to host 200 or more meetings throughout India next year.
"It seems like a crucial point in history. India will have significant export potential. Finding the right balance will be necessary", he continued. A free and connected internet will be advantageous.
Mr Sunder Pichai showed his gratitude towards the PM using his Twitter handle. Where the PM also expressed himself by tweeting at him.
About G20
An intergovernmental organization known as the Group of Twenty (G20), it is made up of 19 nations: Australia, Brazil, Argentina, Canada, China, France, Germany, India, Indonesia, Italy, Japan, Republic of Korea, South Africa, Mexico, Russia, Saudi Arabia, Turkey, United Kingdom, European Union and United States.
Around two-thirds of the world's population, over 75% of global trade, and about 85% of the global GDP are all represented by the G20 countries.
In the aftermath of the Asian financial crisis, the G20 was formed in 1999 as a forum for Finance Ministers and Central Bank Governors to discuss worldwide economic and financial issues. Following the global financial and economic crisis in 2007, it was upgraded to the level of heads of state or government, and it was granted the title of "principal platform for international economic cooperation" in 2009.
India has the presidency of the G20 from 1 December up to 30 November 2023.
Annually, the G20 Summit is conducted with a rotating Presidency in charge. The G20's agenda has since expanded to include topics like agriculture, anti-corruption, health, trade, climate change, sustainable development, environment, and energy. The G20 primarily focused on broad macroeconomic issues.
Sunder Pichai also calls President Murmu
Pichai also visited Rashtrapati Bhavan to speak with President Droupadi Murmu.
President Murmu praised the Google CEO as a symbol of Indian intelligence and talent, and tasked him with increasing digital literacy throughout India.