Eat these less well-known Indian Veggies, White Pumpkin and Green Jackfruit to become Super Nutritious.
Less well known Indian Veggies
Some foods are always forced on kids from their childhood, especially veggies. Most kids won't like healthy veggies packed with nutritious values. Many Indian veggies and their nutrients are less known by the parents too for a healthy lifestyle. Here we talk about the two less well-known Indian veggies that are Super Nutritious namely White Pumpkin, and Green Jackfruit. These veggies give more benefits to our health and never forget to add these to our day-to-day lives.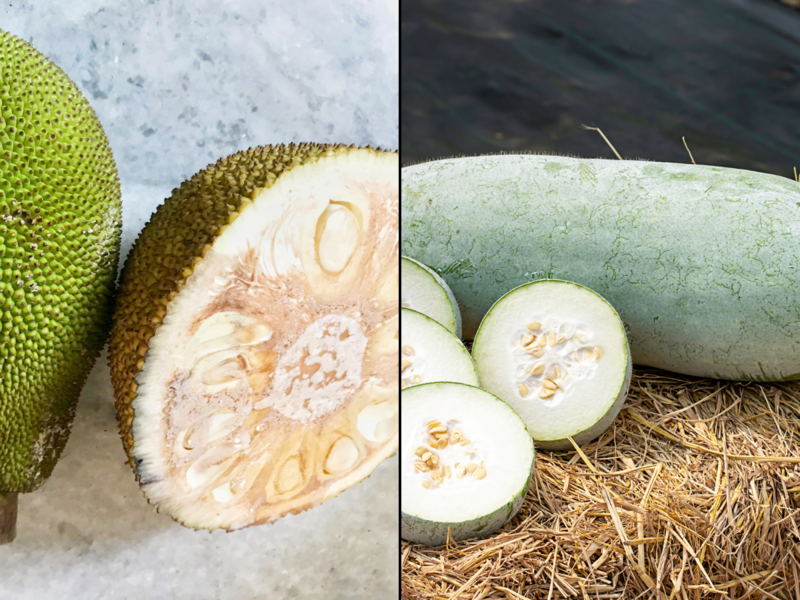 Importance of Green Jackfruit
It's mainly used as a substitute for meat in vegetarian foods. It's rich in Vitamin C, phosphorous, and potassium. Nutritionist, Dr. Nicheta Bhatia briefed about the rich values of Green Jackfruit and how it helps to control blood pressure, high cholesterol and type 2 diabetes in one of her lectures at Delhi University.
She states that "Phytochemicals are specialized substances present in Green Jackfruit which acts as an antioxidant. It helps to regulate cholesterol levels." This fruit is very helpful for cancer patients to control the disease. "Moreover, she added that" As Intermediate Glycemic Index is found in Jackfruit, its stems and leaves help to control Type II diabetes. As it has a rich source of vitamin C, the Immune system and healing capacity of the body are improved."
Several ways of consuming Green Jackfruit
There are many ways to enjoy this known, Green Jackfruit. Some of the ways as explained by Nutritionist & Diet Consultant, Sushant Jain are as follows:
Can be taken raw in salads with lemon, pepper, and mint.
Can be used to make smoothies.
Can be roasted, cooked, and grilled.
Used to make stuffed food items along with other toppings.
Used to make porridges.
Green Jackfruit flour available in markets can be bought to make Rotis. It is mainly used by diabetic patients to control their sugar levels and women who suffer from PCOD problems.
One to two tbsp. of Powder obtained from green Jackfruit can be added to make roti's, idly, dosa, pancakes, etc. This will help to reduce blood sugar levels in both pre and post-meals. It can also be taken in the early morning to produce better results.
A Fermented juice prepared from the leaves of this Green Jackfruit also helps to reduce blood sugar. It can be taken with cinnamon, early in the morning for better results.
We all know that anything which is over-consumed is very hazardous to our health. So, consuming Green Jackfruit products within the safety limits gives tremendous results to mankind.
Benefits of White Pumpkin
White Pumpkin is also known as Ash gourd. It is widely found in India. It is a great source of phosphorous, calcium, and tryptophan – an amino acid that deprives mood elevations. It is used to treat mental depression of a person.
Experts Suggestions
"The anti-inflammatory properties of Whit Pumpkin help to control asthma and arthritis, thereby regulating cholesterol levels."- says Nutritionist, Dr Nicheta Bhatia. "White Pumpkin juice increases WBC's thereby increasing the immunity of a person." The seeds of this White pumpkin help to reduce prostate enlargement, prostate cancer, and bladder problems, as it has a rich source of zinc and carotenoids." she adds.
Another nutritionist, Suhari Jain always recommends her patients have a glass of white- pumpkin juice to reduce Cholesterol, acidity, blood pressure, and indigestion. It also helps in losing weight as this is a Super Nutritious food. "This drink resolves digestion problems and burns body fat", she adds.
Some of the White Pumpkin recipes shared by nutritionist, Suhari Jain is as follows:
Ash gourd Juice
Wash, peel and cut the required amount of ash gourd. Blend it in a mixer with the required amount of lemon juice, ginger, mint leaves, and water. Mix this juice with its pulp. Add Honey to taste, if needed. This super drink when consumed on an empty stomach every morning along with exercises for half an hour a day will provide better results for weight loss. It can also be taken as smoothies along with apple or pineapple /cucumber, cardamom, pink salt, etc. for the same.
Other recipes
It can be taken as stuffings in roti, parathas, and sandwiches.
Can be used in salads, and cooked as a porridge or gravy along with rice.
Used to make Halwa and dessert for festive seasons.