Serbs blocked roads in protest arrest of Serb policemen which raised the tensions between Serbia and Kosova again.
The Serbs began blocking border crossings on 10th Dec 2022 after the arrest of a former policeman. He was one of the 600 officers who resigned last month in a protest against Kosovo's plans to ban Serbian license plates.
Serbia's President Alexandar Vucic blames Kosova for provoking the situation. Kosovo's prime minister Albin Kurti accuses Serbia of trying to destabilize the region he's asked NATO to step in.
Kosova declared independence from Serbia in 2008 10 years after a war killed at least 13 thousand people. The US and major European countries recognized Kosovo's breakaway, but Serbia reses to do so. Kosovo's membership in the UN is blocked by Serbia's Ally Russia around 4000 NATO peacekeepers remain on the ground after the allies intervened to end the conflict in 1999.
Serbia will request to return troops to Kosovo to protect the ethnic Serb minority, President Alexandar Vucic said, as tensions among the former wartime foes intensify. Kosovo authorities want the ethnic Serb minority to surrender their Serbian-issued plates. Serbia does not recognize Kosovo's independence hours before Kosovo today's deadline (13 Dec 2022), the Prime Minister of Kosovo agreed to delay issuing fines for 48 hours. He said he was "happy to work with the US and the European Union to find the solution".
Russian Foreign Ministry spokeswoman Movie Zaharoua blamed the Kosovo tension on Kosovo authorities imposing "groundless discriminatory rules" which clears that the incident influenced Soviets.
An MP from Mr Vucic's party said Serbia would soon be compelled to begin the "denazy fication of the Balkans" using the same language that President Putin used to justify this invasion of Ukraine.
Tension between the Serbia and Kosovo:
What appears to be a simple dispute about car license plates has amplified into strained relations between Serbia and Kosovo, and the European Union is urging all parties to de-escalate. This incident has compelled police officials to shut down two border crossings with Serbia after demonstrators shot the authorities and blocked roads The government also said that ethnic Serbs who have vehicle registration plates issued by Serbia will have to change them to Kosovo's license plate.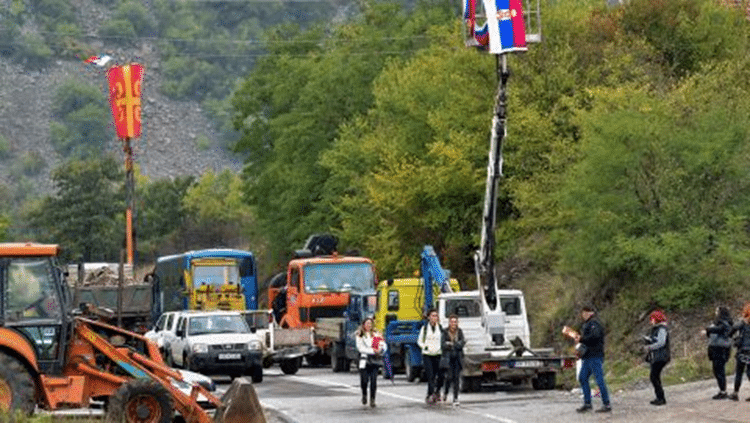 Kosovo used to be a part of Serbia, but ethnic Albanians make up 92% of 1.8 million people who live there around 6% are Serbs and they claim they have been marginalized. International officials hope that Serbia would allow Kosovo to get a seat in the United Nations without recognizing its statehood.
Related Search: Novak Djokovic to skip Serbia's Davis Cup group stage