Table of Contents
AVAVAV'S fashion show was a typical disaster…and it wasn't accidental.
Milan Fashion week spring/summer 2023 served a wide array of memorable shows and looks, but the one part that probably stood out the most was designer Beat Carlsson's show, which is going viral right now.
Usually people associate fashion shows with serious looking models strutting down with the perfect walk, an aura of sophistication surrounds the event. For any model, tripping on stage is a huge laughable dent in their career and for any designer clothes tearing midway an event is their biggest nightmare. This show however, was far from ordinary.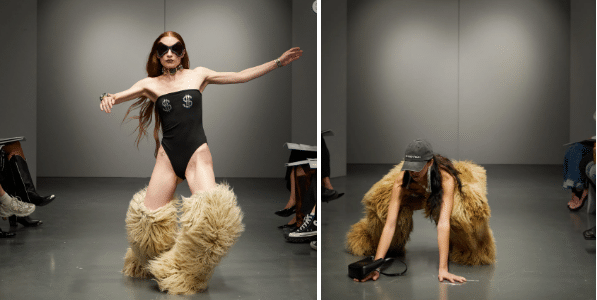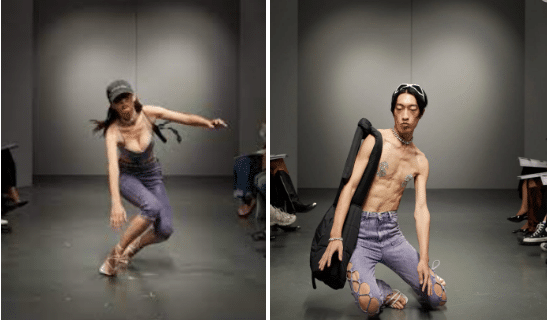 The attendees witnessed surrealism at its best at the AVAVAV Milan show as dresses came apart, heels snapped, whole outfits got disassembled and accessories fell to the ground. The final blow was the wall behind the ramp falling just as the Swedish mastermind behind the concept stepped on to stage for the designers bow.
The unusual display of fashion was rightfully coined the "Fake it till you break it" show. For any viewer one question that arises is, despite the well established fear of the very things that happened on the show, from falling models to torn clothing , why did they chose to go with something as stigmatized as this?
What was the point?
Carlsson went on to explain the concept of the show. She expressed her awareness of the general impression of fashion. It's something which is so serious at times, especially at fashion shows. One might also prefer a boring garment with a designer label on it to a really fun outfit from a less popular place at one-third the price. 
A major reason for this unreasonable choice is societal perception. The branding feeds the quest for validation hat almost all of us are running in and it overpowers the ability to see the actual value of the piece, or the financial loss incurred. 
A lot of times such clothing is worn to portray a persona of invincibility, power or supremacy, however at the end of it all, it's just a portrayal, an illusion, a manipulation. Even the costliest clothes at the end of the day, are clothes, fabric intertwined with the ability to tear.
In the midst of this competition to fake a persona, fashion is losing one of its biggest purposes… fun. AVAVAV's show was a display of all things "wrong" giving a beautiful message that even dysfunction can be beautiful, sometimes it's okay to have a little fun!
Fashion is allowed to be vulnerable.
The designer, Beat Carllson went on to say that a lot of thought was put into the show's message. Clothes coming off is something that holds a lot of potential to cause embarrassment, it's a moment when one is most vulnerable.
In an industry where shows are orchestrated to portray perfection, there was a need for some attention to the beauty in vulnerability to, to display the human side of fashion. And this portrays just that. 
People seem to be relating to this aspect a lot and appreciating this effort at being different which is actually feasible to the common man and not just to the extremely rich people who can afford designer clothing. 
https://www.instagram.com/reel/CpKu3INjGzF/?utm_source=ig_web_copy_link
"Fake it till you break it" was intended to take the power card away from fashion labels and equate everything at a level ground. Fashion can be whatever we want it to be after all, designer or local, what most valuable is if it's truly you.
---
PICTURE CREDITS: Vogue, Indian Express