-A lady's imagination is very rapid; it jumps from admiration to love, from love to matrimony in a moment."

–Jane Austen, Pride & Prejudice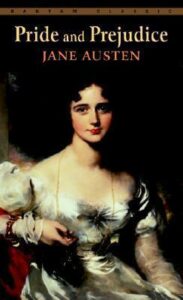 Jane Austen(1775-1817), was an English novelist. She was a writer of novel with a remarkable work of art. She wrote about people in daily situational everyday life.
Her use of words, characterization, story telling, expressing sympathy through her characters, everything was a like magic to the readers.
She wrote six novels- Sense and Sensibility(1811), Pride and Prejudice(1813), Mansfield Park(1814), Emma(1815), and Persuasion and Northanger Abbey(both 1817).
Born in December 16, 1775 in Steventon, Hampshire, England. She died on July 18, 1817 at Winchester.
She was first person to relate her characters with ordinary people in everyday's life. She depicted middle class life in her novels during 19th century.
Even after so many years, her novels are still admired, because no one else at that time thought about the feelings of middle class people.
Her father Reverend Stephen was a scholar and always encouraged her for learning new things.
The first version of Pride and Prejudice, completed between October 1796 and August 1797, was known as "First Impression". Egerton published Pride and Prejudice in 1813 and later in same year second edition was also published.
Her novel "Pride and Prejudice" is still remembered as a evergreen novel.
Some information about the novel
Originally Published- 28 January, 1813
Language- English
Characters- Elizabeth Bennet, Mr. Fitzwilliam Darcy, Charles Bingley, Jane Bennet, Mr. William Collins, George Wickham, Lady Catherine de Bourgh, Mrs. Bennet, Lydia Bennet, Caroline Bingley, Charlotte Lucas, Georgiana Darcy, Mary Bennet, Kitty Bennet, Mr. Gardiner
Genres- Romantic, Fiction, Novel of Manners and Satire.
The Novel
The story of the novel is about the misunderstanding between Elizabeth Bennet, daughter of a country gentlemen and Fitzwilliam Darcy, a rich aristocrat landowner.
As said earlier, novel was named as "First Impression" but was changed later according to the story revolving around the two protagonist.
"Pride" of self-respect, rank and fortune and "Prejudice" against inferiority, arrogance. But, at the end they come together in love and understanding.
Mrs. Bennet wants her daughters to get married to rich guys, for which she persuades her husband to attend the party by Charles Bingley.
Charles Bingley gets attracted to Jane Bennet(the elder daughter) in the party. Elizabeth(the second daughter) and Darcy start having their misunderstanding for each other moment they meet each other.
There are many other characters which are connected to Elizabeth and Darcy.
As the story goes, there many small twists which makes both the characters to understand each other leaving their pride and arrogance.
Theme- "Marriage"
The very opening of the novel is followed with a famous quote:
"It is a truth universally acknowledged, that a single man in possession of a good fortune must be in want of a wife."
The main motive in novel is marriage and settlement, which is also seen as problem.
While reading the novel, one will question whether the men with good fortune really needs a wife and the daughters must get married and see them settled safely with all comforts in the world.
In our society, marriage is always a question when a girl leaves her teenage.
People think once the girl is married with a wealthy, rich guy, she will have a settled house and will not face any financial problems.
There is one character in the novel, Charlotte Lucas who gets married to Mr. Collins, as she is happy that she will have a comfortable life ahead.
Another character, Lydia Bennet(youngest daughter) elopes with Wickham and the result is she has to marry that guy regardless of him being a poor or unworthy.
Elizabeth and Darcy, initially their arguments goes for one or the other reasons. But they finally ends up in being love. They are the only characters which goes behind in search of love.
Although Darcy had feelings for Elizabeth even when they had arguments, but Elizabeth only accepts the proposal of Darcy when she herself believes that she is also in love with him.
The character of Elizabeth is a all-time favourite of Jane Austen among her all other female characters.
Jane Austen has presented different marriages, which also make us to think what kind of alliance is needed for one to married- wealth, love or attraction.
The Movie(2005)
Price and Prejudice, movie released in 2005 directed by Joe Wright, is based on Jane Austen's novel of same name. The film stars Keira Knightley as Elizabeth Bennet and Matthew Macfadyen as Mr. Fitzwilliam Darcy.
The film revolves around the Bennet sisters, dealing with issues of marriage, morality, status and misunderstandings.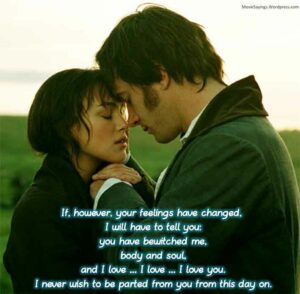 Some information about the film:
Directed by- Joe Wright
Produced by- Tim Bevan, Eric Fellner, Paul Webster
Starring:
Keira Knightley as Elizabeth "Lizzy" Bennet
Matthew Macfadyen as Mr. Darcy
Brenda Blethyn as Mrs. Bennet
Donald Sutherland as Mr. Bennet
Tom Hollander as Mr. Collins
Rosamund Pike as Jane Bennet
Carey Mulligan as Catherine "Kitty" Bennet
Jena Malone as Lydia Bennet
Talulah Riley as Mary Bennet
Judi Dench as Lady Catherine de Bourgh
Simon Woods as Charles Bingley
Tamzin Merchant as Georgiana Darcy
Claudie Blakley as Charlotte Lucas
Kelly Reilly as Caroline Bingley
Rupert Friend as George Wickham
Cornelius Booth as Colonel Fitzwilliam
Penelope Wilton as Mrs. Gardiner
Peter Wight as Mr. Gardiner
Meg Wynn Owen as Mrs. Reynolds
Sinead Matthews as Betsy
Roy Holder as Mr. Hill
Cinematography- Roman Osin
Editing- Paul Tothill
Production- StudioCanal, Working with films, Scion films
Released on- 11 September, 2005
OTT- Netflix
The movie version of Pride and Prejudice has given its readers a remarkable performance. Although, movie is novel adaptation, but it has not the viewers feel bored. The film is equally appreciated like novel.
The characters of the movie is as it is printed from the novel.
Joe Wright was able to show all the characters and also covered each chapter of the novel.
The film looks very handsome, dashing, beautiful locations and costumes with excellent performance by Keira Knightley, Matthew Macfadyen, Judi Dench and many more.
Overall a worth watching and beautiful movie, a timeless adaptation of Austen's novel.
YouTube- Trailer- Pride and Prejudice(2005)