The United Nations urged the leaders of Iraqi to de-escalate the spread of instability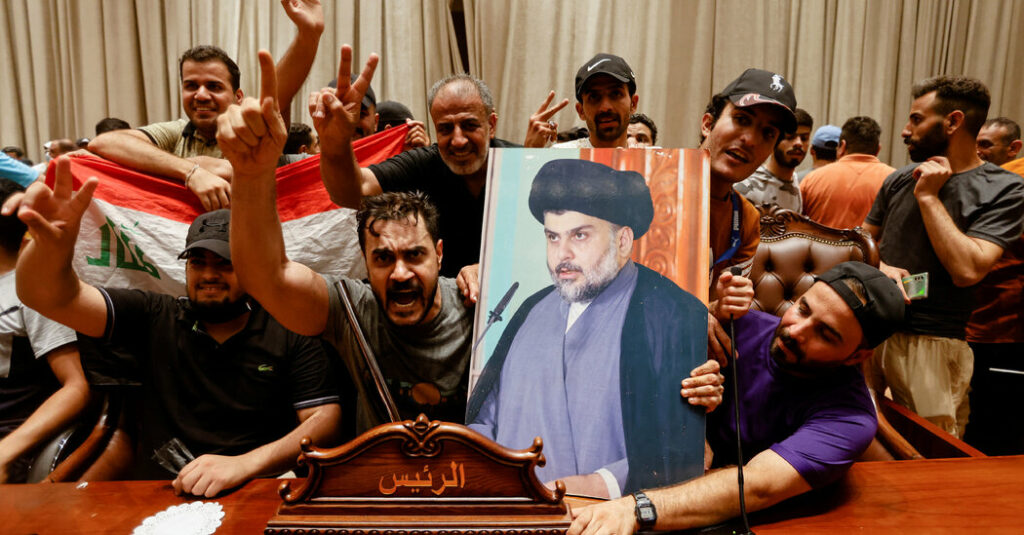 For the second time this week, thousands of supporters of a powerful Shia cleric stormed the Iraqi parliament on Saturday to demonstrate against efforts to create a government being headed by his adversaries, a coalition of organizations with Iranian support. The alliance displayed symptoms of internal conflict, with some calling for counter-protests and others later urging for discussion, raising the possibility of civil unrest.
According to the nation's Health Ministry, 100 citizens and 25 security officers were hurt as protesters rushed Baghdad's fortified Green Zone, which is home to government offices and embassies, and encircled it from all four sides. Other protesters could be seen making their way toward the Supreme Judicial Council headquarters and the federal court. Six people are in critical condition.
Anti-riot teams fired hot water, tear gas, and pepper gas at the protesters after they used ropes to knock down tall concrete walls. As soon as they got inside, the demonstrators proclaimed a permanent sit-in and said they would not leave until their demands were met. The cops withdrew as protester numbers increased. There was no scheduled session of parliament, and no lawmakers were present.
Nine months of deadlock during which disagreements between the nation's various political groupings hindered the formation of a new government have led to the turmoil. Following the election in October, Mr. Sadr, a Shia cleric who seeks to end US and Iranian meddling in Iraqi domestic affairs, declared victory for his nationalist Saeroun organization.
Building a new government coalition has subsequently proven to be impossible, however, as Mr. Sadr has refused to cooperate with opponents. He and his followers have rejected Mohammed al-bid Sudani's bid for prime minister because they think he is too close to Iran and is supported by the Coordination Framework.
Mustafa al-Kadhimi, the country's acting prime minister, instructed security personnel to safeguard the protesters and urged them to maintain civility. Crowds gathered in response to al-appeals Sadr's to demonstrate against the Coordination Framework, an alliance of Shiite parties supported by Iran, for designating Mohammed Shiya al-Sudani as its official candidate for prime minister.
The United Nations urged the leaders of Iraq to de-escalate and underlined its concern about the spread of instability. "Rational and wise voices must be heard in order to stop more violence. In the best interests of all Iraqi, all parties are urged to de-escalate, the UN added.
The cleric had commanded his followers to support their interests within the Green Zone twice in the previous four days. On Wednesday, after protestors similarly stormed the parliament, they were ordered to leave by al-Sadr shortly after entering. As the day went on, security forces' defenses within the parliament weakened, and many were seen sitting and talking to protesters. Later, several demonstrators started to move from the parliament toward the structure housing the Judicial Council.
In the days preceding Ashura, which honors the passing of Imam Hussein, the Prophet Muhammad's grandson and one of Shia Islam's most significant figures, many demonstrators wore black clothing. Protests have been sparked by Al-messages Sadr's to his supporters using this significant day in Shia Islam.
It's unclear how much the events on Saturday would jeopardize efforts to rally enough support for al-premiership Sudani's ambition. Al-Maliki had intended to run for the position of prime minister himself, but audio recordings of him allegedly cursing and criticizing al-Sadr and even his own Shia friends leaked, ultimately crushing his bid.
Despite having won the most seats in the federal election in October, Al-Sadr recently announced his resignation from politics. On Wednesday, he said that Ministers could not select a prime minister or a government without consulting him and receiving his approval.