Europe's biggest nuclear plant struck again as Russia and Ukraine both blame each other. The shelling comes ahead of a UNSC meeting, thus raising concerns about fighting around a nuclear plant.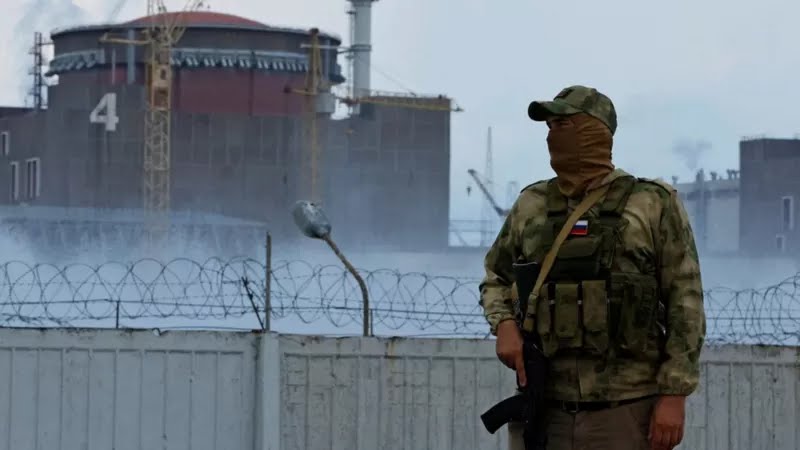 On Thursday both Russia and Ukraine accused each other of shelling Europe's biggest nuclear plant in Zaporizhzhia. Both sides claim that the office and the fire station were hit 10 times. There were also 5 rocket strikes near a radioactive area near the storage of the plant. As the news reached a meeting of the UN Security Council, the head of its nuclear watchdog, Rafael Grossi, warned it was " a grave hour". And UN Secretary-General Antonio Guterres also said it could "lead to disaster".
Soon China and the US called for UN experts to be allowed to urgently visit the plant. Earlier US had called for a demilitarized zone to be set up near the Ukrainian nuclear plant, but Russia didn't pay heed. At that time, Russia's UN representative claimed demilitarization was not an option. " It would make the plant vulnerable to provocations and terror attacks," he said.
Russia Captured the Ukrainian Nuclear Plant in March
Russian troops occupied Zaporizhzhia on March 2022 while invading Ukraine.  The Ukrainian nuclear plant was put under the Russian nuclear power company Rosatom while most of its Ukrainian staff were retained. In July Russian forces had reportedly deployed rocket launchers in the complex and turned it into a military base. In early August, the International Atomic Energy called the nuclear plant "out of control," needing inspection and repairs.
On 8th August, Ukraine said renewed Russian shelling had damaged three radiation sensors and injured a worker. On the other hand, Russia accused Ukraine of hitting the site with rockets. Till now both sides have accused each other of bombarding the nuclear plant.
According to Energoatom, the Russian army had shelled Zaporizhzhia nuclear plant on 11th August. The shelling hit an administrative office near the welding area, damaging several radiation sensors. Russians had even targeted the fire station, it claims. Owing to the incessant shelling it was hard to change personnel after their shift ended. As a result, they had to work overtime. But the situation is now under control, Energoatom said. Ukraine's President Zelensky too warned that Russia could cause an incident "even more catastrophic than Chernobyl", referring to the 1986 Soviet nuclear disaster. " Only the complete withdrawal of Russians from Zaporizhzhia.
Russia Accuses Ukraine of Attacking Nuclear Plant
Soon pro-Russia officials issued a counter-statement accusing Ukrainians of attacking the  Zaporizhzhia nuclear plant. They accused Ukraine of using rocket launchers and heavy artillery. None of these claims have been verified so far.
Meanwhile, Rafael Grossi again called for his International Atomic Energy Agency to be allowed to inspect the damage.
" This is a serious hour, a grave hour and the IAEA must be allowed to conduct its mission to Zaporizhzhia as soon as possible", he said. On the other hand, UN Secretary-General Antonio Guterres cautioned: "Urgent agreement is needed at a technical level on a safe perimeter of demilitarization to ensure the safety of the area." It appears that Ukrainian Foreign Minister Dmytro Kuleba too played a role by calling on Mr. Rossi to intervene.
India's Role in the Conflict
So far India has been wary of the dangers of a nuclear incident in Zaporizhzhia. India's Permanent Representative to the United Nations, TS Trimurti said:
" India attaches the highest importance to ensuring the safety and security of nuclear facilities, as any incident involving the nuclear facilities may have severe consequences for public health and the environment. Mr. Trimurti also repeated India's position on the Ukraine war: the resolution of differences through dialogue and respect for the UN.
(Inputs, BBC, Times of India, the Hindu)