In an interview with Sulajja Firodia Motwani about Lithium Mineral Discovery in Kashmir, the Founder and CEO of Kinetic Green Energy & Power solution suggested discovering the 5.9 million power lithium in Kashmir could have a severe Geopolitical and Economic advantage for India.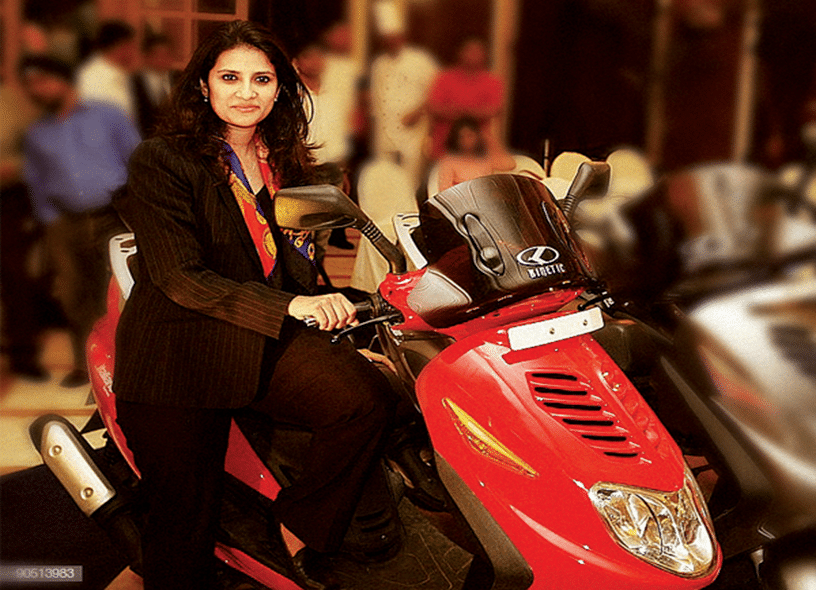 Table of Contents
The Pune-based Kinetic group rolled out the famous Luna, and Kinetic Honda is now making scooters, three-wheelers, and buggies.
Lithium battery inputs touched 450 million units, about $929 million, from April to November 2022.
"With this (domestic lithium), India could focus on making LFP chemistry batteries (Lithium ferro phosphate batteries using lithium, iron, phosphate) domestically. LFP Chemistry is the most suited for Indian conditions, is what she added.
According to her, lithium reserves are encouraging as they aid in e-mobility and achieving net zero carbon emission goals. She also feels India should continue.
She also considered lithium batteries a better option than sodium, which will take time to prove its automotive capacity.
This all comes after the Geological Survey of India (GSI) discovered up to 5.9 million tons of Lithium in the Salal- Haimana area of the Reasi district in Kashmir.
The GSI originally mapped and reported the presence of lithium deposits in the region more than two decades ago, in 1999. Mapping by GSI is the very first step toward identifying any mineral. It is followed by the next phase of exploration, where the inferred resources are calculated based on a physical and chemical study of the surface and samples(India Needs Tech Transfers to Mine Its New Lithium Reserves, n.d.).
India also had another claim of lithium deposits in 2021, when India's Atomic Minerals Directorate for Exploration and Research (AMDER) claimed to find 1,600 tonnes of the metal in the Marlagalla area in the Mandya district of Karnataka (India Needs Tech Transfers to Mine Its New Lithium Reserves, n.d.).
The country took two decades to move from the G4 (reconnaissance) stage, where the mapping of resources takes place, to the G3 (prospecting) stage, where quantities are inferred based on the interpretation of geological, geophysical, and geochemical results. A deposit is identified, which will be the target for further exploration (India Needs Tech Transfers to Mine Its New Lithium Reserves, n.d.).
In the next stage, G2 (general exploration), more studies are done to estimate the minerals' shape, size, and grade. And finally, the G1 phase (detailed investigation) is where characteristics of the deposit are established with a high degree of accuracy. A decision on whether to conduct a feasibility study next can be made from the information provided by the G1 stage. GSI adopted this classification of mining exploration of the United National Framework Classification for mineral reserves of 2009 (India Needs Tech Transfers to Mine Its New Lithium Reserves, n.d.).
Kashmir in Focus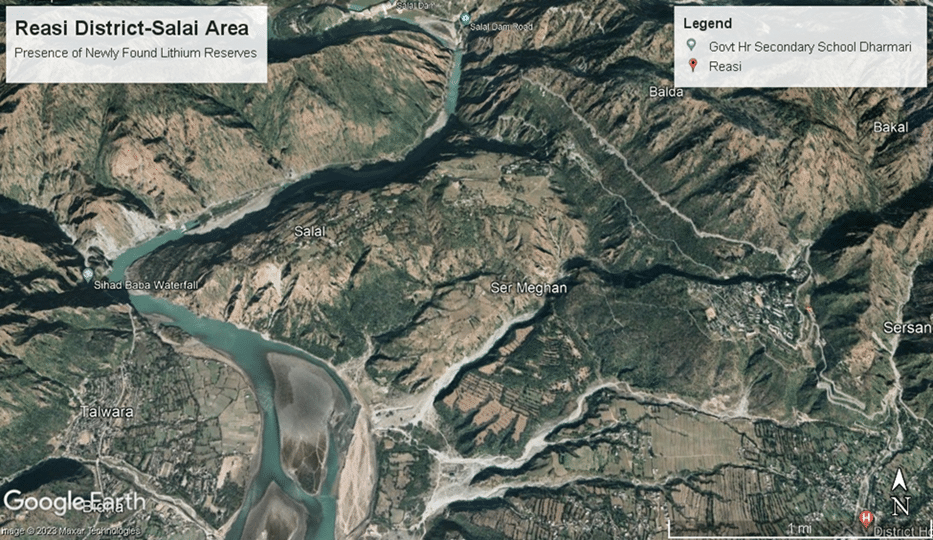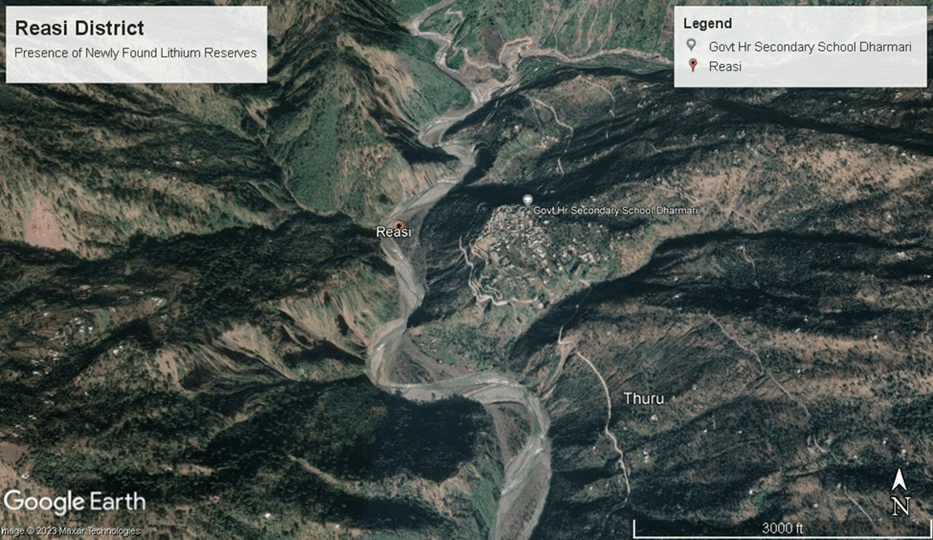 The town of Salal in Kashmir is home to 10,000 people. Still, however, it is poorly served or connected by good transportation infrastructure, there aren't many medical facilities in this town or even petrol (gas) stations.
The village thrived due to agricultural activity but may soon be pushed into the Industrial foray of renewable energy development when the Geological Survey of India announced that the town was sitting atop 5 million tonnes of lithium; this brought much-needed joy to the local inhabitants.
Pritam Singh, the 55-year-old head of the village, says he "jumped with joy" when he read the headlines. Teenagers dug up small pieces of rock and ran around the town, and TV cameras descended on the area. However, the euphoria of joy stood with despair as Singh said he could see what was coming next. "The village will be demarcated for further exploration, and we will be relocated," he says. "I think too damn with this lithium. We don't even need money if they spare our village now."  (The Mountain Village in the Path of India's Electric Dreams | WIRED UK).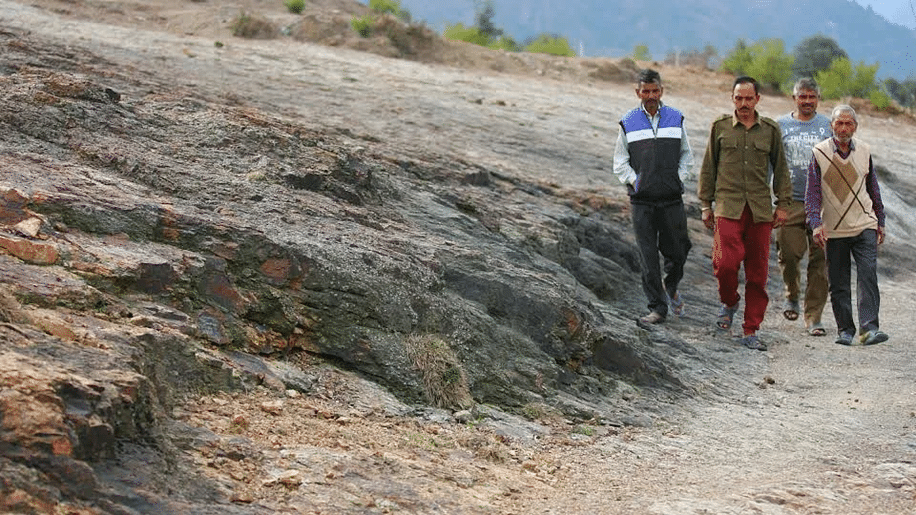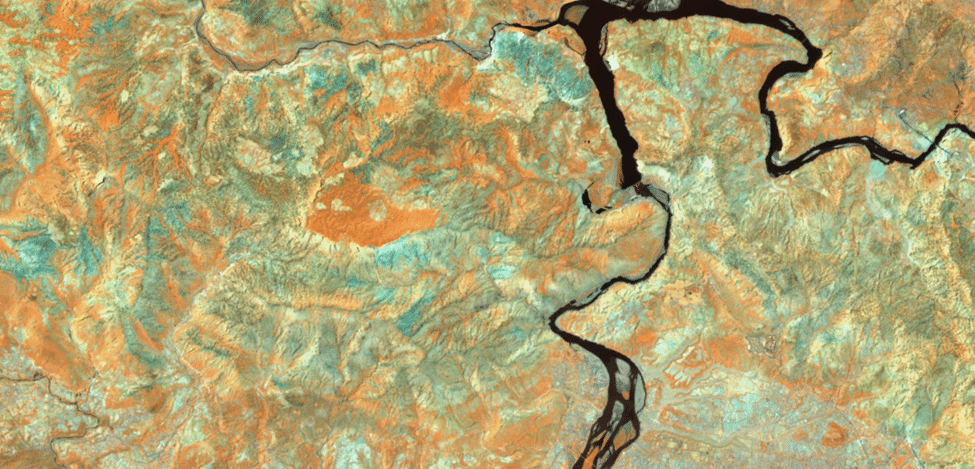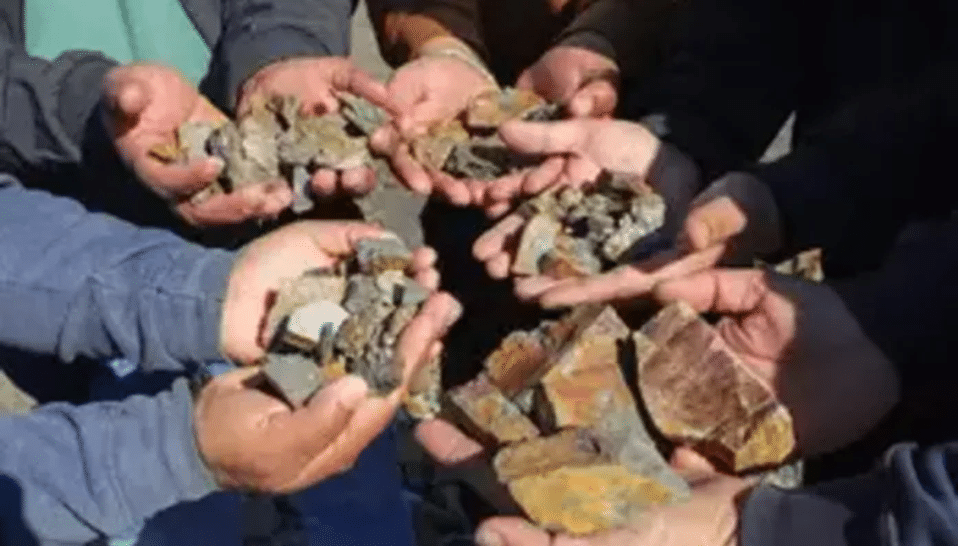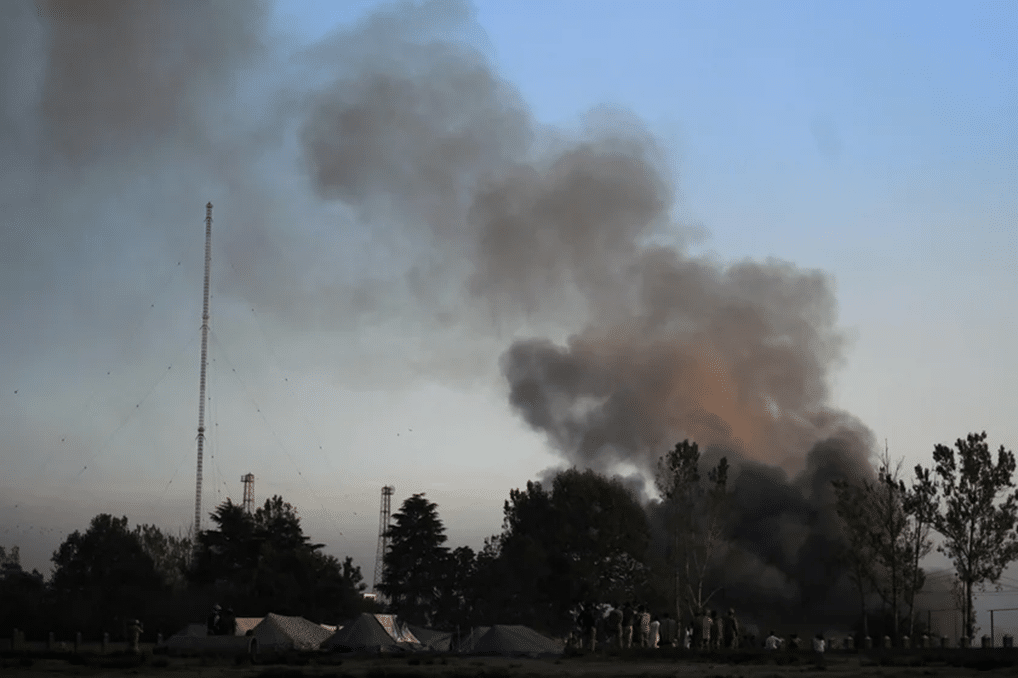 In light of this discovery, many terror organizations have threatened the discovery of these reserves, including the People's Anti-Fascist Front. In a statement, the terror group's spokesperson said it would not allow the "exploitation" and "theft" of resources of Jammu and Kashmir. "These resources belong to the people and should be and will be used for the betterment of the people of Jammu and Kashmir," it said ( https://www.indiatoday.in/india/story/terror-group-issues-threat-after-discovery-of-lithium-reserves-in-jk-2334244-2023-02-13).
What is Lithium, and why is it so Important?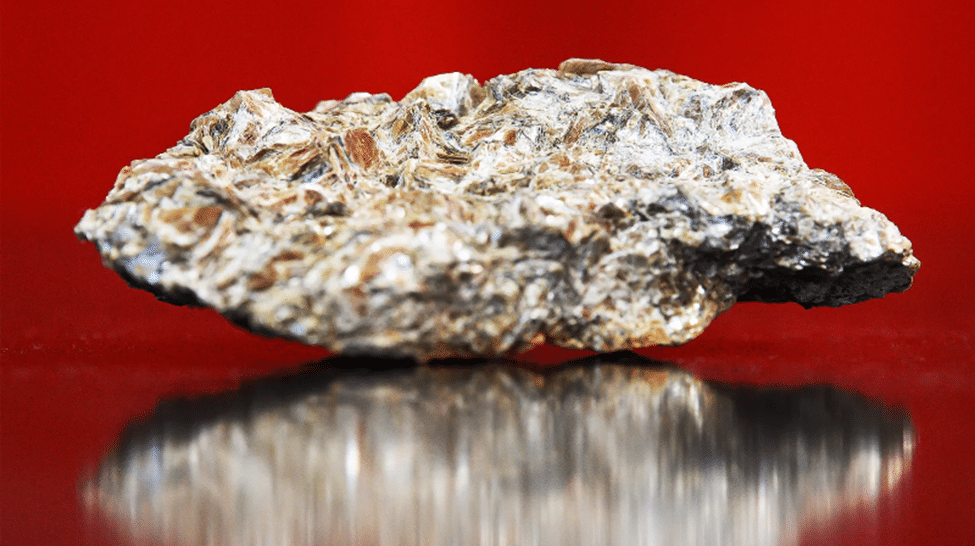 Lithium is a chemical element with the symbol Li and the Atomic number 3 derived from the Greek Work Lithos, meaning "Stone." It is a soft silvery alkaline material; like all alkaline materials, it is flammable. Petalite, a form of lithium, was discovered in 1800 by the Brazilian Chemist José Bonifácio de Andrada e Silva, a well-known statesman in a Swedish Island called Utö, as years passed. It became distinctive when an intense crimson flame was thrown onto the fire. It was not until 1817 that Johan August Arfvedson of Stockholm classified it as an unknown metal and called it Lithium with a realization that it was a new metal slightly lighter than sodium.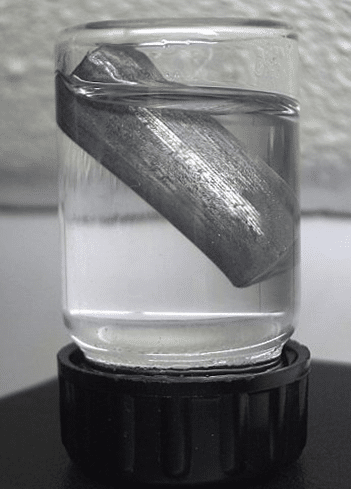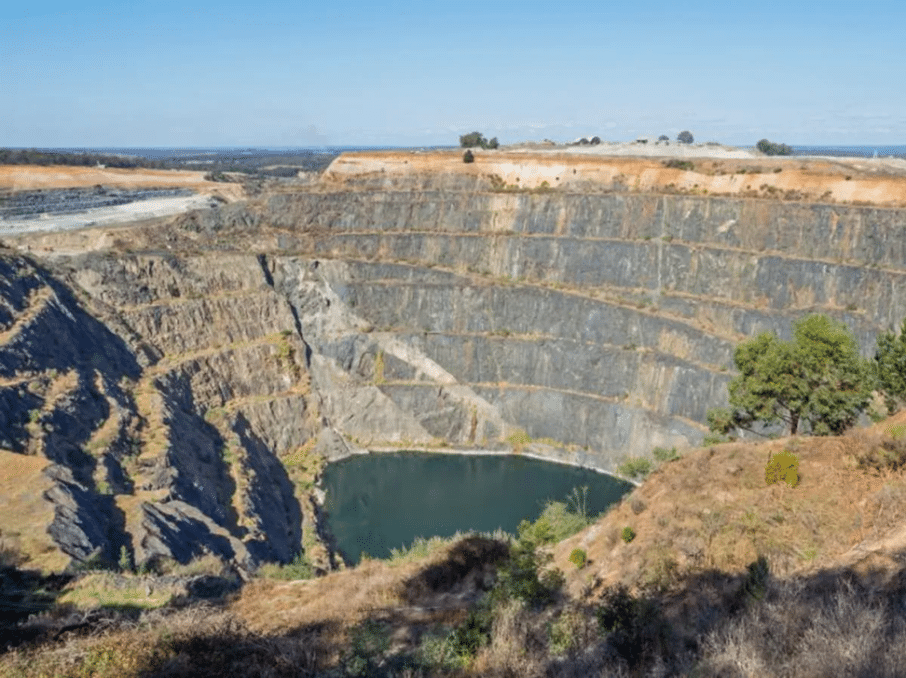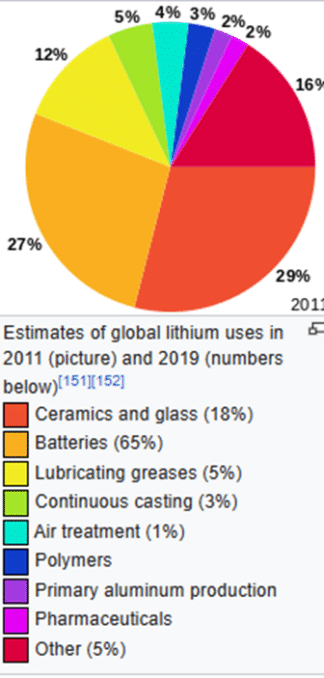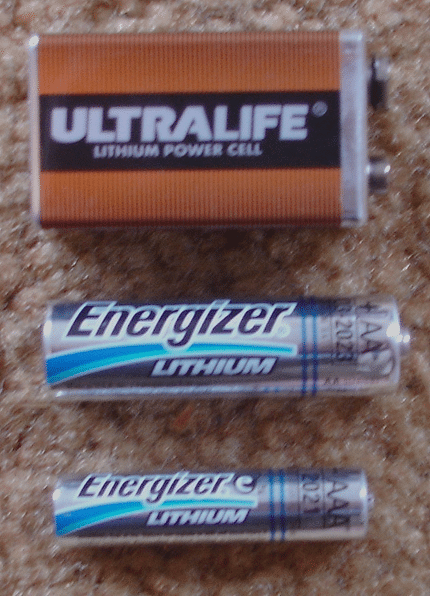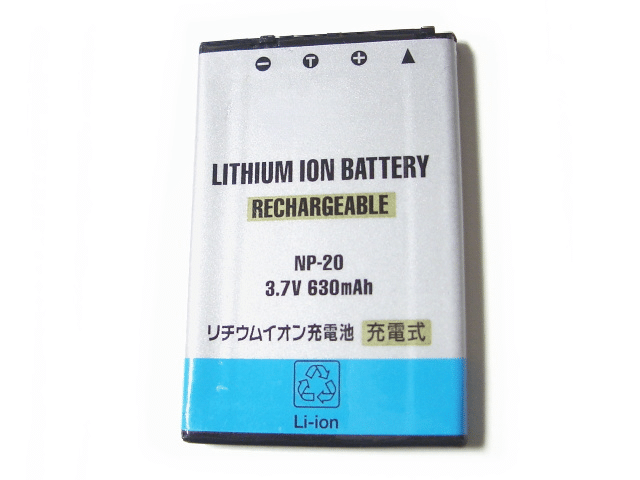 This highly reactive metal can hold much energy; It is often called white gold for Electric Vehicles.
According to Hotworks.com, as comparable to the usage of lead-acid technology, it shall take 6kg to store the same amount of energy 1kg of Lithium can end up storing.
Lithium batteries can also hold their charge for a vaster number of periods. However, the downside of lithium batteries is that they degrade quickly. A lithic ion only loses 5% of the charge per month compared to a nickel-metal hydride, which yields a 20% loss.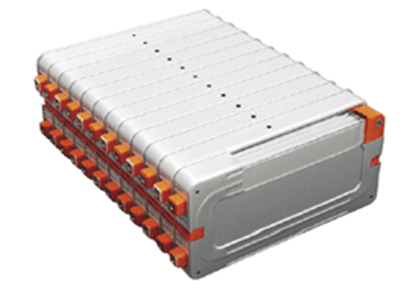 Global Lithium Production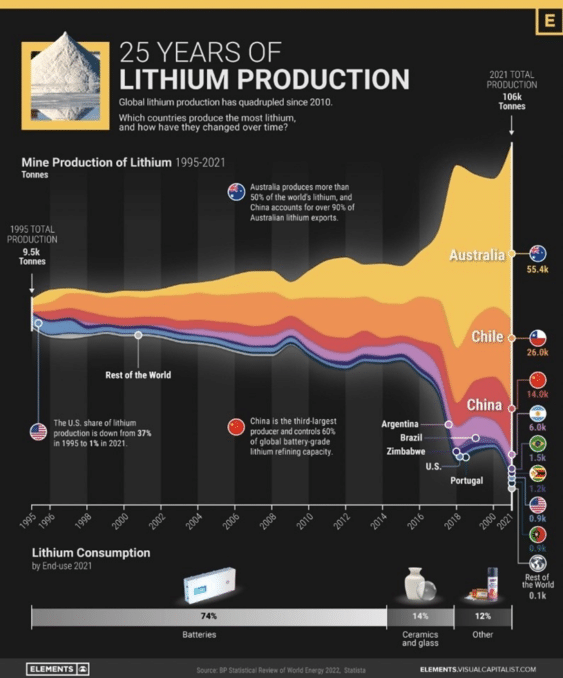 Australia produces 52 % of the World's Lithium, Australia lithium comes from hard rock mines for mineral spodumene. On the other end, Chile's Lithium is extracted from Brines.
However, China, as a country, is more interested in controlling resources as it is used in their ever-throbbing Hardware, Electric, and Chip Manufacturing Industry. 90 % of the Australian Lithium exports go to China. On the other side of the coin China, the third-largest producer, has a strong foothold in the lithium supply chain. Alongside developing domestic mines, Chinese companies have acquired around $5.6 billion in lithium assets in countries like Chile, Canada, and Australia over the last decade. It also hosts 60% of the world's lithium refining battery capacity (This Chart Shows More than 25 Years of Lithium Production by Country _ World Economic Forum, n.d.).