Pakistan information minister confirms that the football team players fled to Pakistan through north-western Torkham with valid travel documents. Afghanistan team was received by Nouman Nadeem of the Pakistan Football Federation (PFF).
The team players had proper Afghanistan passports, passport visas, and other documents. The tweet of Chaudhry Fawad Hussain confirmed this statement.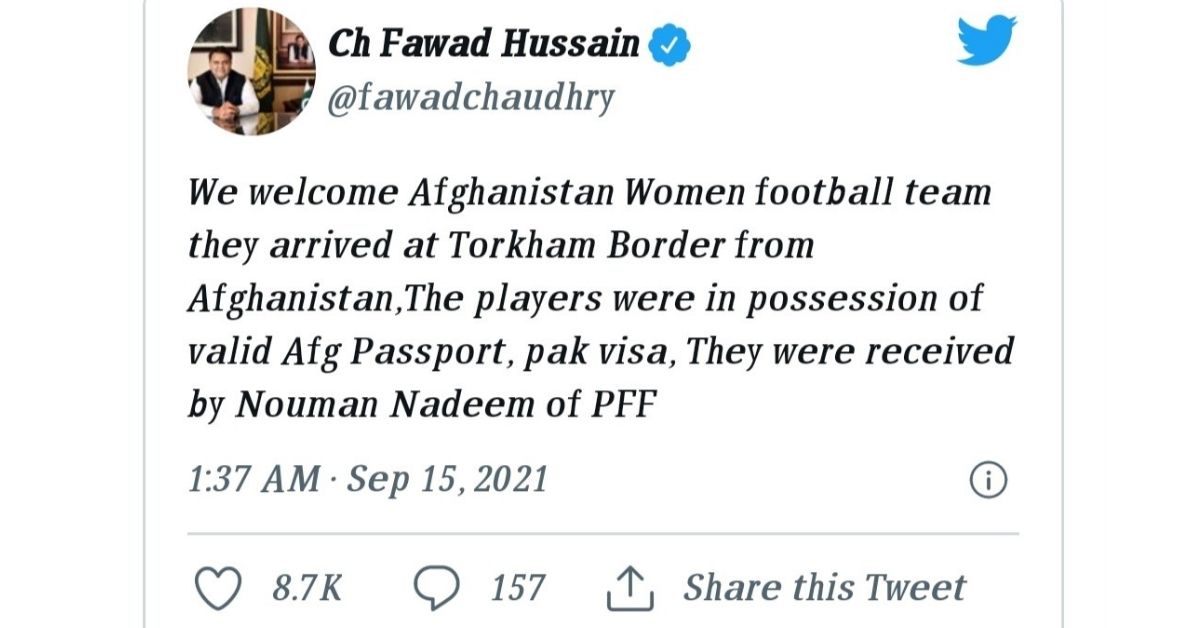 The tweet does not talk about anything related to how many Afghan's were allowed in Pakistan (female team members and family members).
On Wednesday, Dawn, the local Pakistani newspaper, stated that all the female football players were issued emergency Pakistani visas seeing the condition in Afghanistan, the Taliban captured Kabul.
There was also news that the team tried to escape Pakistan last month, but a bomb attack at Kabul airport led to the scattering of all the team members.
Behind The Movement
Sardar Naveed Haider, the ambassador of global development NGO Football for peace, based in London, received a request for the rescue of the team from an NGO based in England, this is where he wrote to the Prime minister Imran Khan who issued clearance for the team to land in Pakistan.
More than 75 people crossed the border on Tuesday before moving towards Lahore, when they reached Lahore, they were welcomed with flowers garlands. PFF vice president Amir Dogar said, "They would be travelling and residing in Lahore until they progress further."
According to Haider, the female players in the under-14, under-16, and under-18 teams crossed the land border wearing burqas before changing into headscarves. According to rumors, the players would eventually fly to Doha, Qatar's capital.
According to an AFP story, a top Taliban leader told Australian media that women should not play. However, Afghanistan's new director-general for sport, Bashir Ahmad Rustamzai, stated on Tuesday that top-level Taliban leaders were still debating.
Imran Khan, Pakistan's Prime Minister, is a former international cricketer and a national hero. Since the Taliban took power, tens of thousands of Afghans have fled the country, fearing retaliation or harassment.
Last week, the Taliban declared the formation of an all-male interim government in Afghanistan, comprised of veterans of the Taliban's hardline reign in the 1990s and the 20-year war against the US-led coalition.
The move is unlikely to attract international support from the new leaders, so sorely needed to avoid a humanitarian and economic calamity.