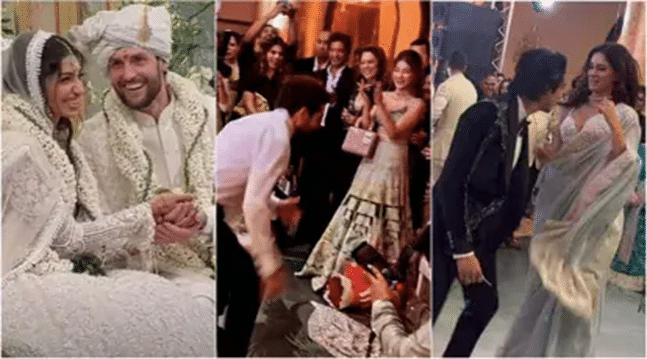 Social media influencer Alanna Pandey recently tied the knot with McCray Ivor on Thursday, in a grand wedding ceremony. The night was filled with stars including Chunky Pandey, Ananya Pandey, Ahaan Pandey, Bhavana Pandey, Jackie Shroff, Alvira Khan Agnihotri, Alizeh, Sharukh Khan, Gauri Khan, Suhana Khan and others. Kanika Kapoor also attended the wedding.
In a new video shared by Alanna on YouTube, the influencer gave fun sneak-peek into her star-studded sangeet ceremony. From Ananya Pandey- Ahaan Pandey's energetic performance to Bhavana and Chunky Pandey setting the fire on stage, the night was fascinating. Another video shared by Kanika Kapoor on Instagram showed the team groom dancing on the Oscar winning song Naatu Naatu. The group perfectly synced the dance steps and recreated the famous dance performance from the film RRR. Sharukh and Gauri Khan also danced together which caught the fans attention.
Ahaan Pandey was really the star of the night; the video shows him and Karan Mehta performing on the song "I am the best" from Sharukh Khan and Juhi Chawla's film Phir Bhi Dil Hai Hindustani. The crowd enjoyed the performance, Sharukh Khan and Gauri Khan were also seen cheering for him from the sidelines. Sharukh Khan was wearing a white shirt, black blazer and matching formal pants. He later joined the bride and the groom on the dance floor. He hugged Alanna and the latter thanked him for coming. The Pathaan Actor also hugged Ivor and Ahaan Pandey. Suhana Khan was also the part of the attention as she looked absolutely gorgeous in a saaree.
Fans got emotional and loved the Sharukh's gesture and appreciated Pathaan actor in the comment. One of the comments says the simplicity of SRK stands him apart from all. Despite being a mega star, he is standing in the audience like nobody and the way he hugged Alanna made me teary-eyed. He just never fails to make his fans fall for him over and over again. Another said "the hug with the king himself was everything and more".
Alanna described the video and wrote I don't think we have ever had this much fun in our entire life. We love you guys! Wanted to share this incredible moment with everyone. Although they haven't yet shared pictures from their wedding ceremony yesterday, but we got some sneak peek through Kanika Kapoor, Aaliyah Kashyap's story. Alanna Pandey and McCray Ivor wore white outfits and looked incredibly happy and perfect together.
.