In the latest promo, Bigg Boss is seen shutting the smoking room while expressing his anger towards Sajid Khan for not abiding by the rules even after repeated warnings.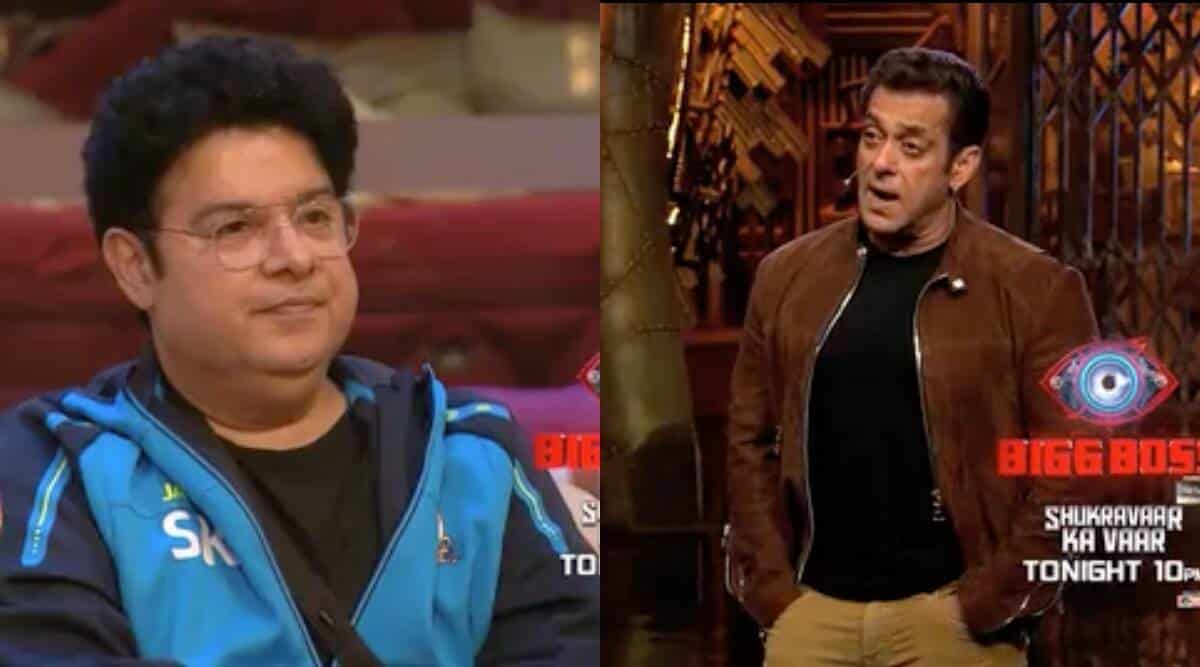 Salman khan's hosted reality show, Big Boss is and has always been an intriguing subject to gossip about. It is packed with controversies, hot gossip, and drama. It has millions of fanatics who follow Big Boss as a religion. Big Boss 16, acquired a lot of attention and criticism with the entrance of #MeToo accused Sajid Khan as a participant.

Since the show's commencement, filmmaker Sajid Khan, now a Bigg Boss contestant, has been under the radar. While the MeToo accused filmmaker was earlier receiving massive backlash from outside the house, it seems that now Sajid has even brought himself under the Bigg Boss' radar.

Locks The Smoking Room With A Sign "Hum Bewakoof Hai"

The latest promo shows contestants gathered in the garden area and the Bigg Boss is heard saying, "If the heroes we have are like you, there is no need for villains. Congratulations, because of all of you, for the first time in the history of Big Boss…", and the audio cuts leaving the audience in anticipation.
Two masked men then later entered the house carrying a board that reads, "Hum bewakoof hai" (we are idiots) and locked the smoking area with that board. (add promo video) this decision comes after numerous forewarnings to Sajid Khan and the other housemates who were seen smoking outside the smoking room candidly. Later in the promo Sajid who has been made the captain of the house can be heard saying "he isn't going to apologize".

Why Sajid Khan Is Being Criticized- #MeToo

This further annoyed the Big Boss audience who were already irked about him being made a captain took to Twitter to complain and call out biases for the favor Sajid is obtaining while having numerous #metoo accusations against him. Recently, Ali Fazal an Indian actor took to Twitter to express his dismay at Sajid's Khan participation in Big Boss and demanded his removal from the reality show. In an Instagram post by an artist, Smish Designs, the poster of Sajid Khan can be seen burning with the caption, "Evict Sajid Khan from Big Boss now!".
Sajid Khan, a producer, editor, and director of Bollywood movies has been in a lot of controversies recently following hordes of #MeToo accusations against him. It all started in 2018 when 9 women, who have worked with him on different projects including Saloni Chopra, Rachel White, and Sherlyn Chopra accused him of sexually harassing them. Sherlyn on various occasions has also accused Salman Khan of protecting Sajid Khan.

Indian Film & Television Directors' Association (IFTDA) suspended Sajid Khan for one year over complaints of sexual harassment against him. Sajid confessed to being offensive and discourteous toward women. The allegations include flashing his private parts at parties, asking female actors to send him their nude pictures as part of the casting process, asking women to rate his dick from 0-10, and watching porn in front of women.
---
ALSO READ: Vir Das's Acting Opportunity & His Two India's Controvesy
---
Sajid then decided to step down from his directorial post of 'Houseful 4' taking it as his 'moral responsibility'. Farhad Samji was then made the director of the movie. Sajid mentioned the pressure that he and his family had that forced him to step down from the position.

The Filmmaker makes his reappearance on TV with Salman Khan's reality show Big Boss on the colors channel. Colors TV's decision to bring Sajid to the Bigg Boss house has been criticized by many. After Sajid managed to annoy the audience he succeeded in making Big Boss furious as well by breaking the rules of the house. While expressing his anger towards Sajid, Bigg Boss said, "Sajid how many times have you worked on television? Do I need to tell you about TV rules and Bigg Boss house rules?"

With Sajid Khan entering Big Boss, the basis of the #MeToo movement is startled. While many from the industry, artists, and actors want him ousted, others seek a more robust legal framework. The intense drama in the house doesn't seem to cease at any point in the house.