Using the Artificial Intelligence Tools ,one can easily understand if Chemotherapy is needed to solve their Breast Cancer issue. Dr. Amrania came up with a less expensive method for determination technique.
Dr. Hemmel Amrania, an Indian-born scientist working in the UK, developed a quicker and less expensive method of determining if cancer patients need chemotherapy—one-fourth of what it currently costs. It seeks to guarantee fairness in treatment regimens.
What is Breast Cancer
Doctors say breast cancer is the first and most common cancer in women in India Source:- The Hindu
Breast cancer happens when the cells in the breast proliferate uncontrollably. There are various types of breast cancer. The type of breast cancer is determined by which breast cells turn malignant.Breast cancer may develop in a variety of breast tissues. Three main parts of the breast : connective tissue, ducts, and lobules.In which the lobules are the glands that produce milk. Breast cancer can spread outside of the breast through lymphatic and blood arteries
What is an AI tool ?
AI is the simulation of human intelligence in computer system that can perform tasks like human and typically requires human intelligence such as decision making, visual perception and language understanding.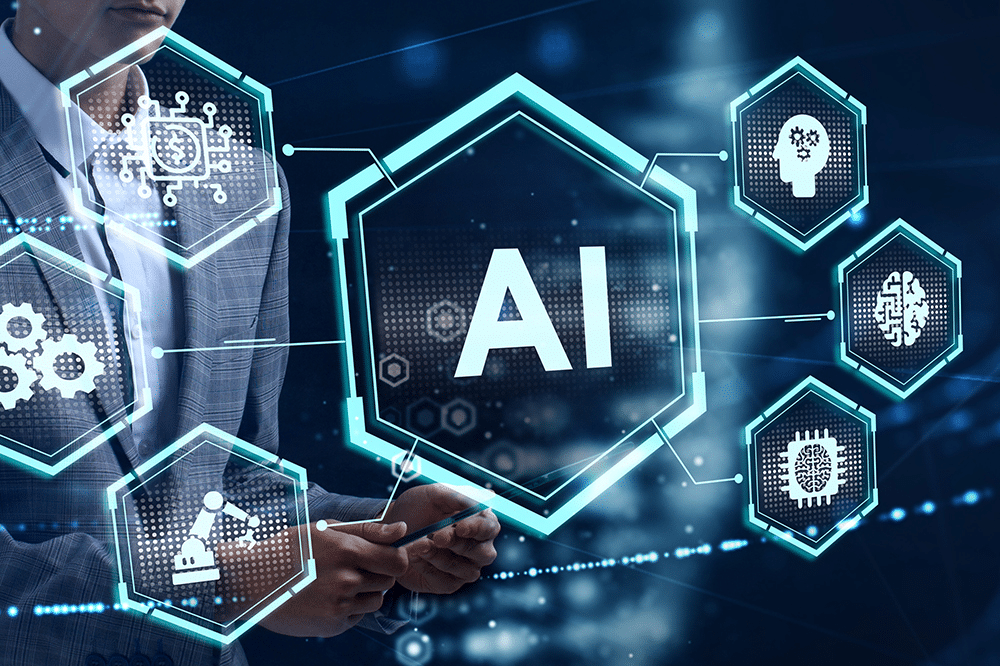 AI systems take in large amounts of labeled training data, analyze it for correlations and patterns, and then use these patterns to predict future states.. By studying millions of instances, an image recognition tool can learn to recognise and describe objects in photographs, just as a chatbot that is given examples of text chats can learn to make lifelike exchanges with people.
Breast cancer patients would be able to save time and money if they had a simple instrument that could determine whether or not they needed treatment. With their most recent creation, a scientist of Indian descent living in the UK named Dr. Hemmel Amrania and his team have made their life a little bit simpler. It is a quick screening device created to spare patients with breast cancer from needless treatment.
How Does AI Work?
The technologically assisted detection kit was created by a medical company called Digistain at London's Imperial College and Cancer Research Centre with input from over 1,500 oncologists and under the direction of pathologists. At the Charing Cross Hospital in London and the Nottingham University Hospital, it has undergone a successful trial. The Apollo group is evaluating it for widespread use in India.
The existing testing methods are cumbersome and expensive, according to Dr. Hemmel Amrania, a clinical scientist with a focus on pathology, researcher at Imperial College, London, and founder of Y Combinator says that the technology has a greater than 95% accuracy rate and is speedier and less expensive. With outcomes shown in hours and days rather than weeks due to its rapidity, it reduces the need for chemotherapy, which helps healthcare providers save over 30% of their costs. The current method for determining if cancer patients need chemotherapy takes around a month and can cost up to Rs 3–4 lakh, he claims.
Excised biopsy specimens are used to diagnose the majority of malignancies. These are rated according to a histopathological technique that meets the highest standards, based on chemical staining with hematoxylin and eosin ('H + E'). However, the grading is done by eye, and when various practitioners grade the same biopsy, they typically only agree 70% of the time. A significant unmet demand exists in the world as a result of the overtreatment issue, Dr. Amrania continues.
His patented solution combines a customized optical scan with machine learning to uncover patterns that are hidden from set algorithmic approaches rather than depending on a fixed judgment of chemical analysis. This analyzes over 10,000 data points for each sample and assists in capturing a distinctive signature from each biopsy. Digistain creates a highly personalized risk score using this data, which has been validated in over 800 patients as part of a study analyzed by Cancer Research UK.
The latest innovation uses mid-infrared imaging to map the nuclear-to-cytoplasmic chemical ratio (NCR), or the fractional concentration of nucleic acids, over an unstained biopsy segment. It enables the quantitative Digistain index (DI) score to be extracted from an objective physical measurement of a tumour, which corresponds to the NCR.
The goal is to assess whether it can help with cancer diagnosis for the first time. In a double-blind clinical pilot experiment, we associate the DI scores with H + E grades, claims Dr. Amrania, who was recently in India. The device will aid in the early detection of cancer, particularly breast cancer, which continues to be one of the most prevalent types of the disease worldwide.
The mortality rate has significantly decreased as a result of recent breakthroughs in treatment regimens, but there is still an urgent need to develop more precise tools to direct clinicians as to which medications are required for particular patients. Patients with breast cancer who have the oestrogen receptor (ER) positive variant of the disease should be aware of this in particular. Nearly 80% of cases fall into this category, and clinicians must determine whether adding cytotoxic chemotherapy to endocrine therapy will provide any further benefits. Accurate grading is crucial in these situations because, in node-negative breast cancer, grading frequently determines whether potentially dangerous cytotoxic chemotherapy should be administered, says Dr. Amrania.