While the world's attention is focused on Russia's invasion of Ukraine, the deadening coronavirus resurfaces, initially unsettling China and Germany.  
Following a high surge in COVID-19 infections, China blocked off the northeastern region of Jilin on Monday, the first time an entire province has been cut off since the unprecedented lockdown of Hubei province and  capital, Wuhan, in 2020, where the virus was originally found in late 2019. 
By Sunday, the total number of verified COVID-19 cases on the mainland China, both locally and internationally, had climbed to 116,902. On Sunday, 8,531 patients were still receiving treatment, with eight of them in critical condition.   
China reported more than 3,200 domestic COVID-19 instances on Sunday, including 1,807 symptomatic cases, the greatest number in over two years, resulting in new lockdowns and travel restrictions in 19 provinces.
Since the disease's emergence in China late 2019, 4636 people have died from the virus on the mainland.  
People in Jilin province, which borders Russia and North Korea, have been instructed not to leave or travel, especially in Changchun, the provincial capital, and Jilin itself.
On Sunday, the provincial government of Jilin recorded 895 locally transmitted COVID-19 cases and 131 asymptomatic carriers.
453 fresh confirmed infections were recorded in the city of Jilin, and 430 in the province's capital, Changchun, a city with a population of over nine million people that is already under lockdown.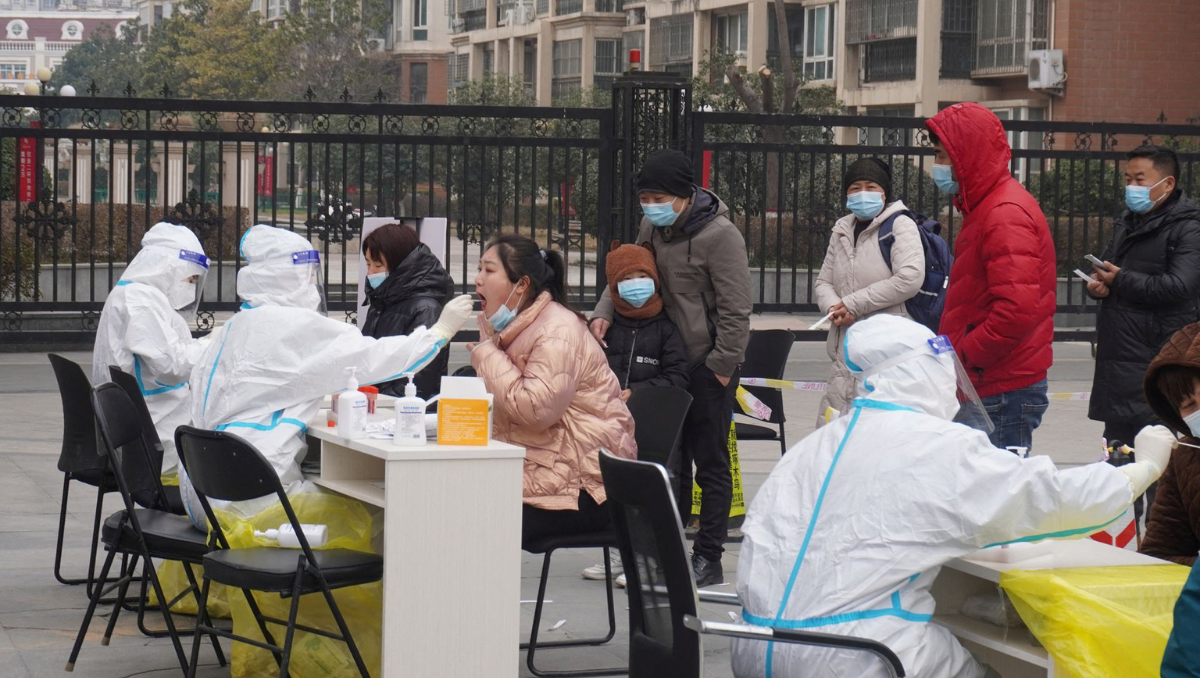 Shenzhen is one of ten cities in China to have ordered the evacuation of all citizens to their own residences, while the policy was also implemented Monday in parts of other important cities such as Dalian, Nanjing, and Tianjin, which are all close to the capital.
"Zero-COVID" Approach
COVID-Zero, or "Find, Test, Trace, Isolate, and Support" (FTTIS), is a public health program that several countries employed during the COVID-19 epidemic.
The zero-COVID strategy, in contrast to the living with COVID-19 strategy, is a "control and maximum suppression" technique.
Public health methods such as contact tracing, mass testing, border quarantine, lockdowns, and mitigation software are used to stop the virus's spread in the community as soon as it is diagnosed.
The strategy's goal is to reduce the number of new infections in the area to zero so that normal economic and social activity can resume.
A zero-COVID strategy consists of two phases: an initial suppression phase in which the virus is eradicated locally through aggressive public health measures, followed by a second phase in which the virus is eradicated globally.
An Omicron variant hits Germany
On Monday, Germany's coronavirus infection rate set a new high for the third day in a row, forcing the country's top health official to issue a dire warning.
According to data from the RKI public-health institute, COVID-19 cases increased to 1,543 per 100,000 people in seven days, continuing their steady rise from the beginning of March.
In a tweet on Sunday, health minister Karl Lauterbach warned the outbreak was worsening and causing "many deaths." The epidemic continues to claim the lives of 250–300 people every day.
According to the German Ministry of Health, the rise in infection numbers is due in part to the emergence of the even more infectious BA.2 sub-variant of the Omicron strain, which currently accounts for nearly half of all Covid cases in Germany.
Published By: Manan Khurana
Edited By: Khushi Thakur