The "Hath Se Hath Jodo" campaign will launch after the Bharat Jodo Yatra
A meeting of the steering committee was held under the chairmanship of Congress President Mallikarjun Kharge. Ashok Gehlot and several other prominent figures, including former Congress President Sonia Gandhi, were there. The Congress party decided in the meeting.
KC Venugopal addressed it and stated, "We have decided to launch a massive campaign, "Hath Se Hath Jodo Abhiyan," on January 26. This Hath Se Hath Jodo campaign will last for two months, during which block-level pad yatra (foot march) will be removed. During this time, the party will hand over a letter from Rahul Gandhi and a charge sheet against the Modi government. "The focus will be on connecting the youth during this visit."
During a press conference on Sunday, it was revealed that the Congress will hold a three-day plenary session in the second half of February. This topic was discussed at length at the first meeting of the steering committee, which new party chief Mallikarjun Kharge convened.
Discussions among senior party leaders also centred on the Bharat Jodo Yatra, which Rahul Gandhi has been leading since September.
The focus will be on issues relating to youth, among other things, Jairam Ramesh said at the plenary session. "This evening, the Bharat Jodo Yatra will be entering Rajasthan. So far, over 2,500 kilometres (spanning over seven states) have been covered. About 1,100 kilometres are left in the journey," he said.
---
Also Read: Bharat Jodo Yatra may face hurdles in Rajasthan, Gujjar and OBC Jat Communities, Both disgruntled from Congress
---
The Kanyakumari to Kashmir yatra intends to strengthen the grand old party's connection with the populace in preparation for the elections of 2024.
During the meeting, Kharge called for "top to bottom" accountability inside the party, according to news source PTI. Before the Winter Session of Parliament, which is slated to start in a few days, the steering panel meeting will take place.
Attending the meeting were top politicians P Chidambaram, Anand Sharma, Meira Kumar, and Ambika Soni, as well as Congress President Mr Kharge, former Party Chief Sonia Gandhi, Rajasthan Chief Minister Ashok Gehlot, and his Chhattisgarh counterpart Bhupesh Baghel.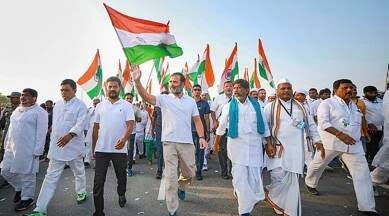 Due to the Bharat Jodo Yatra, which he is leading and entering Rajasthan on Sunday evening, Rahul Gandhi did not attend the gathering.
The Congress Working Committee (CWC), the highest-ranking decision-making body of the party, was replaced by the steering committee after Mr Kharge assumed leadership in October.