Smriti Irani's daughter Shanelle's wedding reception in Mumbai was graced with the presence of Bollywood stars such as Shah Rukh Khan, Mouni Roy, Jeetendra, and Ekta Kapoor among several other celebrities. The Union Minister of Women and Child Development also reunited with Ronit Roy, her on-screen spouse while she was an actress.
The Irani Family And Shanelle's Wedding
Shanelle's wedding to Arjun Bhalla was held at Khimsar Fort and Palace in Rajasthan on February 9th. Posing and clicking pictures with her industry friend and colleagues, Ms Smriti can be seen dressed in a rouge benarasi sari with golden thread work.
Ms Smriti wed entrepreneur Zubin Irani in 2001, and had two boys together, Zohr and Zoish. Zubin's first child with his ex-wife Mona, a businesswoman, is Shanelle. Both Shanelle and Arjun, who is an NRI, are licenced attorneys. They have been engaged since 2021 and tied the knot in 2023, starting with the haldi, mehendi and sangeet functions on February 7. The couple also made a few appearances in social media posts. In the photo captured with Mouni and Arjun, Shanelle's attire was a blue saree.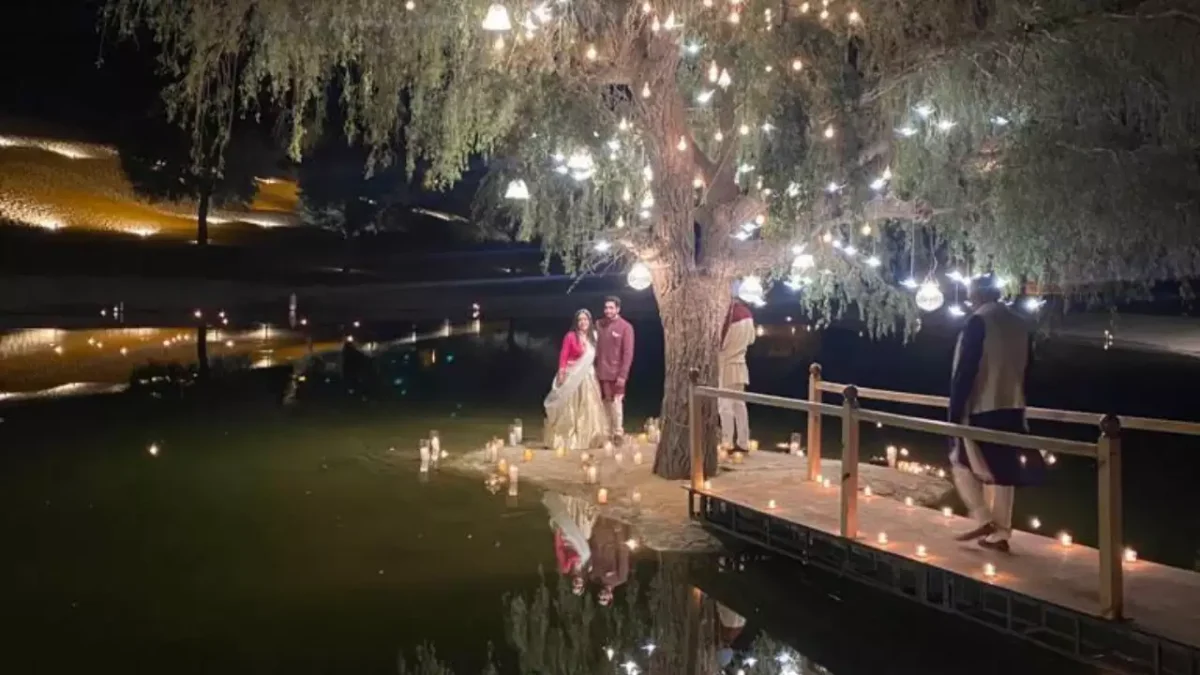 Previously, Ms Smriti had acted in other shows as well, such as Thodi Si Zameen Thoda Sa Aasmaan, Virrudh, etc. At the moment she is the Union Minister for Women and Child Development, being the Lok Sabha representative for the Amethi district of Uttar Pradesh.
What The Stars Had To Say
Images from the marriage reception were posted on social media by Mouni, who was Ms Smriti's colleague while she worked on the iconic show 'Kyunki Saas Bhi Kabhi Bahu Thi'. She played the role of Krishna Tulsi in the show, which was the launch of both these actresses' careers in the television industry.
The actress, who was recently in Brahmastra, shared a picture in which she was posing with her partner Suraj Nambiar, Smriti, Shah Rukh Khan and several others. She adorned a pale green saree with sequin work. She captioned the social media post with the line, "Congratulations Shanelle & Arjun.. wishing you both the happiest most meaningful journey ahead. Love you di @smritiiraniofficial". Smriti Irani responded in the comments, "See you soonest".
Pathaan star Shah Rukh Khan appeared in the social media photos as well, donning an all-black formal suit. In the picture, he can be seen posing with Ms Smriti on his right side and her husband Zubin on his left side. Fans eagerly discussed how Brahmastra was starred by both Shah Rukh Khan, who played the 'Scientist' and Mouni Roy, whose character was the anti-hero 'Junoon'. Fans quipped, "Junoon aur Scientist sahab saath mei? I knew it kuch toh gadbad hai (Junoon and the Scientist are together, something is up),". Another one said, "Pathaan and Junoon Collab soon?"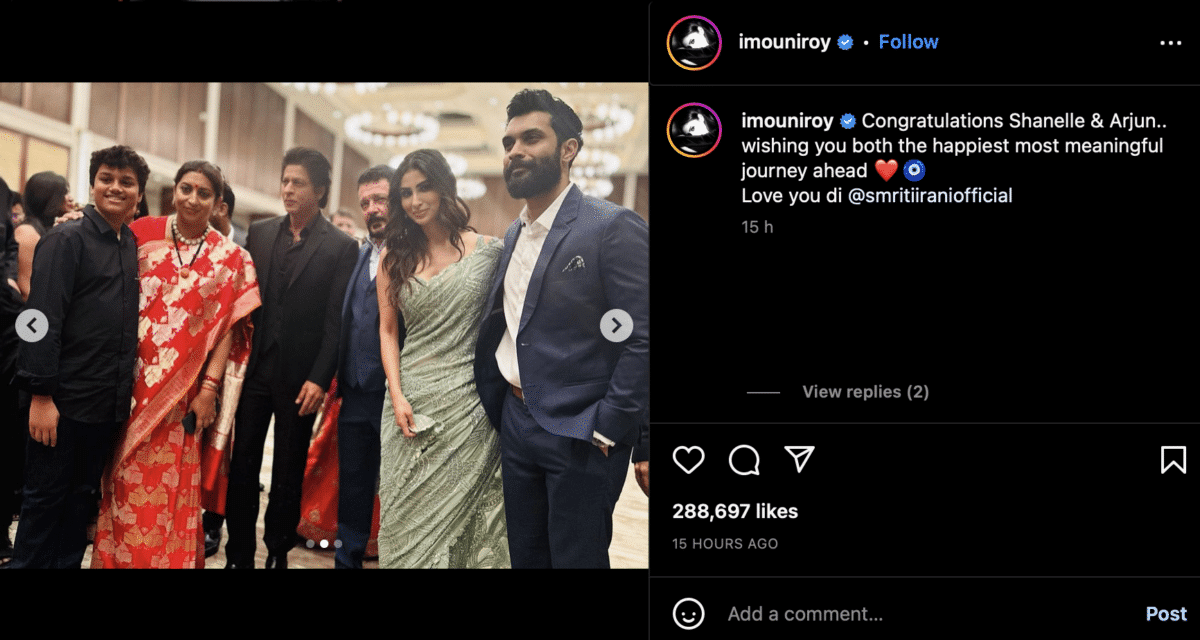 Ms Smriti's on-screen husband during her acting days in the show, Ronit Roy, was also present at the function. In the show 'Kyunki Saas Bhi Kabhi Bahu Thi', he took on the role of Ms Smriti former character, Tulsi Virani's partner, Mihir Virani.
He added the following tagline to his social media post, which also featured Ravi Kishan. "Years of friendship @smritiiraniofficial @ravikishann and the warmth and love keeps growing. Grateful Congratulations @shanelleirani and Arjun. Wish you a blissful wedded life ahead. Thank you @zohrirani for taking such good care of us. Lovely meeting you @zoishh.irani,"
Along with her father and veteran actor Jeetendra, Ekta Kapoor, who produced the show, also attended the event. She captioned her post by saying, "When your fav bahu is now a sassy saas! Congrats Shanelle Irani and Arjun on your wedding (no pic )! And proud parents Smriti Irani and Zubin Irani (don't miss my handsome nephew Zohr Irani in this pic)."