PM Modi's mother Heeraben dies at 100 in the wee hours of Friday.
Modiji's mother- Heeraben
Days after Heeraben was admitted to Ahemdabad's UN Mehta Hospital after her health deteriorated and was later discharged, she passed away at 100 on Friday at 3.30 am. She was brought to her house Vrindavan bungalow, in Raysan village near Gandhinagar, at 8 am.PM Modi reached Ahmedabad from Delhi on Wednesday afternoon and visited the hospital; to meet his mother. PM Modi took to his official Twitter and wrote, "A glorious century rests at the feet of God."
PM Modi left for Ahmedabad after flagging off of Vande Bharat train in Howrah, Kolkata. Other developmental works of railways and meetings of the National Ganga Council under Namami Gange will be held as planned. He may join through the video conference.
He wrote this June, "Mother is not just another word in the dictionary, it encompasses more range of emotions, love, trust, and much more. Across the world irrespective of the country or the region, children have a special affection for their mothers. The mothers not only give birth to their children but also shape their minds, their personalities, and their self-confidence. While doing so she sacrifices her personal needs and aspirations."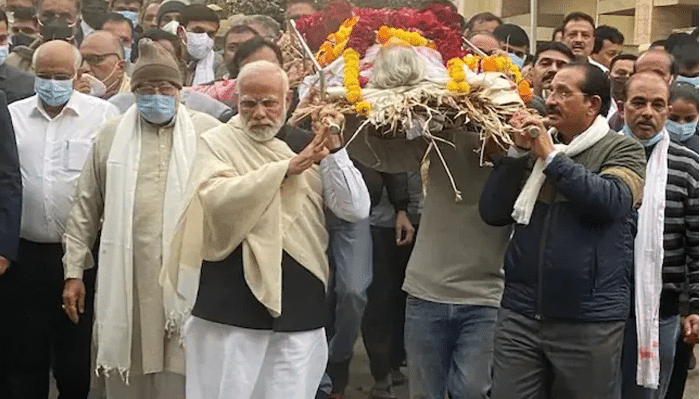 A minimal movement of VIPs, VVIPs, and politicians were seen at the Vrindavan bungalow and Gandhinagar crematorium. He was seen giving last rites to his mother alongside CM Bhupendra Patel. Former CMs Vijay Rupani and Shankersinh Vaghela were also present. PM Modi requested everybody to continue with their schedules and not cancel any plans on this account. He asked BJP karyakartas and officials not to come out and continue the events as per the schedule. That is the best way to pay tribute to Heeraba.
Havanas were being carried out all over India in the last two days since Heeraben's health condition made the news. She inspired the youth during the Gujarat elections when very fragile Heeraba Modi reached the polling booth to cast her vote. She made it a point to come out even after facing so many issues with her health.
An inspiration
Gujarat Chief Minister Bhupendra Patel expressed his condolences and said that she was the epitome of simplicity and high values of life. His note can be roughly translated from Gujarati to – "Deeply saddened by the passing away of Hon'ble  Prime Minister Shri Narendra Modi's mother Pujya Hiraba. AUM Shanti."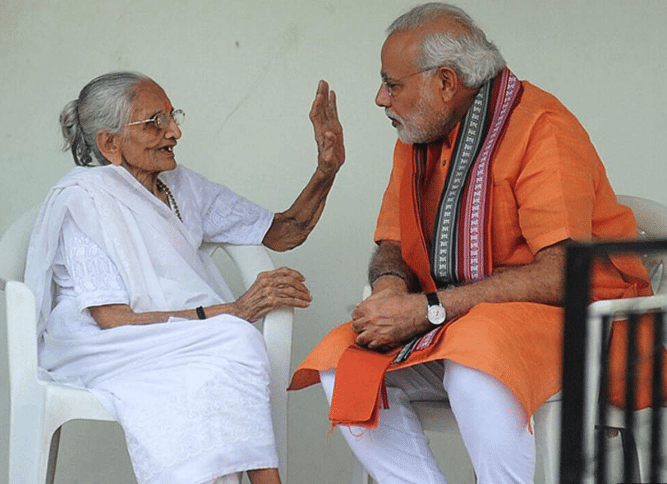 Even as the mother of PM Modi she lived a minimalistic lifestyle while living with Modi's younger brother. Every time PM had any work in Gujarat, he would make it a point to spend some time with his mother.
Being a Prime Minister it could have been an elaborate cremation but the family wanted to send a message that life moves on and the right way to give the tribute is to respect her ideologies and keep fulfilling our purpose. "My mother is as she is extraordinary. Just like all mothers." PM said in his blog.
When he was set to take oath as Gujarat Chief Minister in 2001, he went to take her blessings and she told him that she doesn't know why he works in government but she just didn't want him to ever take a bribe.
One time when Modiji wanted to honor all his teachers along with his mother who he considered his biggest teacher, Heeraba refused. She said she might have given birth to him but he has been taught and brought up by the almighty.
PM's hometown Vadnagar will be observing the bandh today.