After Nora Fatehi's outstanding performance during the FIFA World Cup 2022 closing ceremony, fans could not stop admiring her.
At the World Cup final match's closing ceremony, Nora Fatehi performs to the Hindi version of the official FIFA anthem 'Light The Sky' while blazing the stadium on fire. Fateh wearing a beautiful, glittering black dress. She chose heels and black stockings to enhance her all-black outfit.
The Jehda Nasha dancer made her Indian followers happy by singing and dancing to the national song in Hindi. The internet is exploding with videos of her thrilling performance during the FIFA final closing ceremony.
While Waye Rooney led a panel of football players and Nora Fatehi was the only Bollywood performer, Shah Rukh Khan was also seen promoting Pathaan. As the first Indian, Deepika Padukone also unveiled the FIFA World Cup trophy.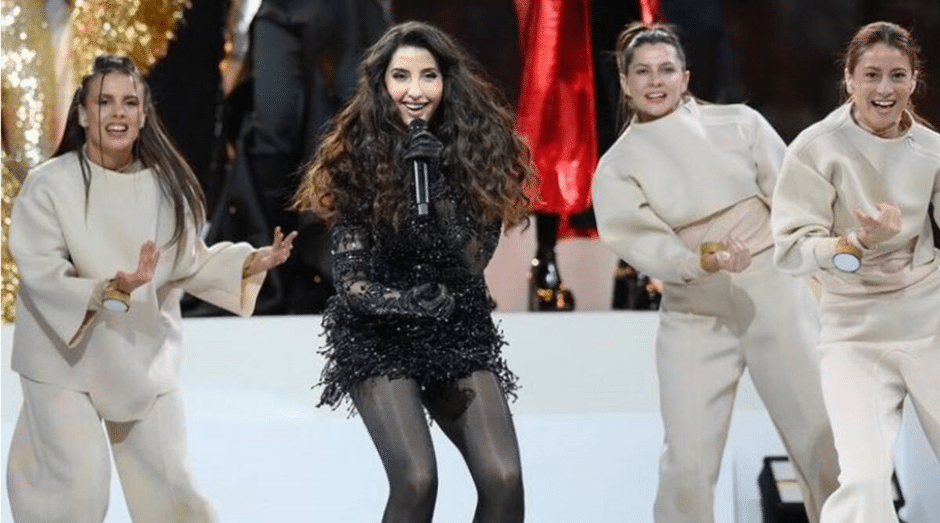 While dancing to the anthem, the actress sang a section of it in Hindi and English. Balqees, Rahma Riad, and Manal, who first sung the world cup song with Nora Fatehi, also sang on stage with her. The "Street Dancer" actress teased fans with her stage outfit on Instagram before her performance in a post with the hashtag "Fifa closing ceremony."
Earlier on December 1 in Doha, at the FIFA fan event, Nora Fatehi gave a performance. She danced to popular Bollywood songs like "Saki Saki" and "Manike," which all the fans adored.
Her performance has been captured in photos and videos that have circulated on social media. The praise for her performance is endless. "#NoraFatehi was bliss to eyes at the #ClosingCeremony performing live," one of the followers wrote. "Nora Fatehi was the star of the closing ceremony in Qatar in 2022," another fan also remarked.
According to Hindustan Times, Nora Fatehi previously published a post in which she expressed her feelings on being a part of the FIFA World Cup 2022 and its official anthem in an emotional manner. It was quite weird to hear her voice at the World Cup stadium, she remarked on Twitter. These types of accomplishments make the journey so worthwhile.
I'm just a dreamer with a desire to make those goals come true, but I've always imagined times like these! From a typical girl in the neighbourhood to something like this! Guys, have faith in your abilities and never listen to those who tell you otherwise. Your goals can never be too big! Many people initially made fun of me, but look at us right now! And this is only the start.
The Moroccan actor had previously uploaded the song to social media and posted about how happy she was to be associated with FIFA. In a Tribune article, Nora is cited as saying, "Football, like art, is a world language with a devoted following, and I have experienced this with my own eyes everywhere I have travelled across the globe.
"It has been an honour to work with such devoted and talented women to create something that honours our tradition and the excitement of the FIFA World Cup" .Even the actor had previously sang the national anthem at the FIFA Fan Festival.
The Argentina defeated France 4-2 in a penalty shootout to win the 2022 FIFA World Cup championship. Football supporters were extremely thrilled after the victory, which comes after 36 years. Seeing Nora Fatehi on the stage at the tournament's closing ceremony brought excitement and pride to certain members of the crowd. The actor joined the other artists in singing and dancing to the FIFA anthem, "Light The Sky," including Rahma Riad, Balqees, and Emirati vocalist Rahma (Iraqi singer)