Birju Maharaj, a legendary Kathak exponent who popularized the ancient Indian dance art throughout the world, died at his home in the early hours of Monday, according to his granddaughter. Next month, he would have turned 84. 
As he was affectionately known, Maharaj-Ji passed away in the company of his family and disciples. After supper, they played 'antakshari' when he became unwell, Ragini Maharaj told PTI. 
 Birju Maharaj, from Lucknow's Kalka-Bindadin Gharana, was one of India's most well-known and well-loved artists. Five children, three girls and two boys, and five grandkids survive him. He had a renal problem and had been on dialysis for the last month because of his high blood sugar. His granddaughter believes he died of heart arrest. 
"When this happened, he was among us." We played 'antakshari' since he liked ancient music as he ate his meal. He was lying down when his breathing became irregular. We believe he died of cardiac arrest since he was a heart sufferer. 
"It occurred between 12:15 and 12:30 a.m." It couldn't have been more than a minute. We went to the hospital, but we were unable to rescue him. Ragini claimed, "He died before he got to the hospital." Ragini, a Kathak dancer, said the family's sole consolation is that he did not suffer too much in his final moments. 
"When this happened, two of his pupils and his two granddaughters, my younger sister Yasyas Ashwini and me, were with him. "In his final minutes, he was laughing and smiling," she claimed. As word of the Kathak maestro's demise, who would have been 84 on February 4, spread, condolences flooded in. 
PRIME MINISTER NARENDRA MODI ON BIRJU MAHARAJ JI'S DEATH.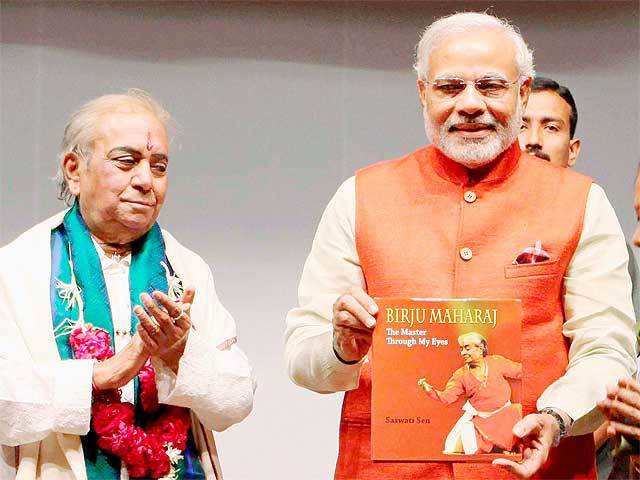 According to Prime Minister Narendra Modi, his death is an "irreparable loss" to the whole art world. 
 "Deeply grieved by Pandit Birju Maharaj ji's death, who gave Indian dance a distinct place in the world." His death has left the whole art world in a state of irreparable loss. "In this hour of sadness, my sympathies to his family and admirers," the prime minister stated. 
 Nirmala Sitharaman, the Finance Minister, called the performer a "legend of the performing arts." His pupils and legions of followers affectionately referred to him as Pandit-Ji or Maharaj-Ji, and he once observed that the younger generation had many more possibilities to study than he did.  
Birju Maharaj stated in a December interview with PTI that the future of Kathak, one of the most elegant classical dance styles, was bright in India, with the younger generation carrying on the legacy. 
"The ideal torchbearers of an art form and its history are artists who labour sincerely to carry the tradition forward." "To keep genuine to a powerful heritage like classical dancing, it needs a lot of labour and attention," the Padma Vibhushan awardee had observed. 
Brajmohan Maharaj, also known as Birju Maharaj, was a Kathak dancer descended from the Maharaj dynasty. Acchan Maharaj, his father and guru, and uncles Shambhu Maharaj and Lachhu Maharaj. 
Birju Maharaj's death, according to Durga Jasraj, daughter of the late Pandit Jasraj, was "a colossal loss to Indian performing arts." 
"The passing of legendary Pt Birju Maharaj Ji has left us impoverished and devastated. My heartfelt sympathies to his family, disciples, and followers worldwide. Pray for Maharaj    Ji's soul to be at peace in a rhythmic manner. On Twitter, she remarked, "Om Shanti."  
"We have lost an exceptional institution in the area of the performing arts," composer Adnan Sami stated. His brilliance has affected several generations." 
Published by- Aashay Bhujbal
Edited by- Kritika Kashyap