Fans request not to stream the song unless it is officially released by Harry Styles.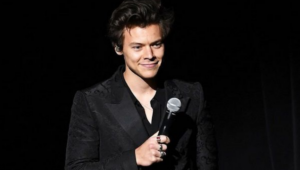 After having waited for almost two years for the release of the song, Harry Style's new album gets leaked online. This happens one month before the release of the song. The release was scheduled for 20 May 2022.
Harry Style's fan's reaction:
As soon as the song leaked online, fans took to Twitter. They requested everyone not to listen to the song before it is officially released by the singer. They were excited and eager to listen to it, but little did they know it would get leaked online. While some are still pretending, they haven't listened to the song even after the leak.
History repeats itself:
When some fans came forward with the request, some others brought up the past. They say it is nostalgia as the song 'Midnight Memories' by the band One Direction was leaked just like this.
Zayn Malik left the band. After which the other four members of the band, Niall Horan, Harry Styles, Liam Payne, and Louis Tomlinson released 'Made in the A.M'. Soon after the release, the band went on a 'hiatus' and the singers started their individual musical journey.
A statement from the English singer, songwriter, and actor Harry Style is yet to come about the release of the album and the leak.
Published by: Gargi sharma
Edited by: Aaradhana Singh