Synopsis: The Ex-governor of RBI said that unemployment is a big issue, not everyone can get a government job. He advocates the making of a sustainable environment for MSME sectors. They promote the green revolution in the field of sustainable energy.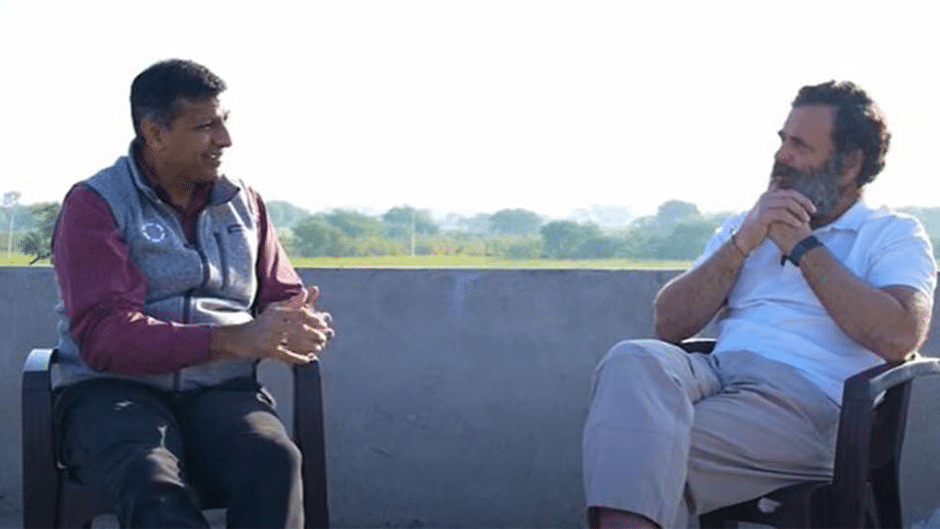 Ex's governor of RBI, Raghuram Rajan joined Rahul Gandhi in his "Bharat Jodo" yatra on yesterday.
He said next year will be difficult for the world and also for the Indian Economy.
During the conversation with the Ex-President & senior leader of INC, Ex RBI's governor said- interest rates have gone up & exports have slowed down. It will impact India's economy; the economy of India will face difficulty in the next years to achieve a rate of growth of 5 percent.
https://www.youtube.com/watch?v=lR9lRIEUmUs
We Will Be Lucky If We Grow At 5% Next Year, Said The Ex RBI-Governor.
The measurement of the rate of growth depends on what you are measuring it with!
You had a bad quarter last year and now you're making comparisons and chanting "ACCHE DIN DIKH RAHE HAI"… it makes no sense.
So, if you look back before the pandemic and now i.e. before 2019 and 2022… the growth is around 2%, just less.
Rahul Asked The Reason Behind This Slowdown To Ex RBI's Governor.
Ex RBI's chief said …. Though COVID-19 was the part but India was slow before. It came as a pandemic! The main reason is we had not Created opportunities or an environment for growth.
Though the statement of Ex RBI's chief directly triggered the government, who is chanting now in parliament … "ACCHE DIN DIKH RAHE HAIN".
Points Which Ex RBI's Governor Raised During Answering Rahul's Question – The Reason Behind This Slowdown.
Rajan said, during the Pandemic, there were no problems for the rich class and the upper middle class's income had also increased because they were working from home but the workers of the factory lost their earnings completely.
This division increased; the lower middle class faced big damage.
In simple words, it means Rajan was not happy with the policymaker's policies.
Policymakers should not celebrate or chant by giving rations and other things if a large group had lost their jobs. They need to consider this most suffering group in mind during the formulation of policies.
BJP Said This Was A Colorful & Opportunistic Stunt Of Ex RBI's Governor.
You had seen BJP is not getting chill since the Bharat Jodo yatra started. They took every new face who joined this YATRA as "disdain".
So, BJP took a jibe at Rajan for joining INC's YATRA and said on Ex governor's opinion that his comments on the Indian Economy should be dismissed with "disdain".
BJP also gave a reason …they call it "Colourful & opportunistic".
Head Of BJP's Foreign Affairs Department, Vijay Chauthaiwale Also Criticizes Rajan.
He said in his tweet that- Thanks to Modi, India will not repeat the mistake by which an ex-RBI governor became the head of the government. This is a loss of India's 10 years. Ex-governor can go to Chicago.
Congress Retaliates To BJP's Response.
The Congress said Modi's entire cabinet put together cannot match the capability of an economist.
P. Chidambaram also triggered BJP by tweeting that BJP is upset with the former RBI governor and Gandhi's meeting as PM Modi does not meet economists and has no access.

So, a new round of political drama has started in our constituency after the Ex RBI-chief's meeting and clear statements against India's policies. We will keep you updated about this.
For now, it is clear that Rajan is not happy with the government policies of India, he wants many changes for some positive development.