The ongoing buzz surrounding Hera Pheri 3 shows how everyone is growing more and more excited for the upcoming comedy film. After Suniel Shetty, Paresh Rawal, and Akshay Kumar joined them for the third installment's promotional shoot, excitement peaked. Also, the news that Sanjay Dutt will be playing a crucial part has increased the suspense.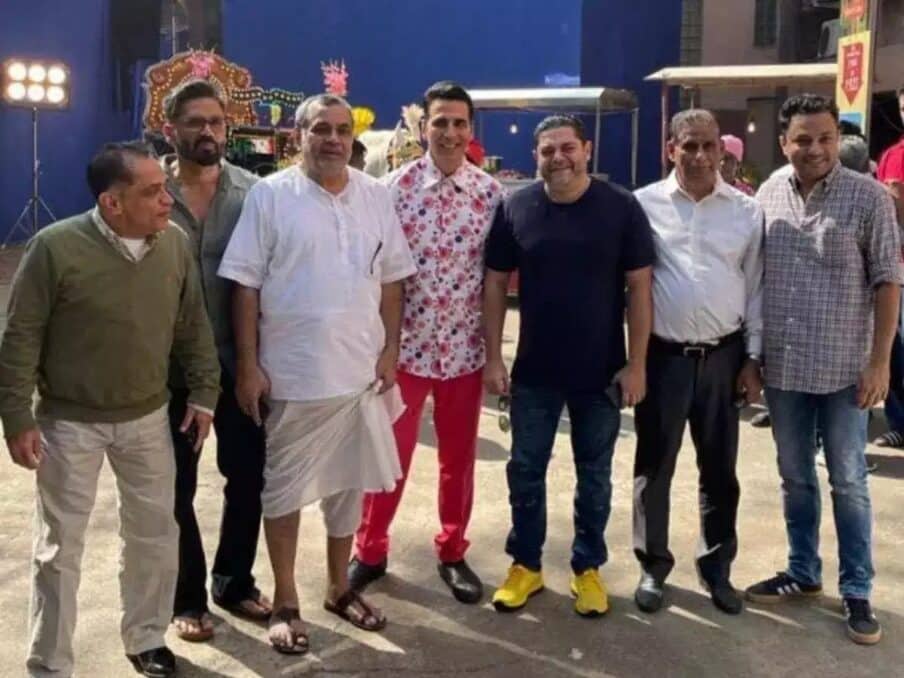 While the absence of Akki in Hera Pheri 3 caused Abhishek Bachchan and John Abraham to become the talk of the town years ago, the new rumour that Kartik Aaryan might take Akki's place enraged moviegoers. However, everything was resolved, and movie fans can now watch the trio—Akki, Suniel, and Paresh—reprise their legendary roles as Raju, Shyam, and Baburao. Despite having been a part of numerous films, the trio will be reconnecting with the Hera Pheri crew after about 17 years. A time-leap in the plot of Hera Pheri 3 or a continuation of the events of Hera Pheri 2 are being questioned in the meantime.
As a result of the first movie being released 17 years ago, Suniel indicated in a recent interview that the second movie will sort of take a leap. The leap won't be necessary from the perspective of the plot, though, because the characters are the same. The actor praised the storyline for being excellent and said that Baburao, Shyam, and Raju's challenges were depicted in an emotional journey.
Suniel voiced his worries regarding the third chapter of the Hera Pheri franchise along with his excitement for it. The actor hoped that the movie will be at least somewhat accurate. He claims that "Hera Pheri" is a really honest movie, and if they keep it that way, people would love it. Suniel informed the media that the movie has a high recall value and he is anticipating it.
Suniel went on to say that Hera Pheri 3 has an excellent narrative and takes the audience on an emotional journey with the trio as they encounter problems. Suniel revealed the shooting schedule, saying that after the dates are finalised, the movie will be shot sometime in the second half of 2023. In Hera Pheri 3, movie fans had higher expectations. Most certainly, the producers won't disappoint anyone, neither will Raju, Shyam, or Baburao.
The sequel was written and directed by the late Neeraj Vora, while the original film was directed by Priyadarshan. Recently, there were rumours that Dream Girl director Raaj Shaandilyaa might helm Hera Pheri 3, but the movie's producer, Firoz Nadiadwala, dismissed the rumours and said that the team had begun working on Hera Phera 3 in 2014 but had to halt after Neeraj Vora fell unwell. 2017 saw the demise of Vora.