Sergei Lavrov, Russia's foreign minister, accused Ukraine of provoking Moscow by pushing Nato to intervene in the crisis.
"Everyone is saying incantations that in no way can we let World War III happen," he claimed. Oil is being poured on the flames by NATO soldiers."  
As his country launched strikes targeting rail and fuel infrastructure distant from the front lines of Moscow's new eastern operation, Russia's top diplomat warned Ukraine against inciting a Third World Armageddon and said the possibility of nuclear war "should not be underestimated."  
THE US SENDS ARMS  
Meanwhile, the United States pushed Monday to provide more armament to Ukraine, claiming that Western allies' help makes a difference in the two-month-old conflict.  
"Russia is in trouble. "Ukraine is succeeding," said US Secretary of State Antony Blinken, a day after he and the US Secretary of Defense made a daring trip to Kyiv to meet with President Volodymyr Zelenskyy.   
According to Blinken, Washington has approved a $165 million ammunition sale — non-US ammunition, primarily but not exclusively for Ukraine's Soviet-era weaponry — and will contribute more than $300 million in finance to purchase further supplies.  
While the United States wants Ukraine to remain an independent, democratic nation, it also wants "Russia weakened to the point where it can't do things like attack Ukraine," according to US Defense Secretary Lloyd Austin.   
Austin's comments appeared to signal a change in US strategic objectives. The US has previously stated that American military assistance was to assist Ukraine in winning and safeguarding Ukraine's NATO neighbours from Russian threats.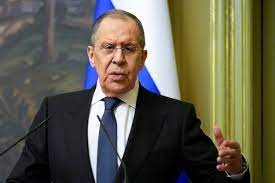 UKRAINE PROVOKING US: RUSSIA  
In an apparent reaction to Austin, Russian Foreign Minister Sergei Lavrov stated that Russia had "a feeling that the West wants Ukraine to keep fighting and, as it appears to them, tyre out, exhaust the Russian army and military-industrial war complex." This is a deception." 
US ambassadors are urged to return to Ukraine after Washington pledged $700 million in military help.  US officials will return to Ukraine as part of a $700 million military aid package.  
Russian forces have already attacked weapons stockpiles in western Ukraine, he claimed, adding that weaponry provided by Western countries "will be a valid target."   
Lavrov accused Ukrainian officials of provocation by requesting NATO to intervene in the crisis, claiming that NATO has "entered a war with Russia through proxies and is arming those proxies."  
In a wide-ranging interview on Russian television, he declared,
"Everyone is saying incantations that we cannot allow World War III in no situation."   
According to a translation on the Russian Foreign Ministry's website, NATO soldiers are "pouring gasoline on the fire" by giving weaponry.  
NUCLEAR WAR? 
"I would not want to see these dangers artificially exaggerated today when the risks are pretty serious," Lavrov warned of the likelihood of a nuclear clash.  
He stated,
"The threat is grave." "It's true. It is not to be taken lightly."  
 UKRAINE SENSES DEFEAT IN MOSCOW  
Dmytro Kuleba, Ukraine's foreign minister, stated on Twitter that Lavrov's remarks highlight Ukraine's need for Western assistance: "Russia's final chance to deter the international community from helping Ukraine has passed." As a result, there is talk of a real threat of WWIII. This can only suggest that Moscow perceives a loss in Ukraine."  
 MOSCOW'S OBJECTIVE  
When Russia invaded Ukraine on February 24, the apparent intention was to conquer Kyiv, the country's capital, in a flash. However, the Ukrainians repelled the drive with the support of Western weaponry, forcing President Vladimir Putin's men to retreat.  
Moscow now declares its intention to seize the Donbas, an industrial region in eastern Ukraine dominated by Russian speakers.
While both sides claim the eastern battle is started, Russia has yet to launch a full-fledged ground attack and has failed to make significant gains.  
CASUALTIES IN WAR  
Zelenskyy said his country's purpose is to sustain resistance and "make the occupiers' presence in our land even more uncomfortable" as Russia consumes its resources in his nightly video message.   
Since Moscow started its invasion of Ukraine, Britain estimates that 15,000 Russian troops have been killed. According to Defence Secretary Ben Wallace, Twenty-five per cent of the Russian military troops dispatched to Ukraine "have been rendered non-combat effective."  
Ukrainian officials estimated that 2,500 to 3,000 Ukrainian troops had been killed in mid-April. 
Published By: Sachin Sonawane