Urfi is yet again making headlines and not for the right reasons.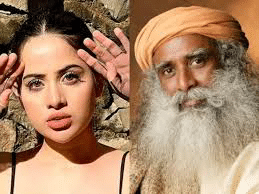 And the star has also started receiving backlash from Sadhguru's followers on the same. This is not the first time 25-year-old Javed has exposed an established person on social media. In the past social media star has multiple times posted her opinions on her handles. She has been equally vocal in Sajid Khan's controversy regarding past sexual assault allegations from female actors and co-stars. Despite the trolling, Urfi has always stood her ground in almost every scenario.
Controversy
The young actress this time has slammed Sadhguru for his remarks on the LGBTQ community. She expressed her anger on the same by sharing it on her Instagram. Urfi has a following of
more than 3 million followers on Instagram and usually shares everything with them on the say. In the clip, Sadhguru can be seen explaining and answering the anchor's question about sexuality. To which he responded by saying that it was a hate campaign. She criticises him for spreading propaganda against the entire community.
In the same video, Sadhguru claims that the percentage of the LGBTQ community is very small to which she calls him out for having a smaller brain. This is because
according to her it is only because of these campaigns that people are able to speak out. She claims that the community has been suppressed for centuries and people have hidden their sexuality trying to pretend like someone else. All these parades, marches, special days and symbols are only helping people from the same community come out with utmost dignity and self-respect. In the same aspect, these campaigns are the one that has helped change the laws and give the community legal support and assistance. She did mention that everyone is loved and it's absolutely fine to choose whoever they want to.
Remarks
She explained in her stories that "Anyone who follows this cult leader, please unfollow me. So, LGBTQ is actually a campaign, according to him. It is rightly so, as the said people involved in the campaign are able to talk about their sexuality freely and loudly. The percentage of the LGBTQ community is not small but guess what. Your brain is." taking a clear stand on the same she wrote Such type of propaganda should not be encouraged.
The LGBTQ community needs our support. For centuries, people were forced to hide their sexuality. Pretend to be someone else. We need to have campaigns. Parades to tell everyone that it is okay to be yourself. No matter who you choose to love. You are accepted."
Sadhguru hasn't reacted yet on the same neither has his team replied back to Urfi's comments. The video of the leader is now a viral clip and has received mixed reactions from viewers. After being re-posted by Urfi, it will definitely hit the majority of media pages.
Previous Works
She was last seen in Splitsvilla as a contentest and was recently spotted near Maharashtra State Commission for Women. The actress is known for her quirky fashion and dressing styles. And is usually the talk of the town whenever she is spotted at events or meetings. She also had a cameo in the Netflix series where she was featured in their new year advertisement.
Jagadish Vasudev or popularly known as Sadhguru is the founder of the Isha Foundation. He was the only activist who represented India at the international level. He is also the one who began the great campaign of "Save Soil" all over India and has collaborated with more than fifteen social media influencers including Mostly Sane, etc. He is a spiritual leader and an environmental activist on a mission to save the earth.