Republican presidential candidate Vivek Ramaswamy, an Indian-American, has promised to "gut" the lottery-based system and replace it with meritocratic entry if he wins the 2024 election. He has referred to the H-1B visa programme as "indentured servitude".
The highly sought-after H-1B visa is a non-immigrant visa that enables US corporations to hire foreign workers in specialized occupations that call for theoretical or technical skills. It is particularly popular among Indian IT professionals.
It is crucial for technology companies to hire tens of thousands of workers each year from countries like China and India.
Roivant Sciences
Mr. Ramaswamy himself has used the visa system 29 times. Roivant Sciences, Ramaswamy's former employer, received 29 approvals from US Citizenship and Immigration Services between 2018 and 2023 for the hiring of personnel on H-1B visas.
The H-1B system, however, is "bad for everyone involved," according to Mr. Ramaswamy, who was reported by Politico.
The lottery system needs to be replaced with a genuine merit-based admissions process. It is equivalent to an indentured servitude that only benefits the H-1B foreign worker's employer. He later declared, "I'll gut it. The US needs to put an end to chain migration. The meritocratic immigrants who benefit this nation through their skill-based labour are not the ones who immigrate as family members".
Although Mr. Ramaswamy left his position as Roivant's CEO in February 2021, he continued to serve as the board of directors' chair until he declared his candidature for president in February of this year.
According to filings with the Securities and Exchange Commission, the company and its subsidiaries had 904 full-time employees as of March 31, including 825 in the US.
In response to a question about the conflict between the Republican presidential candidate's policy positions and his previous business practises, press secretary Tricia McLaughlin stated that a policymaker's job "is to do what's right for a country overall: the system is broken and needs to be fixed."
She asserted in a statement that despite Vivek's belief that the regulations controlling the American energy industry are seriously faulty, he continues to utilize water and electricity. "This is exactly the same." 
Ramaswamy's agenda of restrictive immigration laws
Mr. Ramaswamy, who is the son of immigrants, has made news for his agenda of restrictive immigration laws.
He said that he would deport undocumented immigrants' children who were born in the US and that he would use military force to control the border.
The demand for these workers is on the rise, and H-1B visas are in high demand. For the fiscal year 2021, US corporations increased their application volume by more than 60%, submitting 780,884 for just 85,000 spots.
At the first Republican debate in Milwaukee, Mr. Ramaswamy spoke briefly about his own experience with immigration.
"My parents came to this country 40 years ago with no money," he remarked. "I later founded businesses that are today valued in the billions of millions. "
Mr. Ramaswamy's stance on H-1B visas is reminiscent of the rhetoric used by then-candidate Donald Trump during the 2016 Trump campaign. Mr. Trump has also employed a number of foreign nationals under H-1B visas for his enterprises.
As part of his extensive campaign to reduce immigration to the US, Trump as president temporarily banned new work visas and barred hundreds of thousands of foreign employees from employment in the US.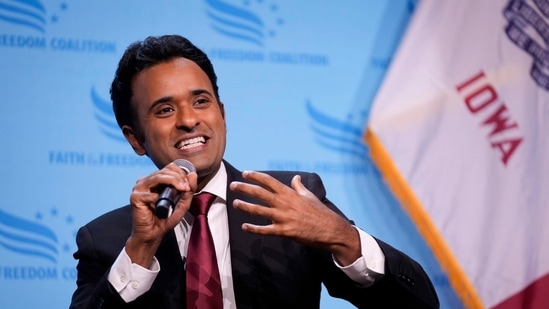 The US issues 65,000 H-1B visas each year, of which 20,000 are given to individuals with advanced degrees from the US.
Raja Krishnamoorthi, an Indian-American congressman, sponsored a bill in July that would quadruple the annual intake of highly talented foreign workers on H-1B work visas, which are much sought after by Indian professionals.
In order to enable American firms, notably those in crucial technology areas, to attract the greatest talent from around the world, the measure also aims to quadruple the number of H-1B visas that are available annually from 65,000 to 130,000. Currently, Indian professionals receive about three-fourths of all H-1B visas.