This ongoing week is being celebrated as World Space Week all around the globe. 
Remember Sputnik 1, the first manmade object to enter space, back on October 4th, 1957? We have read thoroughly about this human's marvelous feat in our textbooks since school. The launch of Sputnik 1 played a crucial role in humanity's trajectory toward space.
The outer world was no longer alien to us, but rather a destination that could be conquered. From the launch of the first artificial satellite to the launch of 60 Starlink satellites every day, humanity has truly come a long way. 
Why do we celebrate World Space Week? 
World Space Week has been celebrated since 1967. It is observed from October 4th to October 10the every year with a new theme. These dates were chosen for a special reason. The first artificial satellite, Sputnik 1 was launched on October 4th, 1957. It was a historic day for everyone.
Furthermore, on October 10th, 1967, a global peace treaty was signed based on peaceful global cooperation outside space without any one country trying to dominate any part of space. 
This treaty was truly unprecedented given the circumstances back in 1967. During those times, a global Cold War was being waged between many powerful nations. Therefore, it was shocking that when the world was as divided as it could get, the major powers came together like the US, Europe, and Russia to sign this peace treaty for outer space.
The treaty explicitly states that outer space or any portion of it including other planets and our natural satellite Moon, will not belong to any one nation. It won't be considered anyone's territory, hence no single nation can claim to take over the place. 
Also, the countries agreed to cooperate with each other in outer space expeditions by sharing their technology and pooling intellectual and monetary resources. 
What is the World Space theme of this year's space week? 
Last year in 2021, the theme for World Space Week was 'Women in Space'. This seems to have been realized given that the first woman of color was sent to the International Space Station by NASA recently. Whereas, this year's theme is Space and Sustainability. 
---
Read More: ISRO's plans for expansion in the space economy.
The theme aims to invoke a sense of curiosity and responsibility among the common folks about space missions and how they are benefiting from them. Moreover, the community that handles the preparations for World Space Week all around the world has chosen an ambassador.
Chris Boshuizen, one of the four passengers on the Blue Origins' New Shepard in October last year – will be the spokesperson for this year's week-long celebration.
Why has this World Space theme been Chosen for space week
?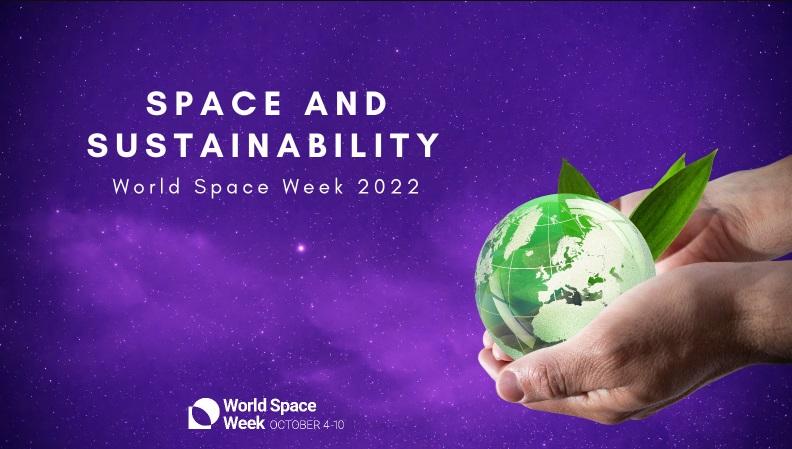 Apparently, the scientific communities believe that it is extremely important to have a positive public opinion for future space explorations. This can be proven by the fact that many private players have now entered the space economy like Jeff Besos's Blue Origin and Elon Musk's SpaceX. The World Space theme also wishes to convey to the public how they are earning good life and more facilities due to such space missions. 
For instance, SpaceX's Starlink mission has already launched 100+ satellites from all around the world to provide high-speed internet even in remote areas. Blue Origin wishes to create tourist spots in the Earth's orbit. Also, many private companies are trying to set up solar panels in space that will directly transmit sunlight in the form of electricity to the earth 24×7.
Also, many Lunar and Martian missions have facilitated the discovery of precious minerals and water traces. They may eventually sponsor human expeditions to farther spots. The Chinese and Russian government plan on launching a combined Space Station for frequent lunar missions.
Also, the humanity lenses in space i. e. The James Webb Telescope and the Hubble Telescope have shown us many awe-inspiring things that our naked eyes couldn't. The organization wishes to garner public support for other ambitious future missions as well. 
What is India's position in this space race? 
India's space agency ISRO has been doing quite well for now. It has earned itself the title of the most efficient and cheap transport-providing agency to space. Through its PSLV rockets, many records have been broken. However, a recent failure of the agency to put the satellites into their designated orbits has highlighted the issues with ISRO. 
The ISRO's new director S. Somanathan has recently claimed in a press conference that ISRO, with the support of the Department of Space, is wishing to increase India's share in the space economy from 2% to a whopping 10%. Furthermore, they acknowledged the role of private players in achieving this dream. 
---