BJP leader Bhupendra Patel, takes oath for the position of CM in Gandhinagar at 2 P.M on Monday. PM Modi, Shah and other BJP dignitaries attends the ceremony. This is the second consecutive term Patel is taking oath for CM.
The oath taking took place in Gandhinagar where Patel and other dignitaries were present to attend.PM Narendra Modi,Amit Shah, Rajnath Singh ,UP CM Yogi Adityanath and other BJP leaders and cabinet ministers attended the event.This is the historic 7th straight term for BJP. Governor Acharya Devvrat administered Bhupendra Patel as the 18th CM at a function conducted at the Helipad Ground near the new Secretariat in Gandhinagar at 2 PM.
Ministers under the Government who took oath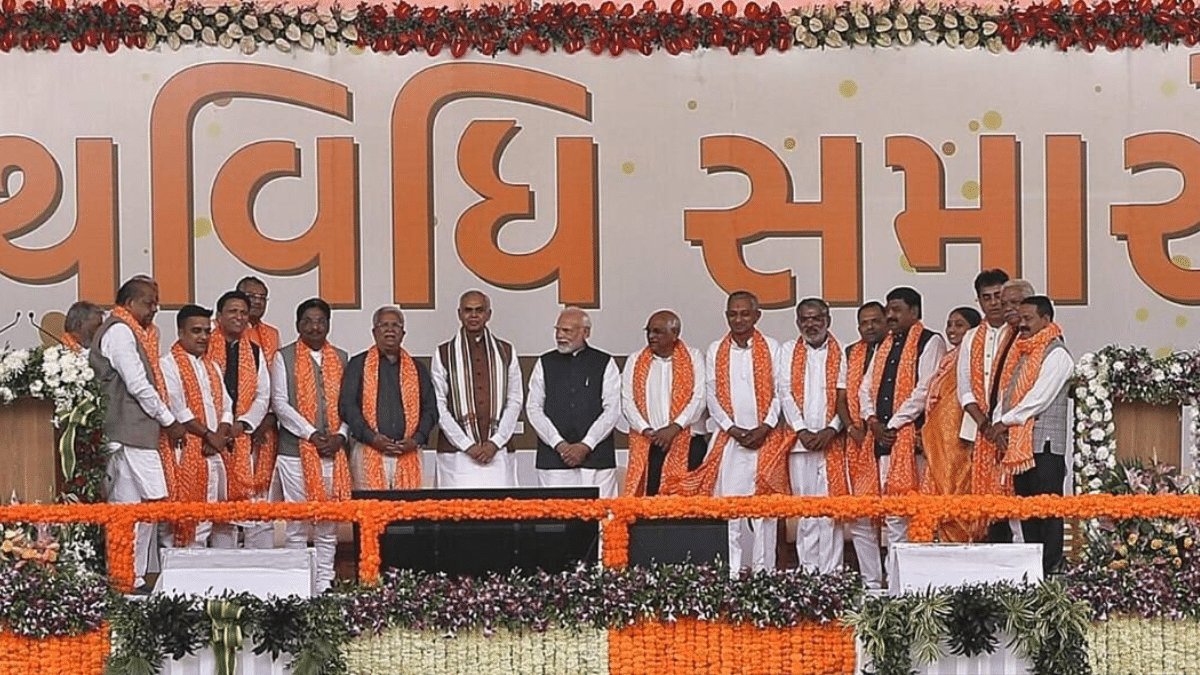 In addition to Bhupendra Patel, governor Acharya Devvrat delivered the oath to 16 newly elected MLAs who would serve in the chief minister's 2.0 cabinet.
Name of Ministers
Constituency
| | |
| --- | --- |
| Rushikesh Patel – Was FMR of Gujarat Health minister, Patidar face of North Gujrat | Visnagar |
| Kuvarjibhai Bavaliya – Cabinet minister in Rupani Govt., Big face of Koli society | Jasdan |
| Raghavji Patel- Patidar from Saurashtra, A farmer by profession,was from Gujarat agriculture minister | Jamnagar (rural) |
| Parshottam Solanki – Was minister in Modi Govt., | Bhavnagar (rural) |
| Harsh Sanghavi | Majura |
| Jagdish Vishwakarma -Belongs to OBC community | Nikol |
| Mulubhai Bera – Defeated Isudan Gadhvi, Belongs to Ahir community | Khambalia |
| Balwantsinh Rajput– President of GIDC, Belongs to Kshatriya community | Sidhpur |
| Bhanuben Babariya– Hails from Dalit community ,Becomes 1st time minister | Rajkot (rural) (SC) |
| Mukeshbhai Zinabhai Patel – From Surat,Hails from Patidar community | Olpad |
| Kuvarjibhai Narshibhai Halpati | Mandvi (ST) |
| Praful Panseria | Kamrej |
| Dr Kuber Dindor – Minister in Bhupendra Patel Govt. | Santrampur (ST) |
| Bhikubhai Chatursinh Parmar – From tribal community, Becomes 1st time minister | Modasa |
List of ministers under Bhupendra Patel Govt.
What you should know about Bhupendra Patel
Bhupendra Patel in the elections,won the Ghatlodia seat, which is part of the Gandhinagar Lok Sabha constituency, by the widest margin of 1.92 lakh votes.Patel, 60, was sworn in as CM for the first time in September 2021. Following the election results, Patel resigned as chief minister along with his whole cabinet on Friday, paving the door for the creation of a new administration. He got elected as the leader of the BJP legislative party on Saturday, after which he met with the governor and pushed his claim to form the next administration.
He ran in his first major election as a corporator for the Ahmedabad Municipal Corporation (AMC) in 2010, and went on to become the chairperson of the standing committee.He is known to be the first from the Kadva Patidar sub-group to become CM, replaced Vijay Rupani in a surprise move in September 2021. Patel, who has a diploma in civil engineering, has been in the real estate sector for around 25 years.
His son-in-law owns a construction business. Patel began by running a firecracker business in Dariapur in Ahmedabad's walled city area, and in the 1990s, he won elections from the Memnagar Nagarpalika, which is now part of the Ahmedabad Municipal Corporation borders. He rose through the ranks to become Gujarat's first chief minister from Ahmedabad, the state's commercial hub and largest metropolis.
Last year, Bhupendra Patel took over for Vijay Rupani as the party sought to combat anti-incumbency. The 60-year-old'silent troubleshooter' steered the BJP to a significant success ahead of election.PM Narendra Modi congratulated Patel on his appointment as CM on Twitter in 2021, saying, "I have known him for years and have watched his exceptional work, whether in the BJP organisation or in civic administration and community service." He will undoubtedly help Gujarat's growth trajectory.s in other states in 2023 and the 2024 Lok Sabha poll.