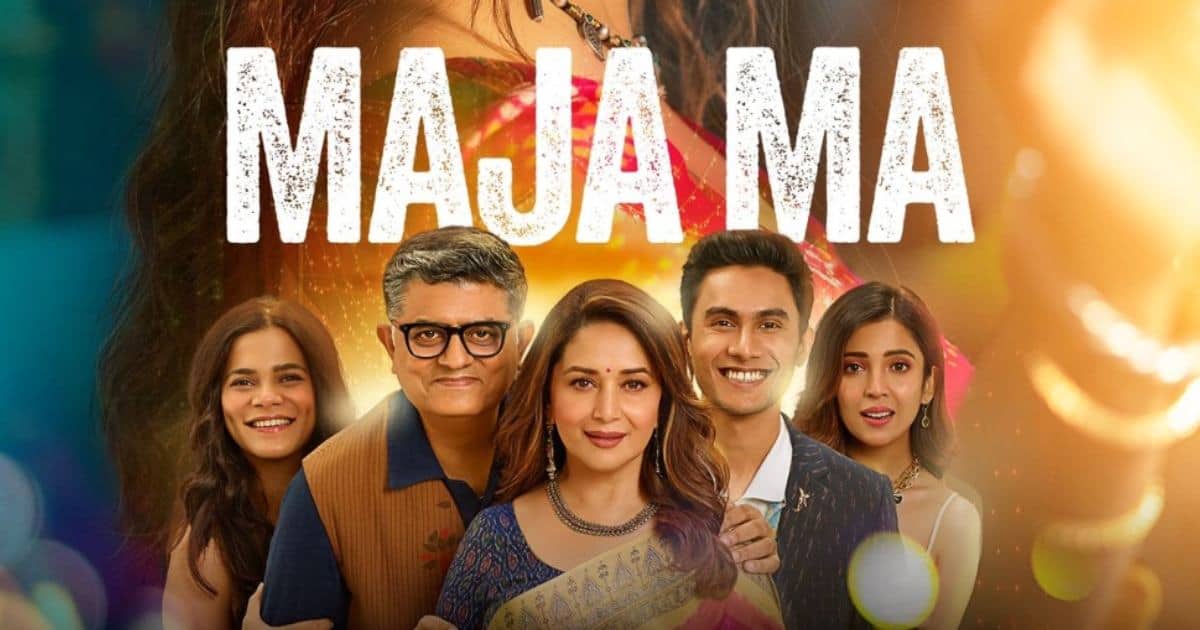 Maja Ma is a package of love, drama, comedy, and a social issue all at once. It is the first Indian film to release on Amazon Prime Video. The film has a long list star cast- Madhuri Dixit Nene, Gajraj Rao, Ritwik Bhowmik, Shrishti Srivastava, Barkha Singh, Sheeba Chaddha, Rajit Kapoor, and Simone Singh. The film is directed by Anand Tiwari, who worked in films like Go Goa Gone, Barfi, Finding Fanny, Love Per Square Foot and many more.
Pallavi Patel(played by Madhuri Dixit Nene) is a middle-class, middle-aged woman who is a dutiful homemaker, a devoted wife and a loving mother. She is also a dancer and an incredible artist. She is a goddess figure in her family. Her radical daughter Tara Patel(Shrishti Srivastava)  is a social worker for the LGBTQ community. While having a screaming argument, Pallavi's confession slips from her tongue that she is a lesbian. The plot revolves around the wedding of Pallavi's son Tejas Patel(played by Ritwik Bhowmik) and Esha Hansraj(played by Barkha Singh). Tejas is a middle-class Gujarati boy living in New York for his studies, and Esha is an NRI who was born and brought up in America. Esha's parents visit Baroda in Gujarat at Tejas's house to discuss their marriage and engagement. 
So, it's Navratri time, and there is a dance performance by Pallavi, after which a video of her confession on her sexual identity is intentionally played by someone, which brings both families into a problematic situation.
The film's writing includes unnecessary staged comedy and too many problems, sometimes distracting from the film's central issue. The film talks about being open about sexual orientation and its acceptance, but many sub-plots are created that are loosely connected to the main plot.
What I like about the writing is the relationship between the mother and her son(Pallavi and Tejas). Knowing about his mother's identity, no matter how caring her son is, he gets selfish and embarrassed. There is a scene in which he takes Pallavi to a priest who claims to remove the so-called "disease" of homosexuality. We have often seen parents taking their children to the priest for this reason. But this is the first time I have noticed a Millennial boy taking his mother for such activities. This shows that the generation gap is not an issue of being open-minded about something.
Every character in the film has an arc. Tejas wants to get married to Esha, but his mother's secret is troubled in between. Manohar struggles to have a good married life with his wife, whereas Bob wants to win American elections and save his reputation. Pam pretends to be like an American but cannot let her Punjabiness go and, most importantly, Pallavi. The latter deals with being open about her identity, family pressure, and societal politics, which creates a quicksand moment for her, making it almost impossible for her to conclude. In a scene, Manohar takes medicine for sexual stamina and gets an erection in a public place, due to which another man stands in front of him to save his embarrassment.
It's Madhuri Dixit because of who makes the narrative engaging. Other than her, there are barely any memorable moments. Everything else is staged terribly—the relationship between Pallavi and her husband, Manohar Patel(Gajraj Rao) and their romance shines a bit. Still, their Gujrati accents come and go like the wind. Similarly, Pam(Sheeba Chaddha) and her husband Bob(Rajit Kapoor) bring a very fake American accent. You couldn't digest that Bob is an American-bought-up man. Sheeba Chaddha is always watchable in all of her films, but this one gave nothing much for her to do.
A song on which Pallavi performs called 'Boom Padi' is one of my favourites for the Navratri playlist. It is a song composed by Souumil and Siddharth and sung by Shreya Ghoshal.
The film's cinematography captures all the emotions, which looks like an artistic portrait. Almost every frame is filled with colour, which gives a festive vibe.
The lack of details and lazy plot make Maja Ma a forgettable story but Madhuri Dixit's performance stands out.
Earthquake of magnitude 5.6 hits the island of Indonesia. The death toll rose to 268 on the island of Indonesia, struck by an earthquake on Tuesday. The search for the survivors in the debris by the rescuers is still on, struggling to sift the rubble. The rescue efforts continue to find survivors under the rubble

---
Earthquake of magnitude 5.6 hits the island of Indonesia. The death toll rose to 268 on the island of Indonesia, struck by an earthquake on Tuesday. The search for the survivors in the debris by the rescuers is still on, struggling to sift the rubble. The rescue efforts continue to find survivors under the rubble

---

It is a wedding between a famous director Guneet Monga and a businessman Sunny Kapoor.

---

A young child of ten years old, Gauravi was astounded to see her older sister collecting kitchen scraps for a few days. She was even more thrilled to learn that such biodegradable wastes would be transformed into something much more beneficial, namely plant manure. On the day she discovered her vision, she understood she would…

---

Air France and Airbus are on trial in the case where the plane crashed killing at least 228 people on board. The case revolves around insufficient pilot training and defective seed monitoring before the takeoff. As this incident took place killing more than 200 people onboard, many planes were replaced with effective and stable ones

---

Vijay Devarakonda's outfits collection for Liger promotion is lit; Vijay is setting internet on fire. Vijay Devarakonda is leaving no stone unturned to connect with the audience through his outfits choices. He proved himself once again that no one can do this job better than him. Vijay is promoting his first ever Pan-India movie by

---

Former US President Donald Trump claimed the FBI raided his Mar-a-Lago Florida home. FBI's search is linked to the former President's handling of classified and sensitive material, reports say. In a lengthy note on Monday, former President Donald Trump claimed that a large body of FBI personnel had raided his Mar-a-Lago home in Palm beach,

---

Regardless of how much you spend on your new watch—hundreds or thousands—it's a good idea to be aware of fashion trends. The latest watch styles for both men and women can be found below.  Today, watches are a commonplace item. It is used as an heirloom, and fashion statement, other than keeping time. From 2021,

---

Ranjan had filed a court petition after Chattisgarh Police attempted to take legal action against him due to the news report that purportedly used doctored footage. He requested the joining of the many FIRs filed in this connection. The SC on Friday protected Zee anchor Rohit Ranjan from detention in cases brought against him due to

---

The Afghan central bank praised the international community's humanitarian aid but urged improved ties with its counterparts in the banking and financial industries. On Friday, the national bank of Afghanistan reported that $32 million in humanitarian financial aid had been sent to the nation. In a statement, Da Afghanistan Bank (DAB) stated that "Following many

---

It reached a peak of about $70,000 in November 2021 but has since plummeted by about 25%, reaching its lowest value in 18 months. Bitcoin is in trade around about $20,000. According to experts, this is due to the general global climate. Not just in the cryptocurrency sector do things appear bad. Living expenses are

---

According to a news report, Krishnappa, 42, a resident of Durgadahalli Halekote in the Tumakuru taluk's Urdigere Hobli, was manufacturing and distributing licence firearms without a permit. Nine persons have been detained for Gun Racket Under the Arms Act, including one who was creating and selling single-barrel muzzle-loading firearms created in the nation in Tumakuru

---

Russian forces are launching a strong attack on the Ukrainian Donetsk region, engaging in fierce combat and firing a lot of artillery. The industrialised eastern region of Ukraine that includes Donetsk and Luhansk is known as the Donbas and has witnessed the bloodiest conflict in the continent's recent memory. For the benefit of separatists backed

---

According to police, Rohit Ranjan, anchor at Zee News, was held by Noida police on Tuesday in relation to a case brought against two of his coworkers. Police are questioning Ranjan right now. A retired senior producer and a rookie producer were named in a complaint made on Sunday on behalf of Zee Media Corporation about

---

In the midst of intense rain, a landslides event was recorded on Tuesday morning in Panchsheel Nagar, according to the Mumbai Fire Brigade. Since the previous night, the capital city has seen severe rain, causing flooding in several areas and disrupting traffic flow. About 95.81mm of rain fell in Mumbai throughout the course of the

---

Row over prophetic remark: The Ghaziabad DM has given instructions for the use of social media in light of recent unrest in numerous areas of Uttar Pradesh, requesting group admins to alert the authorities about rumour-mongers. District Magistrate of Ghaziabad issued Section 144 New Delhi: On Sunday, June 12,  Rakesh Kumar Singh, District Magistrate of Ghaziabad issued Section 144

---

Fraud cases exceeding Rs 100 crore in public sector banks (PSBs) dropped from 167 to 80 in FY22, while those over Rs 100 crore for private sector lenders dropped from 98 to 38. More than Rs 100 crore in fraud in the banking industry was reported in 2021-22, although that's a huge drop from the

---

Officials said on Saturday that there have now been 25 fatalities as a result of a major landslide at a local army camp in Manipur's 'Noney' district. 18 Jawans are among the deceased. Manipur Landslide Officials report that 38 people are still missing, while 13 Territorial Army troops and 5 civilians have so far managed

---

Jujutsu Kaisen 0 is a Japanese anime movie that debuted on June 30. The movie outperformed Bollywood rivals like Rashtra Kavach Om on its first day. Jujutsu Kaisen 0 is a Japanese anime movie that debuted on June 30. This Movie debuted in Indian theatres after over 50,000 tickets were sold in advance. It is

---

The USSF-12 mission for the American Space Force was launched on July 1 by a United Launch Alliance Atlas (ULA) 5 rocket. At 7:15 p.m. Eastern, the rocket was launched from Cape Canaveral Space Force Station in Florida's Space Launch Complex-41. Two satellites were launched on the USSF-12 mission, which cost $1.1 billion, into geosynchronous

---

The earthquake's epicentre was located 5.2 kilometres northwest of M Chembu Village, Paraje Grama Panchayat, Madikeri Taluk, Kodagu District, which borders Dakshina Kannada District. At 7.45 in the morning, the earthquake was reported. 3.0-magnitude earthquake strikes Kodagu in Karnataka, the second in four days. Residents of Kodagu had felt tremors earlier on Saturday, June 25. These

---

Zubair is sent to four days police custody on Tuesday for not answering the questions of the police. On Tuesday the Delhi metropolitan magistrate has released an order against Mohammad wasn't cooperating with the police during the interrogation and his mobile and the laptops is been taken into custody. Mohammad Zubair is the co-founder of

---

The ambassador of Columbia has expressed interest in winning India's cooperation for using space technology for nation-building. On Tuesday, Mariana Pacheco, the ambassador of Columbia to India, met with Somanath S, the chairman of the Indian Space Research Organization, Which has its headquarters in Bengaluru and is the secretary of the department of space. The

---

On Monday, the Delhi police detained Mohammed Zubair, a fact-checker and co-founder of Alt-News, for allegedly injuring religious sensibilities through a tweet. After a Twitter user tagged Delhi police in one of Mohammed Zubair's posts from 2018 about the Hindu god Hanuman, he was detained. Let's examine the specifics. What was the tweet about? Zubair

---

Following Mukesh Ambani's resignation as the company's director on June 27, Reliance Jio declared on Tuesday that its board has accepted the nomination of Akash Ambani as chairman of the board. Akash Ambani has been chosen to serve as Reliance Jio's non-executive director as well. Pankaj Mohan Pawar's nomination as Reliance Jio's managing director for

---

After a shooting in Oslo, the capital of Norway, a 42-year-old man has been detained and accused of murder, attempted murder, and terrorist actions. On Saturday at around 1:00 a.m. local time (23:00 GMT), there was a shooting in three different places, including a homosexual pub. A popular LGBTQ+ establishment, the London Pub, as well

---

Rather than having to wait two years for its launch, NASA has identified an alternative route for a modest lunar orbiter project. The NASA Science Mission Directorate undertook the initiative – SIMPLEx (Small, Innovative Missions for Planetary Exploration) and selected Lunar Trailblazer in the year 2019. The Lunar Trailblazer mission, directed by Principal Investigator Bethany Ehlmann (Caltech),

---

According to a Taliban official who spoke to the BBC, a strong earthquake in eastern Afghanistan has left at least 1,000 people dead and 1,500 injured. After a magnitude 5.9 earthquake shook isolated areas of southeast Afghanistan, almost 1,000 people were killed and 600 were injured. According to the UN, about 130 injured persons have

---

The Sample return mission of China seeks to gather samples from the red planet – Mars and transport them back to Earth in 2031, two years just before NASA-ESA's collaborative mission. On June 20, Sun Zezhou, the lead designer of the Tianwen-1 and rover missions, revealed a new mission portfolio for the return of Mars

---

Amazing news for Indian Otakus, the wait is now over, 'Jujutsu Kaisen 0' a movie prequel to the anime series 'Jujutsu Kaisen' will be released in Indian cinemas on 30 June. Jujutsu Kaisen 0 is arguably one of the most anticipated anime films in India. Since the worldwide release of Jujutsu Kiasen 0 on 24

---

On Thursday, American Singer-Songwriter, Beyonce just mentioned the words "act i Renaissance" and the date of July 29 in her bio on Instagram. Teasing her upcoming album "Renaissance" Beyonce is making her comeback with her first solo album after six years The album is named Renaissance. The album's artwork is also available on music streaming platform Spotify

---

Jennie, a member of BLACKPINK has been invited to star in HBO's series/drama 'The Idol'. Pop-star singer The Weeknd, Reza Fahim, and Euphoria creator Sam Levinson are the co-creators of the show. In a piece of very exciting news to BLINKs, Jennie reportedly will be starring in the HBO show Co-created by The Weeknd, Reza Fahim,

---

Netflix's Number 1 show Squid Game is set to become a reality show. Netflix is now accepting registrations from around the globe. Squid Game's second season has been in the talks for a while now and we get another surprising news from Netflix. Yes, you heard it right, Netflix is turning this dangerous and mind-boggling

---

Authorities claim Swiss airspace reopened Wednesday morning after a computer failure caused planes across the Alpine nation to be halted for several hours. Inbound and outbound flights in Switzerland were halted and the Swiss Airspace station was shut down due to technical errors in the computer at the air traffic control service. Officials do not

---

Squid Game's director Hwang Dong-Hyuk confirms Squid Game will return for a season 2 along with a special message for fans around the world. With over 111 million views and about 1.6 billion hours watched, Squid Game is officially the most-watched series of all time. Squid Game was released on 17 September 2021 and within

---

New Delhi:  A huge outbreak was reported in Delhi's Karol Bagh Gafar's Market in the early hours of Sunday, which resulted in losses of tones of crores of rupees, shop owners said. "Nobody got hurt in the accident, Delhi Fire Service officials said." They said that they received a call in the morning near about

---

Mumbai: Earlier this Friday an attempt to kill Bollywood Actor, Salman Khan came out as breaking news from India Network. This is the second most wrongful act after the murder of Sidhu Moosewala. Can Maharashtra Police find out who's the next one Lawrence wants to target? In the upcoming latest coverage, it came out that

---

'Charkha' A tribute to Gandhi's spinning wheel unveiled near at Mumbai's Churchgate on 11th June,'2022. Mumbai-based architect Nuru Karim installs an 11-meter high white sculpture at the Cross Maidan near Mumbai's Churchgate railway station. The sculpture illustrates contemporary India's social and cultural dimensions. Sculpture is known as 'Charkha' meaning Spinning wheel inspired by the spinning

---

Ed's new rendition of '2Step,' starring Armaan Malik, is about to give Indian music its historical moment. It sums up the struggles and tribulations of an artist's life. There is nothing more fascinating and powerful than a music enthusiast discovering their favourite Pop Singers from other languages have joined forces to create wonderful music. The

---

The new series Jaadugar on Netflix has set the bar for the audience for Jitendra Kumar's acting, just like his mesmerising performance as ' Sachiv Ji' in Panchayat. Netflix India posted a preview for the film on Instagram with the caption, "Neemuch ke pyaare Jaadugar ka, Deviyon aur sajjanon, taaliyon ke saath swagat kariye Only

---

The original publication of this article was on The Conversation. This article was authored by James Edward Huchingson, Florida International University Professor Emeritus and Lecturer in Religion and Science. Voyager 1 is the furthest located human-made object from Earth. It is presently over 15 billion miles (24 billion kilometers) from Earth in interstellar space after

---

In a press conference, FO spokesperson Asif Iftikhar stated that the government would explore all options to defeat the scourge of terrorism and preserve the region's peace and stability. According to a statement released by the Foreign Office on Friday, Pakistan pledged to remove the terrorism threat and provide total peace to the nation (FO). Terrorism is

---

An Overview The devastating Russian military invasion on Ukraine on February 24th has reached a critical stage on Saturday February 26, with several of Russia's military tanks closing in on its capital, Kyiv, although the death toll has risen and several civilians have evacuated. As Ukraine's pro-Russian president, Viktor Yanvokovych, was over thrown in 2014,

---

Allahabad high court's Justices DK Upadhyay and Subhash Vidyarthi said; Please enroll in an MA program, then apply for NET and JRF, and if any university refuses to allow you to conduct research on such a topic, come to us". A plea to open 22 locked rooms of the Taj Mahal was denied by the

---

Suman Sengupta. sports, Asiana Times. Source: webringnet.com Aston Villa vs Liverpool: Joel Matip and Sadio Mane scored 2 goals as Liverpool defeat Villa and keep the pressure on Man City. Aston Villa vs Liverpool: Liverpool wins 2 to 1 against Aston Villa Liverpool: 4:3:3, Aston Villa: 4:3:1:2. Liverpool- Joel Matip 6 (1), Sadio Mane 65(2),

---

Crime Prevention and Criminal Rehabilitation is the establishment of laws and subsequent compliance by all members of society. Substantially responsible for human civilization's progress. However, it is to be expected that not everyone will opt to follow the established laws voluntarily. As a result, a system to Penalise or rehabilitate wrongdoers is required. The criminal

---

Image source On the one hand, the World Health Organization declared the estimation of COVID-19 deaths in India to be 47 lakhs, and on the other hand, the Indian government claims WHO's data is incorrect and says the actual figure is nearly five lakhs. Just after that, the Congress and Communist Party of India slammed

---

What if we tell you, you can wear what your favourite celebrities do? Looking at the dresses the celebrities wear, people might want to get the same for themselves as well. What stops them from actually doing so is the thought of the price that they have to pay for the look. What if, we

---

On Friday, Trump's Twitter lawsuit was dismissed by a federal judge in San Francisco federal district court. The lawsuit was filed by the former president of the United States of America, Donald Trump, in an attempt to lift his Twitter ban. Trump's Twitter Ban Trump was banned from Twitter on January 8, 2021, after riots

---

John Lee will replace Carrie Lam on July 1 after winning a namesake election John Lee, formerly the city's no 2 official with a career as a security officer is going to be the next leader of Hong Kong. This is a result of the political transformation led by China that has ousted any opposition.

---

In 2018, Tribunal Court-4 of Assam's Cachar district found five members of a family to be aliens. The Guwahati High Court found that the concept of res judicata, which prohibits reopening of the same matter by the same parties after a decision has been issued, was relevant to the Foreigners Tribunals in Assam. A

---

In the latest addition to air incursions 18 war planes were flown into Taiwan's air defence zone On Friday,18 warplanes were sent to Taiwan's air defence zone by China. The warplanes included bombers and fighters. This is the second biggest incursion of its kind this year. Taiwan is under the constant threat of invasion by

---

These clashes come as Jewish worshipers returned to the holy site for the first time this month On Thursday, after around 10 days of relative peace, fresh clashes erupted at the Al-Aqsa Mosque as per police reports. Parallelly Israeli Supreme Court rejected a petition against the eviction of Palestinians living in the rural part of

---

Tamil Nadu extends humanitarian aid in the form of essential commodities to Sri Lanka Mahinda Rajapaksa, Sri Lankan Prime Minister has thanked MK Stalin, Tamil Nadu Chief Minister. This was for the help Stalin extended by providing humanitarian aid to Srilanka. Srilanka is currently facing its worst economic crisis since Independence. In a letter written

---

To place the spacecraft in orbit around Venus, the space agency plans to launch in December 2024, with orbital adjustments scheduled for the following year, when Earth and Venus would be perfectly aligned. After launching missions to the Moon and Mars, the ISRO is currently preparing a spacecraft to circle Venus in order to research

---

Russia intensifies its attacks as European Union proposed to ban the import of Russian oil Russian forces attacked various parts of Ukraine targeting the supply of weapons given to Ukraine by its western allies. Russia also intensified its offensive in the Eastern region. This move comes after the European Union on Wednesday proposed a ban

---

As soon as Wriddhiman Saha was kicked out of the Indian Test squad, Boria Majumdar harassed, threatened, and intimidated him. Accused of "threatening and bullying" India wicketkeeper, Wriddhiman Saha, the BCCI has suspended journalist Boria Majumdar for two years. It has been made effective after the Apex Council approved the suggestions of the three-member fact-finding

---

Anil Kapoor talks about the relevance of OTT; says he wants to explore more of the digital mediums. Anil Kapoor made a successful debut on OTT platform with his Netflix release AK Vs AK. The actor is back with a fresh crime thriller, THAR. In Thar, the actor appears alongside his son Harsh Vardhan Kapoor,

---

Modi, co-chairing the 6th inter-governmental meetings between India and Germany, expressed worry over the conflict's humanitarian consequences and claimed India has aided Ukraine. No country would win the Russia-Ukraine conflict as everyone will lose and the impact on emerging and underprivileged countries will be "more serious," Prime Minister Narendra Modi said during discussions with German

---

According to the draft leaked by Politico, the US SC may overturn the protected abortion rights granted under Roe V. Wade later this year. The United States Supreme Court decided to overturn Roe vs. Wade, the 1973 landmark judgment that made 'abortion' a constitutional right for nearly 50 years. American Media company, Politico, leaked an

---

Amid warning about loudspeakers removal, the magistrate has slapped a non-bailable warrant against MNS Chief Raj Thackeray and asked Mumbai police to arrest and present him before the court. The magistrate court in Maharashtra's Sangli district has issued a non-bailable warrant against Maharashtra Navnirman Sena (MNS) Chief Raj Thackeray in connection with a case of

---

Investors are worried as the country imposes strict lockdowns and quarantines slowing down production China's economy is going into its worst phase till now due to the zero covid strategy imposed by the government. There are growing fears about China's growth amid strict lockdowns. The latest data supports this fear, manufacturing and services have touched

---

According to reports by WhatsApp, the number of accounts banned by the platform is more than that in February, using the abuse detection approach. In March, WhatsApp's meta-owned messaging platform banned over 18 lakh accounts in India in compliance with the New IT Rules 2021. According to the monthly report published by the company, the

---

Celebrated on the first Sunday of May, World Laughter Day fell on the very first day on the month, this year. 'Laughter is the best medicine.' It is believed to alleviate many emotional and physical problems. The first Sunday of May is designated as World Laughter Day. It happened to be on May 1 this

---

On Sunday, Chennai Super Kings beat Sunrisers Hyderabad by 13 runs at the MCA Stadium in IPL Pune, marking MS Dhoni's return as captain (May 1). CSK scored 202/2 thanks to Ruturaj Gaikwad (99 off 57) and Devon Conway (85* off 55) who combined for 14 fours and 10 sixes.   Despite Nicholas Pooran's unbeaten

---

Mohsin Khan took 4 for 16 and KL Rahul IPL continued his excellent run-scoring streak with a 51-ball 77 as Lucknow Super Giants defeated Delhi Capitals by six runs in a hard-fought match. With 14 points, LSG has moved up to second position on the points table, while DC is in sixth place. Swing Back

---

Gen. Pande takes charge as 29th Chief of the Army Staff after Gen. M.M. Naravane On Saturday, Gen Manoj Pande succeeded retiring Gen. Manoj Naravane as the 29th Chief of the Army Staff, making him the first member of the Corps of Engineers to lead the 1.3 million-strong Army. All three service chiefs currently hail

---

Reports from the National Power Portal say that a lot of power plants owned by the National Thermal Power Corporation don't have enough coal to make electricity. More than 650 passenger trains are being canceled by the Indian Railways to make it easier for coal cars to move faster as the country tries to

---

(Image source: Pinterest) What would be your answer if I asked you about the best phase of your life? Most of you would answer 'Your Teen years'. Teen years are the times of first love and first heartbreak, bittersweet experiences of school-time and college. Uncertainty, hard-to-accept honesty and brutal realizations yet we reminisce about those

---

The couple intended to challenge law and order in the state. Legislators Navneet Rana, Member of Parliament (MP), and Ravi Rana, MLA (Member of Legislature) intended to challenge law and order in the state. This challenge was to be taken to an extent where the Governor recommends President's rule in the state. The Rana couple

---

President Biden urged Congress to approve the cash for military help. While in Kyiv, UN Secretary-General Antonio Guterres asked Russia to assist war crimes investigators. Image source- Boston post President Joe Biden requested an additional $33 billion from Congress on Thursday to assist Ukraine in repelling Russia's invasion, signaling that the US is prepared

---

The US Trade Representative stated India remained one of the most difficult economies to protect and enforce intellectual property. (Image source- economic times) India continues to be one of the most difficult economies to protect and enforce intellectual property, the US Trade Representative's office stated in a report announcing the decision to keep New Delhi on

---

Modi made the promise to remove AFSPA in the Northeast region while addressing a rally on Peace, Unity and Development (Image: The Hindu) On Thursday, the Indian prime minister, Narendra Modi, said that efforts are being made to remove AFSPA from the Northeast region. He was addressing a rally on "Peace, Unity and Development". The

---

The foreign minister remarked how Putin's friends should help him get out of the mess that he is in.    João Gomes Cravinho, Portugal's Foreign Minister said that Russian President Vladimir Putin's friends should help him out with the mess that he created. He added that the Russian people should not be suffering due to

---

USCIRF noted that "the (Indian) government continued to systemize its ideological vision of a Hindu state". Image source-thecognate (left) , Indian express (right) For the third year in a row, the United States Commission on International Religious Freedom (USCIRF), a nonpartisan, independent group, recommended that India, China, Pakistan, Afghanistan, and 11 others be named as

---

The resettlement of villagers from Sariska Tiger Reserve, which was running at a very slow pace for the past 15 years, has now picked up the speed. The authorities in the Tiger reserve have implemented the plan to relocate the 6th village from the Sariska Tiger Reserve region.  The relocation plan of villagers from Sariska

---

Tamil Nadu Chief Minister, MK Stalin criticizes Governor, RN Ravi's decision to return the anti-NEET bill 2021. He says, a Governor's job is to just send the bill to the President, just like a postman. Image Source<a href="https://Image Source:<a href="https://

---

Even though they agreed that they needed a new face and a new way of doing things for the upcoming general election, sources say that Congress didn't want to give Prashant Kishor full control. Keywords – Prashant Kishor, Congress, Elections (Source – NDTV) At a time when the Conservative Party appears unwilling to make significant

---

Prime Minister Narendra Modi makes his first formal public appearance in Jammu and Kashmir since the abrogation of Article 370 in the Union Territory. During his visit, he laid the foundations for many development projects for the region worth Rs. 20,000 Cr. IMAGE SOURCE: HINDUSTAN TIMES Prime Minister Narendra Modi made his first trip to

---

State wants Center to take matters in hand. The Bharatiya Janta Party (BJP) members decided to skip the meeting called by shiv sena government amid the growing tensions between the two parties. Image Source: NDTV Maharashtra led by the Shiv Sena government called for an all-party meeting. The meeting was to discuss the ongoing loudspeaker

---

Director-General of Punjab launches the web portal Image Source: hindustantimes V K Bhawra, Director-General of Police (DGP) launched a one interface multifunctional web portal. The portal 'cybercrime.punjabpolice.gov.in' was launched on Monday. The purpose of the launch is to enable the citizens to immediately report cyber frauds and crimes. Other attendees during the launch were the

---

The International Air Transport Association (IATA) announced about the suspension of Chinese tourist visas by India. In response to Beijing's refusal to permit the return of Indians who have been stuck at home since 2020 because to the Covid-19 outbreak, India has likewise halted tourist visas for Chinese citizens. The government's decision comes after thousands

---

The international lender along with the other creditors will lend Sri Lanka the essential money it needs to recover from the economic crisis. The International Monetary Fund has announced that it will help Sri Lanka to get through the economic crisis that the country is currently facing. The organisation also called the meetings held by

---

Delhi is hosting the Raisina House Dialogue ahead of which foreign ministers are visiting the city. Dr S Jaishankar, India's External Affairs Minister, met Santiago Cafiero, Argentina's Foreign Affairs Minister, in Delhi on Sunday. The meeting comes ahead of the Raisina House Dialogue which is due from 25-26 April. Geoffrey Onyeama, Foreign Minister of Nigeria,

---

The year 2021 saw the reopening of many cinemas around the world, allowing us to once again enjoy the screening of a plethora of incredible films throughout the year in actual theatres. When it comes to LGBTQ+ cinema, it has historically been overlooked, or LGBTQ+ characters have fallen into tropes that have failed to expand

---

It was reported on Friday by the Russian news agency Interfax that Russia intends to fully dominate the Donbass region and the southern region of Ukraine as part of the military operation's second phase. The deputy commander of Russia's Central Military District stated this intention. The savagery of a war that showed no signs of

---

Redditors are comparing Scene Of Shang-Chi Vs Bajirao Mastani movies along with accusations of copying. Usually, it is Bollywood films that are accused of copying films, stories, and songs from other industries, especially from Hollywood. However recently a Hollywood movie is getting called out online for apparent copying from the Bollywood movie Bajirao Mastani. Marvel

---

The American rapper was arrested for assault while returning from vacation in Barbados A$AP Rocky has been released from the jail. He was arrested at the LAX airport on Wednesday. He was detained on the grounds of assault with a weapon. The incident of assault reportedly took place in November last year. The Los Angeles

---

V now has the fastest 40 million Instagram followers in history, according to some of his followers. Another record has been broken by BTS member Kim Taehyung, aka V, who did it with the help of his Instagram account. Not even a year after making his Instagram debut, with BTS members RM, Jīn, Suga, J-Hope,

---

Tata neu app brings all tata brands under one super application The Tata Group launched the 'Tata neu' app on 7 Apr, 2022. The launched app is the 'super app' as it conglomerates all the tata digital services and apps under one application. The announcement of the product launch was made through an advertisement on

---

Discussions between The International Monetary Fund and Sri Lanka on a possible loan programme are still in the early stages. Despite increasing risks, Rajapaksa's administration and the Central Bank of Sri Lanka (CBSL) have resisted requests from experts and opposition leaders to seek assistance from the IMF. However, with rising oil prices in the event

---

The prices of Ceylon Petroleum Corporation (CPC) now match with the Lankan Indian Oil Corporation (LIOC). According to news Agency PTI, Sri Lanka's State-run oil entity Ceylon-Petroleum Corporation has hiked the prices of 92 octane petrol. After Sri Lanka's Petrol price surge the rate of petrol stands at LKR 338. Approximately an increase of LKR

---

The court has put a "complete stop" on the eviction campaign, and the case will be heard today. On Wednesday, the Supreme Court stopped an anti-encroachment campaign in Delhi's Jahangirpuri neighborhood, but not before a bulldozer demolished buildings near the mosque that had been the focus of last Saturday's violence. The following are the ten

---

The UK prime minister is to discuss trade deals with Indian businessmen and meet Indian Prime Minister. Boris Jhonson, UK prime minister is on a two-day visit to India. This engagement is to begin from Thursday morning. The visit will focus on Indo-Pacific free from external pressures regarding Ukraine-Russia war. Improving bilateral trade agreements is

---

Battle for Donbas On Monday Russia began the second part of its assault on the eastern front of Ukraine. The campaign was followed by heavy artillery shelling that rocked the Donetsk region frontline, marking the beginning of the battle for Donbas. Ukrainian president Volodymyr Zelenskyy addressed the assault as a much organized offensive compared to

---

by MAHIMA RASTOGI As we all know, digital marketing is all about reaching target audiences through various electronic and digital channels. Social media is quickly becoming an integral part of digital marketing because it offers far-reaching marketing benefits that allow brands and businesses to reach millions of customers all over the world. In our working

---

A policeman near a burnt vehicle after a communal clash in Himatnagar during a Ram Navami Procession. Communal clashes have been reported amid Ram Navami processions in various states across India like Gujarat, Madhya Pradesh, Jharkhand, and West Bengal. In Khambhat city of Gujarat, one individual was killed and another was injured during the rally.

---

"United States is upset about the move by Mexico" The Prime Minister of India, Narendra Modi targeted on Aatma Nirbhar Bharat, the nation should be self-sufficient in manufacturing the products.Likewise, the President of Mexico Andres Manuel Lopez Obrador believes in state-owned companies helping the state in providing electricity to its citizens. And not the Federal

---

The people of Jammu and Kashmir are getting ready for Prime Minister Narendra Modi's first visit since the abrogation of Article 370. Prime Minister Narendra Modi will visit the Union Territory of Jammu and Kashmir on April 24. This is his first visit after the Article 370 annulment. During his visits, he will inaugurate several

---

Sophie Turner has taken legal action against Joe Jonas, alleging that he is in possession of their children's passports. In response, Joe has issued an official statement addressing the matter. What is going on between Joe Jonas and Sophie Turner? Tensions have escalated between Joe Jonas and Sophie Turner, the once inseparable couple who tied

---

On September 22, 2023, the Supreme Court extended an earnest invitation to the Tamil Nadu government and the esteemed DMK leader, Udhayanidhi Stalin. The court's gesture was prompted by a heartfelt plea, requesting a thorough examination of Mr. Stalin's comments concerning 'Sanatana Dharma'. Why is Udhayanidhi Stalin facing inquiry? A Bench comprising Justices Aniruddha Bose

---

A North Carolina resident has initiated a legal action against Google, claiming that her spouse tragically lost his life in a fatal car accident in the preceding year. The incident occurred when the deceased was reportedly relying on Google Maps for navigation and inadvertently drove his vehicle off a bridge that had collapsed. Why did

---